Markets got two key pieces of news towards the end of August: first, good news out of the EU summit. Second, a decision was finally made on healthcare: the Supreme Court affirmed the ACA in a 5-4 decision. While many ACA provisions (such as the fines to be levied on small businesses with 50+ employees that don't provide health coverage) are undoubtedly bad for businesses, the decision at least gives the market some clarity on what to expect. Given that the market didn't break major support levels, the stage could be set for a late summer rally.
One stock investors may want to take a look at is Giant Interactive Group (NYSE:GA), a developer of online games (primarily MMORPGs) in the Chinese market. The stock rallied strongly with the overall market in the first quarter, and similarly sold off in the second quarter. At current valuations, it may be worth a look. (Please note that the precipitous drop in share price last summer was due to a $3 special one-time cash dividend.)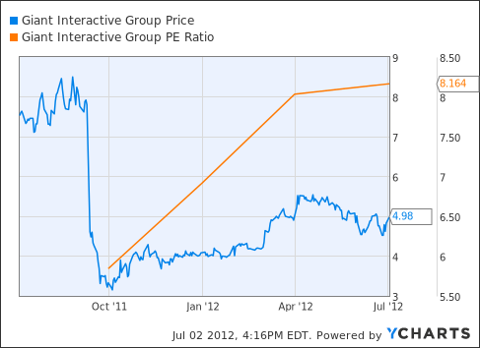 Reasons to look into GA:
The stock looks fairly cheap at current prices. P/E on a TTM basis is 7.9, and forward P/E is only 6.5. The PEG ratio is only 0.57, suggesting future growth is not adequately priced into the stock.
GA is a growth and cash flow machine. Cash flow has grown at 36.37% over the past five years, and EPS has grown at 38% over the same time period. Forward EPS growth is projected at a solid 14%.
The MMORPG (Massive Multiplayer Online Role Playing Game) business is quite lucrative and Giant Interactive sports a gross margin of 87% and a profit margin of 57%. This net margin is the highest within the Toys and Games industry, according to Thomson Reuters.
Giant Interactive has beat analysts' earnings estimates five times in the past six quarters, with beats ranging from 9.5% up to 22.3%. The other quarter (earnings reported 3/5/12) was in-line with estimates.
Analysts are bullish. Of 15 firms covering Giant, two have "strong buy" recommendations, eight have "buy" recommendations, and five have "hold" recommendations.
Analysts' price targets suggest the stock has a lot more upside than downside. The low target is $4.95, which is approximately the current share price. The high target is $9.00, and the mean is $6.51, representing a 30% upside to current share prices.
The company recently raised its dividend to $0.30. The current yield is about 6%.
Disclaimer: I am an individual investor, not a licensed investment advisor or broker dealer. Investors are cautioned to perform their own due diligence. All information contained within this report is presented as-is and has been derived from public sources & management. Always contact a financial professional before making any major financial decisions. All investments have an inherent degree of risk. The future is uncertain, and actual results may be materially different from those expected. Past performance is no guarantee of future results. All views expressed herein are my own, and cannot be interpreted as the views of my employer(s) or any organizations I am affiliated with. Presentation of information does not necessarily constitute a recommendation to buy or sell. Never make any investment without conducting your own research and reading multiple points of view.
Disclosure: I have no positions in any stocks mentioned, and no plans to initiate any positions within the next 72 hours.