When I wrote Bond Markets in Review: Q1 2012, the takeaways were simple. Performance of credit was monotonically and positively related to risk, with AAA-rated bonds the laggard and CCC-rated bonds the outperforming ratings cohort. The risk-on attitude in the first quarter extended negatively to traditional flight-to-quality instruments as U.S. Treasury securities underperformed spread sectors. What a difference a quarter makes. Returns on corporate credit in the second quarter were led by the highest quality bonds as the weakest quality CCC-bonds proved to be the laggard.
Corporate Bonds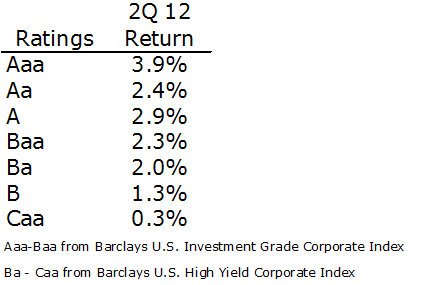 With the A and better rated components of the corporate bond index all yielding inside three percent, it is difficult to envision continued market beating returns from these ratings cohorts. For ratings agnostic investors, I still believe that BB-rated bonds will compensate investors appropriately for the risk in this low default rate environment. While the 5.8% yield these securities pay on average is low by historical standards, the credit spread of 490 basis points in well above the historical one-year default rate of BB bonds of 70 basis points, which is why I favor BB-bonds over the long-term.
U.S. Treasury Bonds
The Treasury yield curve bull flattened, reversing the rate-selloff we saw in the first quarter. Only the very front end of the curve remained unchanged, as it was already anchored by the Federal Reserve's earlier pronouncement of holding the Fed Funds Rate at its current low level through the end of 2014. The ten-year yield cross through its previous low set in 1946. At its trough yield of 2.53%, the thirty-year Treasury reached its lowest point since the throes of the Lehman aftermath in December 2008.

Agency Mortgage-Backed Securities
It is tough to look at 4% coupon mortgage backed securities and envision there being a lot of value. The 4% mortgage will not be a permanent feature of the U.S. housing market, which means that these securities are likely to fall in value over the long-term. However, with the Fed extending Operation Twist and "prepared to take further action as appropriate" perhaps prepayment speeds surprise to the upside even with mortgage rates at historic lows. I believe this is a tough trade on an absolute basis, but investors wishing to add a diversifying component to their portfolio in the event that global growth continues to slow markedly or the Europe crisis intensifies may wish to overweight low coupon conventional mortgages.
Global Sovereign Bonds
Globally, sovereign bond yields rallied to what were in some instances multi-century lows. The only laggards were the usual suspects as the most topical sovereign bond yields in the world - Greece, Italy, and Spain - sold off during the period as the European crisis picked up once again.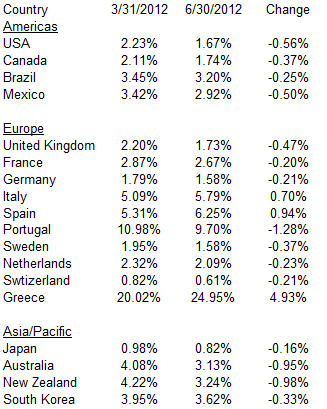 Municipal Bonds
The municipal market in the United States continued its strong performance as these sub-sovereigns rallied alongside U.S. Treasury securities. The Barclays Capital Municipal bond index posted a positive 1.9% return in the first quarter. The longer duration taxable Build America Bond index (BAB, BABS, BABZ) returned 3.7% in the second quarter, driven entirely by the rate component of the index as credit spreads widened by roughly thirty five basis points on average in the period.
While municipals broadly fared well, any recap of the second quarter would be lacking if some negative moments were not highlighted. Late in the quarter, Stockton, California became the largest city in United States history to file bankruptcy, and the city's efforts to force losses on bondholders could set a historically negative precedent for municipal bondholders. Elsewhere in California, Governor Jerry Brown's efforts to cure the state's budget deficit in part by eliminating the state's redevelopment agencies caused Moody's to downgrade $11.6 billion of tax allocation bonds issued by these agencies to below investment grade. While municipal governments have largely healed their balance sheets from recession-driven imbalances, longer-term structural issues like unfunded pension obligations will cause consternation at the state and local level like we have witnessed at the federal level.
Emerging Market Bonds
After roaring out to a greater than six percent return in the first quarter, global emerging market bonds, as proxied by the Barclays Capital Global Emerging Markets Index, returned just 1.2% in the first quarter. Global high yield securities are following a similar risk-on and risk-off pattern as domestic single-B corporate bonds, and investors should think about their allocations to each asset class in similar terms. While fundamentals of emerging market debt have improved over the past decade, European disunity and slowing global growth could lead to uneven performance. Emerging market debt is trading at historically tight spread levels, and whether the improvement of emerging market sovereign balance sheets relative to the developed world makes this compression justifiable remains to be seen. The road in emerging market debt will be bumpy, and visibility may be better for similar yield levels in the higher quality end of U.S. high yield credit.
Structured Securities
Retail investors rotating money into fixed income do so for safety and security. I can only recommend that investors stay in the "top of the stack" in commercial mortgage backed securities (NYSEARCA:CMBS). These securities were constructed with 30% credit support, meaning that thirty percent of the value of the pool of underlying mortgages can be wiped out before these highest quality securities suffer a loss of principal. Securities lower in the capital structure could provide investors with negative real yields due to a loss of principal and are probably inappropriate for investors who are not equipped to perform loan-level analysis of the underlying loans that compose the pool. Both CMBS and non-agency mortgage-backed securities continue to see their prices heavily influenced by the events in Europe, which is fairly quixotic given the remoteness of domestic mortgages from these events. The price volatility is a function of the riskiness of the securities, and like in CMBS, retail investors wishing exposure to non-agency mortgage backed securities should remain in stable, front-pay structures backed by prime and Alt-A collateral.
Summary
Typically, momentum is a more reliable predictor of future performance in the fixed income universe than in the equity markets, but the second quarter was almost a reversal of the strong start to the year for spread assets. Given the flight to quality trade into U.S. Treasury securities and high quality credits, there remains little room for investment grade credit to outperform on an absolute basis given low yield levels and tight credit spreads. While it does not appear that a rate sell-off is imminently forthcoming given weakened domestic economic data and the increased likelihood of monetary accommodation, holders of investment grade credit and municipal bonds may be better served levering short duration securities (through their margin account or embedded in closed-end funds) rather than extending out the yield curve where the eventuality of higher interest rates will lessen portfolio value. I remain constructive on BB-rated domestic credit, and believe that these securities as an asset class will provide solid risk-adjusted returns for income investors.
Disclosure: I have no positions in any stocks mentioned, and no plans to initiate any positions within the next 72 hours.