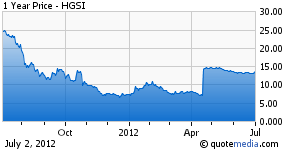 An offer on the table from GlaxoSmithKline (NYSE:GSK), $13 per share for Human Genome Sciences, Inc. (HGSI), normally would have put a floor under the share price. But Human Genome Sciences adopted a short term shareholder rights plan (poison pill) to ward off a hostile takeover. The plan has a one year expiration. GlaxoSmithKline requires the shareholder rights plan be dissolved before a takeover could continue. Human Genome Sciences has solicited bids, due by July 16, 2012, from other potential acquirers.
Human Genome Sciences, Inc. has revenue from two products; Benlysta, the first new drug for Lupus in more than 50 years, and Raxibacumab for the treatment of inhalation anthrax. Although not approved, Raxibacumab sales have resulted from stockpiling. In the pipeline for Human Genome Science, shared with GlaxoSmithKline, are Darapladib for heart disease (discussed in another Seeking Alpha article) and Albiglutide for diabetes.
Albiglutide is a long-acting Glucagon-Like Peptide 1 (GLP-1) agonist being developed to treat diabetic patients. Human Genome Sciences shares potential royalties with GlaxoSmithKline for Albiglutide (single-digit royalties on worldwide sales, from the 2011 annual report). Recently reported Phase III clinical data from the Harmony 6 trial suggest Albiglutide is superior to fast-acting Insulin Lispro at reducing HbA1C levels in patients. And results from the Harmony 7 trial, Albigltide was effective in reducing HbA1c, "but did not meet the pre-specified primary endpoint of non-inferiority to liraglutide". It was however associated with less events of hypoglycemia, which is positive.
Development of Albiglutide seems on track and Albiglutide would be the third approved drug in this class. Amylin (AMLN) developed the first drug in class, twice daily injectable Exenatide (Byetta). Novo Nordisk (NYSE:NVO) developed once daily injectable Liraglutide (Victoza). Amylin's approved once a week injection version of Exanatide, Bydureon, was finally approved. Amylin's stock price was depressed in the interim period with approval difficulties with Bydureon, but appreciated significantly recently culminating in the recent activist surrounding a buyout. Notably, Amylin is being acquired by Bristol-Myers (NYSE:BMY) at a 10% premium to the market price of Amylin shares (at the time of the announcement).
Albiglutide, the potential third in class drug, being co-developed by Human Genome Sciences and GlaxoSmithKline is a GLP-1 agonist fused with human albumin. This extends its half-life. Albiglutide is formulated as a once weekly injectable drug using a fine gauge needle, which may have an advantage over Bydureon's injection needle. The pharmacokinetics of long acting drugs can be important. For example, long acting insulin sales are dominated by Novo Nordisk's Lantus, much due to its long stable duration of action. It is reasonable to expect the drug in the GLP-1 agonist class with the best pharmacokinetic profile will, in the end, sell best. It may be easier to be optimistic about the Albiglutide's chance for approval than whether it will fare better in the market than the other drugs in the class. Time will tell. But, and this could be significant, there is a reason to speculate that sales of most drugs in this class will be "blockbuster". This class of drugs is not associated with weight gain (some oral hypoglycemic drugs and insulin are associated with weight gain) and since they work in a glucose dependent fashion, pose less risk of hypoglycemia. For type 2 diabetes, this class of drugs have the potential to be the second drug of choice added to a Metformin regimen. Metformin, unless contraindicated, is the first drug used for new onset type 2 diabetes, both because of its excellent safety profile and it is associated with weight loss. It's also cheap. Metformin, if anything, is cardioprotective, a claim that cannot be made for example by GlaxoSmithKline's diabetes drug, rosiglitazone (Avandia), which is associated with an increase in cardiovascular events.
Metformin is only approved to treat patients with diabetes, not weight loss. However, the first new drug in thirteen years for treating obesity was approved recently. Locarserin was developed by Arena (NASDAQ:ARNA). On the horizon, Vivus' (NASDAQ:VVUS) obesity drug Qnexa awaits its key decision in July of 2012. Potentially in 2014, the obesity drug Contrave developed by Orexigen (NASDAQ:OREX) may be up for approval. With the growing incidence of type 2 diabetes, the potential market for GLP-1 agonists (and obesity drugs) is huge and whether GLP-1 agonists will be the most commonly added class of drugs for addition to metformin for treating type 2 diabetes patients remains to be seen. But, it would impact sales immensely.
There is synergism between GlaxoSmithKline and Human Genome Sciences, so it seems doubtful that GlaxoSmithKline will walk away abruptly. This may decrease the downside risk in Human Genome Sciences' share price. There is currently little information to comment on about whether there are any other prospective buyers for Human Genome Sciences. Consider that as more people enter the pool of insured patients due to the recent Supreme Court decision upholding the healthcare insurance mandate, the sales prospects for both expensive GLP-1 agonists for treating type 2 diabetes patients and the very expensive drug, Benlysta, for treating Lupus patients, may correspondingly improve. There is risk that Albiglutide will not be approved or sell well, but optimism exists. If GlaxoSmithKline did walk away, there is risk that Benlysta sales will not improve leaving Human Genome Sciences share price to settle back toward $8 per share. But again, there is optimism that Benlysta sales will increase.
Buy shares in Human Genome Sciences, the benefit may outweigh the risk.
Disclosure: I am long ARNA. May initiate a position in HGSI or VVUS over the next 72 hours.