Last week, Germany caved on its attempt to force austerity upon some of its less financially capable European Union partners, in a move that appears to signal more fiscal stimulus is coming to the continent. The union's leaders announced a new plan to pump cash into troubled banks within Spain and Italy, which will in turn use that money to purchase sovereign bonds, and stop forcing austerity measures. This measure signals that further money printing is likely, which should bode well for precious metal investors, as well as holders of other hard assets.
Beyond just pumping money into the banks, this new plan also intends to centralize the regulating of European banks so that the union may more directly bail them out. The clearest reasoning for this would be that more banks should require bailouts, as will members of the European Union. Further, by funneling the funds from the banks to the nations, as opposed to from the nations to the banks, the union may be able to prevent or at least delay an outright sovereign default.
This move to prevent austerity and distribute more cash should have the eventual affect of increasing hard asset prices in euro terms. This is because the European Union will have to decide between allowing the euro, at least in its current form, to die or to allow above average inflation. In the short term, the euro recognized a strong increase on Friday, compared with the U.S. dollar, but much of this increase is because the move by the union increased the likelihood of the euro's survival. Over the longer term, the continued monetization of both bank and sovereign debt should have the affect of weakening the currency.
Over the last decade and going into 2012, gold has appreciated each year, though it has stumbled recently. Much of the more recent volatility and weakness by gold and other precious metals, as well as most commodities, appears to be because of prior strength that caused asset re-allocation, but also because of more recent pushes for austerity. This recent volatility is not necessarily a bad thing for longer-term investors, and it may be a sign that gold is ready to make a substantial move. After all, it would have been unheard of for gold to move 20 dollars in a day just a few years ago, but over the last few quarters such moves have become a regular occurrence.
These new larger moves indicate that gold has become more comfortable with its higher price and the more substantial relative moves that should correspond with its new price and trading range. Additionally, neither today's dollars nor euros are the same ones that were used to price gold even a few years ago.
Right now, it appears likely that those European citizens with the assets to do so should be building up their gold and hard asset reserves in advance of probable future devaluation of the euro. This is especially the case now, because the euro is recognizing some short-term appreciation due to its greater likelihood of survival, thereby giving holders of euros the opportunity to exchange them at a superior valuation. Of course, such survival will come at the cost of a declining valuation, which should eventually bode well for gold in euro terms.
Beyond gold, the gold miners may also be a sensible long-term investment. Through the second quarter of 2012, gold and the U.S. equity markets exhibited a very high level of correlation. Despite this, gold miner equities, which can be seen as a leveraged bet on gold, dramatically underperformed the benchmark and he commodity. See the Q2 2012 comparison chart of the SPDR S&P 500 Trust ETF (NYSEARCA:SPY), SPDR Gold Trust ETF (NYSEARCA:GLD) and Market Vectors Gold Miners ETF (NYSEARCA:GDX):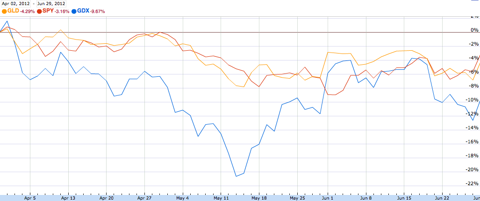 This recent peculiarity can be seen over the one-year chart, where Gold and its miners were highly correlated for the first several months, but then decoupled. Since then, gold and the S&P 500 approached one another and subsequently became highly correlated, leaving the miners to wallow. See the 12-month performance comparison chart, below: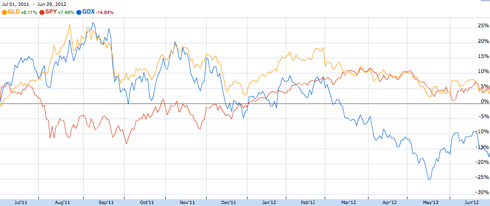 There are probably several reasons why these miners have so substantially underperformed both gold and other equities recently, but one significant cause is likely that these miners used to be the only real way to gain equity exposure to gold, beyond taking physical possession, but since the advent of GLD and similar ETFs, many prior would-be investors in the miners have instead opted for a gold ETF. This would result in lower trading volumes and a generally reduced demand for the miners.
Nonetheless, long-term and value-oriented investors do often seek such characteristics out, hoping to sell when volume and interest in the allocation are restored, and the price has increased. Another reason some investors may prefer a miner over the commodity is that several miners provide a dividend. For example, Barrick Gold (NYSE:ABX) presently provides a 2.1 percent yield and Newmont Mining (NYSE:NEM) now yields about 2.9 percent, both of which are greater than the dividend payout of the S&P 500.
Notable differences between miners and gold exist, including that mining companies often suffer risks that a commodity investment will not, such as mine productivity issues, bad weather, management negligence and fraud. Mines owned by foreign corporations are also sometimes shut down and/or nationalized by hostile local governments, let alone bad weather, earthquakes and many other foreseeable and unexpected risks.
Disclosure: I have no positions in any stocks mentioned, and no plans to initiate any positions within the next 72 hours.