In my original Rock Solid Retirement Stocks article , I gave a general overview of market factors affecting retirees. (Short version: ultra-low Treasury bond yields mean that retirees must investigate more equity options.) I then proceeded to construct a fairly rigorous stock screen with eleven criteria, and explained why each of those criteria was important. The result was a list of 19 stocks that seemed suitable for retirees' portfolios.
I was blown away by the overwhelmingly positive response to my Rock Solid Retirement Stocks article -- it was graced with the Editor's Pick label from SeekingAlpha, and most commenters seemed to find it helpful. I'd asked for feedback on additional criteria that might be useful to include in the screener. Several of you had ideas that you communicated either via comment or private message, and the most common suggestion seemed to deal with leverage and debt. Many readers were concerned with investing in heavily indebted companies -- and rightly so!
Therefore, I went back and modified my original screen to include new criteria to judge a company's ability to pay its debt. I set them rather loosely, and as I discussed before, you can ratchet each individual criterion up or down to suit your needs.
I'll go over the new criteria as well as some of the ones I modified. If you didn't read the original article, I'd encouruage you to go back and read that one first, then come back to this one -- it'll make a lot more sense that way.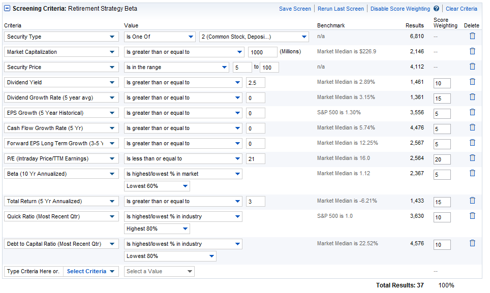 Added Criteria
Quick Ratio
The quick ratio, while defined various ways, is generally a measure of a company's ability to pay off current liabilities. A quick ratio greater than one means that using cash, receivables, and other "short-term" assets, a company could pay off all current liabilities. I chose "quick ratio in the highest 80%" because I believe the other criteria utilized are sufficient to ensure we generally have only well-managed companies on our list. You may feel differently, and can vary the ratio accordingly.
Debt to Capital Ratio
The debt to capital ratio does what it says: it measures debt to total capital. High debt to capital means the company is highly leveraged, whereas low (or zero) debt to capital means that it isn't. Again, under the assumption our previous criteria have left us with fairly well managed companies, I set this requirement rather loosely at "lowest 80% in industry."
It's important to note that I used lowest debt-to-capital in industry as opposed to lowest debt-to-capital in market. Why? Well, industries differ in their utilization of debt. For example, imagine a simple software company that makes Flash games online. Their expenses are pretty much limited to wages and equipment/maintenance cost for servers, computers, etc. They probably won't have to take out a huge amount of debt.
On the other hand, imagine a heavy industry company that's making tractors or something along those lines. Suddenly, you need a lot of machinery and such. You're probably going to have to take out a lot more debt.
As you can see, it's not apples-to-apples across industries. These are the sort of things you need to consider when comparing metrics -- not just debt, but things like growth rates as well. Often, a company's position in an industry can have more meaning than the company's position in the market.
Modified Criteria
I loosened some of the criteria I'd set in the first one out of necessity -- to generate a larger selection of stocks for readers to further examine. As you introduce more and more criteria, the overlap section in the middle of the multidimensional Venn diagram gets smaller and smaller. Again, my criteria are just suggestions -- please consider your own needs and investment philosophy and tailor the criteria to fit your specific situation.
Market Cap: reduced to >$1B (from >$2B). As stated in the previous article, there's nothing wrong with mid-caps or smaller large caps.
Security type: expanded to include ADRs, which are securities of foreign companies (think Canon, Volkswagen) that trade on US markets. I forgot to include this last time, and commenter tuliptown brought this point up. (Tuliptown was also one of the commenters who brought up the debt issue. Thanks, tuliptown!) Please note that I'm still excluding REITs -- they need to be evaluated in a different way from traditional stocks and are thus hard to screen based on the same criteria.
Dividend yield ratcheted back to a 2.5% minimum and dividend growth rate moved back to 0% minimum. Again, this was just to expand the cross-section of companies -- if you want higher dividends, choose a higher level for both of these.
Have you ever noticed that top-quality brands are hard to find on sale? Well, I have. While I typically like buying low-P/E "value" stocks, the truth is that some of the super-high-quality mega-caps are rarely available in the bargain basement. For example, I consider Procter and Gamble a pretty good value right now, and it's trading at a P/E of 18. I increased the maximum P/E ratio slightly to 21, which brought in Coca Cola. As with anything else in life, if you want to invest in very high-quality companies, you may have to pay a bit more for the privilege.
Results
36 stocks met the new criteria.
| | |
| --- | --- |
| OCCIDENTAL PETROLEUM CORP | OXY |
| GRUPO AEROPORTUARIO DEL SURESTE SA DE CV | ASR |
| NTT DOCOMO INC | DCM |
| HASBRO INC. | HAS |
| CSX CORP | CSX |
| NORFOLK SOUTHERN CORP | NSC |
| EMBOTELLADORA ANDINA SA | AKO.A |
| MATTEL INC. | MAT |
| MCDONALD'S CORP | MCD |
| UNITED TECHNOLOGIES CORP | UTX |
| OWENS & MINOR INC. | OMI |
| OLIN CORP | OLN |
| CLECO CORP | CNL |
| TELSTRA CORPORATION LTD | TLSYY |
| NESTLE SA, CHAM UND VEVEY | NSRGY |
| GENUINE PARTS CO | GPC |
| SEMPRA ENERGY | SRE |
| CENTERPOINT ENERGY INC. | CNP |
| BRISTOL-MYERS SQUIBB CO | BMY |
| 3M CO | MMM |
| J.M. SMUCKER CO (((THE))) | SJM |
| NORTHEAST UTILITIES | NU |
| WISCONSIN ENERGY CORP | WEC |
| DTE ENERGY CO | DTE |
| COCA-COLA CO (((THE))) | KO |
| IDACORP INC. | IDA |
| PACKAGING CORP OF AMERICA | PKG |
| EMPRESA NACIONAL DE ELECTRICIDAD SA ENDESA (CHILE) | EOC |
| SOUTHWEST GAS CORP | SWX |
| SOUTHERN CO (((THE))) | SO |
| KIMBERLY-CLARK CORP | KMB |
| SCANA CORP | SCG |
| PEPSICO INC | PEP |
| CONSOLIDATED EDISON INC. | ED |
| VECTREN CORP | VVC |
| ATMOS ENERGY CORP | ATO |
Conclusion
Similar outro to last time. It's obviously necessary to do more than just run a stock screen then hit the "buy" button. However, a rigorous stock screen that analyzes stocks from all angles can be a great starting point for building your own diversified portfolio. I believe my criteria are appropriate, but they're by no means the end-all be-all solution to investing -- I encourage you to consider your own needs and tweak some of my criteria to suit your financial plan. The stocks listed above seem pretty solid, but it's always important to do your own research.
I'm planning to continue this series of articles, and branch out into other areas of retirement investing. Please let me know in the comments section or via message what areas you'd be interested in learning/reading more about -- and as always, I'd love to hear feedback on the criteria. As a retiree or near-retiree, what criteria are most important to you? Do you have any alternative methods of analyzing potential stocks?
Disclaimer: I am an individual investor, not a licensed investment advisor or broker dealer. Investors are cautioned to perform their own due diligence. All information contained within this report is presented as-is and has been derived from public sources & management. Always contact a financial professional before making any major financial decisions. All investments have an inherent degree of risk. The future is uncertain, and actual results may be materially different from those expected. Past performance is no guarantee of future results. All views expressed herein are my own, and cannot be interpreted as the views of my employer(s) or any organizations I am affiliated with. Presentation of information does not necessarily constitute a recommendation to buy or sell. Never make any investment without conducting your own research and reading multiple points of view.
Disclosure: I have no positions in any stocks mentioned, but may initiate a long position in MMM over the next 72 hours.