Palm Inc.'s (PALM) risk profile has increased significantly, says Canaccord Adams analyst Peter Misek, who adds he's "not convinced" that the scheduled launch of its Windows-based mobile Treo device this summer, aimed at the enterprise smartphone market, will be enough to turn around the company's fortunes.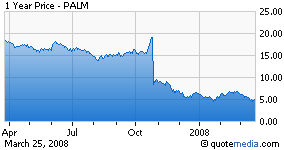 Palm recently reported poor third quarter results that were below consensus on both the top and bottom lines. It's revenues were $312-million, compared to consensus estimates of $316-million, while adjusted earnings per share came in at $0.16 a share, up $0.02 from the previous year, but are still below consensus. Mr. Misek said:
Despite the reported success of its low price-point Centro, sale of this low-margin product were not substantial enough to offset the decline in the rest of Palm' products.
While highly leveraged Palm does not have any financial maintenance covenants on its debt and appears to have enough cash and marketable securities to survive in the short term, Mr. Miskek says the company's risk profile has increased due to to its $74.4-million in illiquid auction rate securites that it is currently evaluating for impairment. These auction rate securities are now classified as cash, and any impairment charge could decrease cash balances by as much as 10% - 25%. Mr. Misek notes that Standard & Poor's recently cut Palm's credit rating to junk status.
The analyst concludes that Palm's "make or break" launch of its enterprise-based TREO will won't be enough to compete with Waterloo, Ont.-based Research In Motion's (RIMM) dominance in the smartphone market with its BlackBerry product.