In this article, we will provide you with financial fundamental analysis of footwear retail and manufacturing companies on U.S. stock exchanges. For each company, we have provided price targets, buy/sell/hold ratings, buy/sell ranges and theses. Additionally, using a multitude of financial analytical ratios and comparisons, we have given each company a score on growth, profitability, financial health, value and management indices to compare each company and see where the companies excel and where they have weaknesses. We have featured four of the 12 companies in the full report, which can be seen here. Part 1 can be seen here.
The 12 companies we have initiated coverage on in the footwear retail and manufacturing industry are Brown Shoe (BWS), Collective Brands (NYSE:PSS), Crocs (NASDAQ:CROX), Deckers Outdoor (NASDAQ:DECK), DSW (NYSE:DSW), Finish Line (NASDAQ:FINL), Foot Locker (NYSE:FL), Genesco (NYSE:GCO), Nike (NYSE:NKE), Skechers (NYSE:SKX), Steve Madden (NASDAQ:SHOO), and Wolverine (NYSE:WWW).
| | | |
| --- | --- | --- |
| Ticker | Price Target | Current Rating |
| BWS | $10 | Hold |
| PSS | $26 | Hold |
| CROX | $26 | Buy |
| DECK | $40 | Hold |
| DSW | $50 | Hold |
| FINL | $26 | Buy |
| FL | $36 | Hold |
| GCO | $68 | Hold |
| NKE | $118 | Hold |
| SKX | $19 | Hold |
| SHOO | $39 | Hold |
| WWW | $52 | Buy |
In Part 2, we are going to take a closer look at Nike, Collective Brands, Skechers, and Wolverine Worldwide.
Nike, Hold, PT at $118 -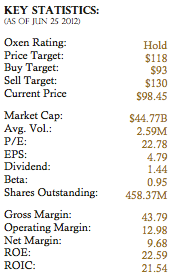 Nike surprised us with its lower scores on EquityAnalytics, but after we look more closely at NKE, its scores make more sense.
The global footwear and retail manufacturer and designer has become so large that it has lost some of that growth appeal, and it has become an income investment that should be bought when value presents itself. The company, however, right now has one of the highest valuations of the industry with 22+ PE and 4.4 P/B ratios.
The company is a global stalwart and has created a lasting economic moat through brand recognition, sports infiltration, and adding sports stars to the mix, which have strong roots that are hard to break. The company, also, does a great job of breaking into industries where it is not a major player and adding necessary pieces to become a top player like they did with golf and Tiger Woods.
The company did not score great on financial health, which was shocking due to some recent drops of significance in FCF margins as well as cash on hand. The company does have solid current ratios, and it has dropped debt loads down, but its lack of FCF is concerning for such a sizable company.
Right now, we see its value as too expensive for their growth prospects but would love to add on any major pullbacks.
Collective Brands, Hold, PT at $40 -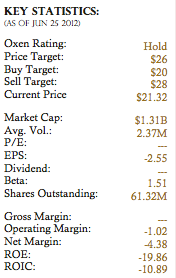 Collective Brands is one of the cheapest companies in the industry, but that makes sense given that the company has struggled so much lately. We believe the market is underpricing the company, though, at this point. Yet, we are not willing to put a Buy rating on the company until it weakens a bit more.
Currently, our $26 price target factors in literally no growth over the next five years in operating income, which really is not likely to happen. The company, though, has not shown us that it can consistently make money and perform well in the marketplace.
Payless Shoes has seen a lack of demand from low- to middle-income consumers that have cut back on spending, and the company has not seen dollars coming in from higher income areas to offset the losses during these tough times, which has created a tough environment for PSS.
The value, though, is there for PSS, and we believe that the market is ignoring PSS' potential to regain its footing once the economy corrects. The price/book is well below 3 at 1.9, which is very cheap and price/sales are below 0.5. Both numbers indicate an overly aggressive discounting.
We are very close to a Buy here, but we do realize that the market will want to see success before adding any multiples to valuations, so we are holding off on getting long. Continue to watch the story here though.
Skechers, Hold, PT at $19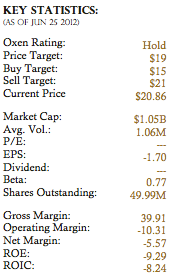 Skechers appears to be hitting a cyclical bottom that goes in five-year swings for the company. We believe we need to temper expectations for the company, as it is still a company that is making very little in profits, but it does appear to be hitting a cyclical bottom with the end of its Shape-Ups line and moving onto a new line that should bring it solid growth over the next two to three years.
The "Go" line is gaining traction, but we were not impressed with how SKX handled the Shape-Up explosion. It was not able to leverage that opportunity very well and also created no economic moat and was undercut by pricing. So, we want to see the company do a better job of managing growth and higher demand for certain products before we dedicate positions to the company.
The company has very strong financial health, and it operates with a very solid current ratio near 3 as well as has relatively low levels of debt. It also has good value with 1.22 price/book ratio, but it has a 22 future PE. At this point, we believe the market is pricing the company pretty fairly on an earnings standpoint. So, the company needs to drastically improve margins to push its value even higher.
We would continue to be cautious with SKX. It did not deal well with the economic downturn or success of Shape-Ups, and that precedent makes us cautious.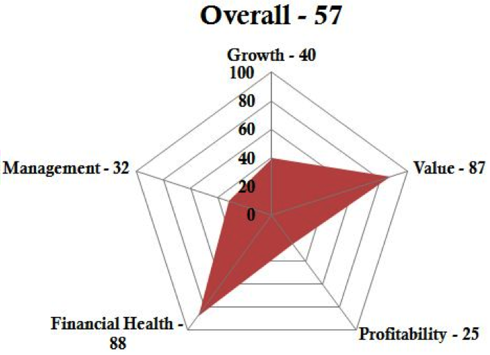 Wolverine Worldwide, Hold, PT at $36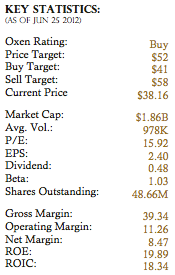 Right now, we like the Wolverine World Wide picture on a combination of good value, acquisition of Collective Brands, and strong financial health. The company has good value right now that we believe is undervaluing Collective Brands as we stated before as well as the WWW lineup.
The company currently has a forward PE of just 12.5, which is below the 15 level we look for for value. Price/book is right at 3, which is also another place of value. We like the recent acquisitions of Sperry, Saucony, and Keds from PSS. We believe that this allows the company to bring some solid names to the lineup and fill missing spots like running shoes and add to its women's shoe lineup, which has been lagging.
Financial health is another bright spot for WWW. The company has a stellar current ratio at 3.5 and quick ratio at nearly 2. It has no long-term debt at all as well, which really helps equity value.
Some concerns we have for the company is that growth, organically, seems to be below industry averages as well as the company seems to be seeing dipping margins in the TTM. Yet, we have priced in lower growth and discounted at a higher rate for this reason and still like the current pricing. It does lack a major economic moat, but we believe the brand names are historical names that have strong consumer bases that will last.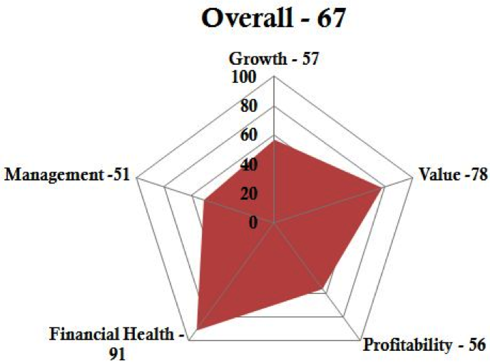 Disclosure: I am long PNRA.