The steep correction in the U.S. Housing market has made some regions very attractive in terms of long-term investment. This article discusses the rationale for believing that some pockets of the U.S. housing market are an attractive buy.
From the perspective of housing affordability, the NAR's composite quarterly housing affordability index rose to a record high of 205.9 in the first quarter of 2012 based on relationship between median home price, median family income and average mortgage interest rate. The quarterly index has broken the 200 mark for the first time since the record keeping began in 1970.
At the same time, the homeownership rate in the U.S. is at its lowest since 1997.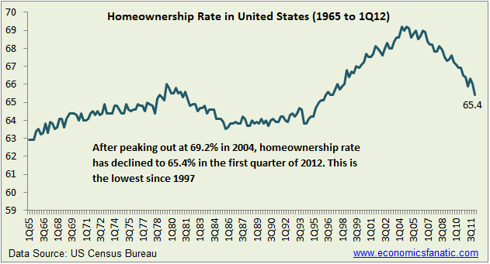 Another very important factor, which makes the housing market an attractive buy, is the increasing rental yield in the country. As the chart below shows, U.S. housing prices have been declining with near steady and rising rent.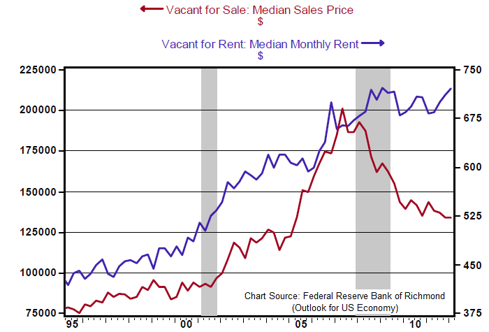 This makes rental yields very attractive and can be considered to be a safer and better investment option than long-term Treasury bonds. Selected regions in the United States can easily give a rental yield of well above 5%.
Just as an example, the Global Property Guide shows rental yields for Miami (Condominiums and town homes) for June 2011 in the range of 4-8%.
Based on house price appreciation by states since 1991, the states of Florida (74.03% appreciation), Arizona (69.92%), Ohio (51.32), California (52.28%) and Georgia (46.31%) might be considered to be having some attractive real estate up for grabs.
The growing interest in the U.S. Housing market after the correction is evident from the fact that the total sales volume to international clients grew to $82.5 Billion for the 12 months ending March 2012, up from an estimated $66.4 Billion for the 12 months ending March 2011.
It is also important to mention here that 51% of the international purchase of houses has been in the states of Arizona, California, Florida, and Texas. The first three are among those that have exhibited the least appreciation in prices since 1991.
One of the key constraints for people in the U.S. looking to buy a house would be availability of credit. The banks have meaningfully tightened their lending standards and it would not be easy to buy a house with more debt than equity.
In conclusion, I am not suggesting that the housing price decline in the U.S. might be over. I am just considering some regions in the United States as good buys for long-term, healthy rental yields.
Disclosure: I have no positions in any stocks mentioned, and no plans to initiate any positions within the next 72 hours.