Annaly Capital Management (NYSE:NLY) is a real estate investment trust which invests in mortgage pass-through certificates, collateralized mortgage obligations, and other mortgage-backed securities. Annaly commenced operations in 1997 with the principal business objective to generate net income for distribution to investors from dividends it receives from its subsidiaries, along with its investment securities. Today Annaly is the largest mortgage REITs in the U.S. with interest and principal payments on investments guaranteed by government-sponsored agencies.
Annaly Capital Management has its stock trading at around $17, providing a 13% dividend. The 52 week range for the stock is $12.26-$16.82. It had a good first quarter of this year, reporting a net income of $901.8 million or $0.93 per share. In May, the company offered $750.0 million in aggregate principal amount of its convertible senior notes due 2015, yielding 5%. Company's officials announced that proceeds will be used to purchase mortgage-backed securities for the firms' investment portfolio and for general corporate purposes, which may include the retirement of its long-term indebtedness, repayment of short term indebtedness and additional investments.
With economic projections released by the Federal Reserve officials are expecting growth to slow down, and unemployment to rise. Amidst heightened fears about the economy performance and recovery, Federal Reserve opted to continue with the program known as Operation Twist and easy money policy to try to drive down borrowing costs without creating inflation worries. The central bank has held short-term rates near zero since December 2008 in hopes of spurring spending and investment. It is questionable that it will help U.S. economy, not only because poor domestic demands but also due to China's growth slowing down and problems the E.U. is facing with the debt crisis in Greece, Spain and Italy. It is a question does European Central Bank has enough capacity to handle all problems it is facing.
While many equity investors have been facing recent declines across the worldwide stock markets, investors in agency mortgage REITs have been comforted with their mortgage backed securities that are insured by federal agencies and have implied U.S. government backing. Although a big concern to these mREITs is that interest rates will increase in the end and that this will cheapen existing fixed income instruments, with the Fed's policy release outlook for mREITs and Annaly Capital Management remains positive. Main competitors of this REIT are Impac Mortgage Holdings (NYSEMKT:IMH), Redwood Trust (NYSE:RWT), MFA Financials (NYSE:MFA), Anworth Mortgage Asset (NYSE:ANH) and Casptead Mortgage (NYSE:CMO).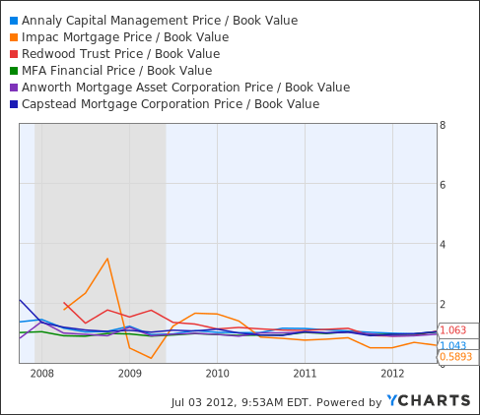 NLY Price / Book Value data by YCharts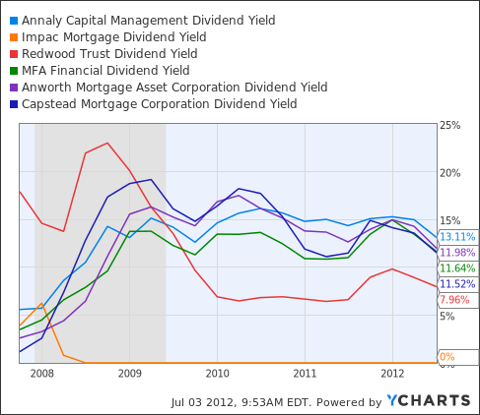 NLY Dividend Yield data by YCharts
The combination of well-positioned debt leverage and low rates continued to provide steady dividend returns. Though lower than last year's, Annaly declared the same common stock cash dividend of $0.55 per common share for the second quarter as in the first quarter 2012. Annaly was able to leverage its interest rate spread to provide investors a 12.99% annualized dividend yield compared to 2.82% as industry and 2.23% as sector average. On top of an attractive dividend yield, shares have increased by 5.6% annualized over the last three years. Having in mind many risks in the marketplace, slow economic growth and Europe debt crisis, Annaly's management maintained its relatively conservative operation profile flexible to a wide range of outcomes, keeping its leverage low. Beta of 0.28 indicates that Annaly is a quite less volatile than the market. Annaly has relatively lower leverage ratios in the mortgage REIT industry. In an environment of low and falling mortgage rates, lowering your leverage makes a lot of sense for the long term investor.

Under the company's investment policy, at least 75% of its total assets consist of short-term investments and mortgage-backed securities. The rest of its assets, which is lower than a quarter of its total assets, may consist of other qualified REIT real estate assets. All of the mortgage-backed securities Annaly owns have been supported by residential mortgage loans operated by single families in December 2011. Annaly also makes investments in Agency debentures, consisting of debentures issued by the Federal National Mortgage Association (Fannie Mae), Federal Home Loan Bank (OTCPK:FHLB), and Federal Home Loan Mortgage Corporation (Freddie Mac).
A report issued by Credit Suisse has the outlook for REITs in 2012 as optimistic with 2012 as a year that is likely to provide double-digit returns to REIT shareholders. A big concern to all mREITs and of course Annaly is that interest rates will eventually increase (expected not before 2014), but until that happens or until the trend in the global economy is reversed, eurozone crisis settled or some new product comes along, Annaly's current payout of $0.55 per quarter yields a robust and attractive 13%, which is not an unlucky number when yields are concerned both for domestic and international investors. Overall, Annaly is a quite promising investment and you should consider buying/ holding this name for significant profits.
Disclosure: I have no positions in any stocks mentioned, and no plans to initiate any positions within the next 72 hours.