I am starting to see some 1600 targets popping up for S&P 1600. Finally. I have been making the call since last fall, October 12 actually, and I thought 2014 would be the date - we were at 1198. My last article in the series "S&P Target 1600" dates from February 9, when we were at 1350. While many things have happened since, none was enough in itself to prompt me to change my view. In the comments posted in that article, I was starting to be cautious, 60% cash, with some doubts in Europe.
I know this has been quite debatable, on a daily basis, but over the long term, the scenario I penned on the series of articles titled "There will no European Liquidity Crisis" has unfolded almost as scripted. Actually, the first one dates back to September 27 and was my most read article to date, and also one of the most controversial. I'll summarize: guarantee, nationalize, monetize, securitize, sanitize, privatize. We are at the monetizing stage, so there is more to come.
One thing is important to recall, though. When these type of events have occurred in the past, it has usually pitted one country versus the rest of the world. Now, it's the PIIGS, France, Germany, the UK and even the US. So there should not be the usual consequence, i.e. a major disruption, or even a war - everybody is in the same boat, with the same policies. This goes for the medium term. Sure, we could see the dollar continue to strengthen against the euro - finally - but even then, looking back a few years, we are at roughly the same level we were in 1995 (on a synthetic basis, the euro having been introduced at year-end 1998) - and we did reach 0.85 in 2000-2002.
Longer term, it's another story. Europe needs a European fiscal authority if it is to issue European bonds, and spread the risk. Now, taxes are mainly raised to finance healthcare and the military. I don't see that happening - countries will never relinquish their military power to a centralized government - healthcare either - it's what gets the votes. So, yes, we may end up with a war - we have had a few of these - the question will be its scale. As a side issue, I would expect a new wave of immigration to the US, which could actually help rejuvenate our demographics - but I will leave this for another piece.
With regard to the market, short term, I would note a difference here. We have had a few false starts out of this "hunchback" inverted head and shoulders. Many smaller stocks were clobbered during the recent correction, much more than the indices would suggest - some for some reason, some for no reason - Sanmina (NASDAQ:SANM), Ion Geophysical (NYSE:IO), Maxwell (NASDAQ:MXWL) or even United Rentals (NYSE:URI), Granite (NYSE:GVA), Wesco (NYSE:WCC) or Woodward (NASDAQ:WWD), Honeywell (NYSE:HON), to name some of my favorites. These are coming back, and fairly strongly so. I think the shorting game - or maybe desperate selling by some weaker hands - is over. I have observed, without really understanding why, that the consolidation range was S&P 1314-1332. We obviously broke it last week.
Now, June 30 is the end of Q2 - we are about to find out about earnings. Either we will back in the range until the outlook clears up - and this could happen, given the weakness in Europe and the forex translation unfavorable comps - or we zoom up to 1400. MMM (NYSE:MMM) and PPG (NYSE:PPG) will be interesting bellwethers. By my book, 1366 sn the next stop. There was a lot of momentum last week, so I will give 2-to-1 odds to the upside.
In addition, my big winners for the past year have been housing stocks, PulteGroup (NYSE:PHM) and Toll Brothers (NYSE:TOL) in particular. This other article of mine was particularly decried. But, with hindsight, it did call the turn. If Housing recovers, and it seems this is more than a seasonal pick-up, then the economy improves, et cetera. The "sheep" will soon exit the bond market, and guess what, with a continued improvement in stock prices and home prices, household net worth is going to start looking better and better. Personally, I hope this does not bail out Obama and Reid, because one thing is for sure, we don't want to go the Hollande way - I mean French. But that's another story.
To finish on a picture, so that you don't think the Fed is about to take the punchbowl away anytime soon, my usual M1 Multiplier - still in the doldrums.
Click to enlarge.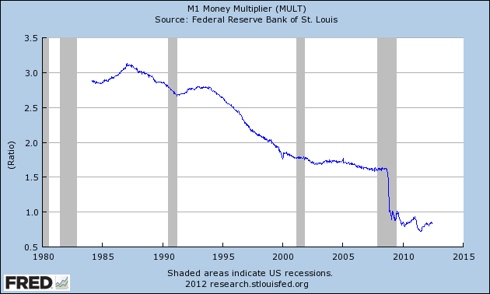 The net of it all: It's time to think about 1600 in 2012, and 2000 in 2014.
Disclosure: I am long ADES, AGM, EXH, FIATY.PK, GVA, IMAX, IO, ODP, PHM, SANM, SLM, TIVO, TOL, URI, URS, UTEK, VECO, WCC, WSBC, IR, JOE.
Disclaimer: As a Registered Investment Advisor, there are a few things we must tell you. We at Capital Max do not know your personal financial situation or investment objectives, so this article does not constitute a solicitation to purchase or sell any of the securities mentioned, nor is it intended to provide specific investment advice. Past performance is no guarantee of future performance. We live this every day, and you should know it too. The value of the securities mentioned herein may fall or rise and are not insured by any government or private company, even if it meant something. We believe what we write, and we take your audience quite seriously. However, since we cannot be held responsible for any loss or damage caused by reliance on the information and data herein, you should consult with your own advisor and/or do your own research before acting on any of our opinions, which we change without notice.