We are continuously being barraged with mixed news concerning the housing crisis. One day we hear signs are pointing towards a bottom; the next, housing numbers came in much lower than expectations. So we raise this question: What indicators should we be looking at to truly signal a recovery in housing?
With this question in mind our analysis focused on creating the stages we believe would be necessary to facilitate a recovery. We were able to define 7 chronological stages which need to occur in order for the crisis to end. Additionally, the progress for each of the stages can be measured by several key indicators. The stages we outline below are meant to help to average investor better understand how a recovery will most likely unfold, and includes indicator that anyone with a basic internet connection will be able to easily access.
Our stages and key indicators to watch:
1. The number of defaults from subprime borrowers needs to drop substantially. This will help to stabilize growing inventory levels.
Key Indicator(s): RealtyTrac foreclosure data (monthly) & MBA foreclosure data (quarterly)
Subprime ARM mortgage resets continue to be the primary driver behind subprime foreclosures (July 2007-November 2009):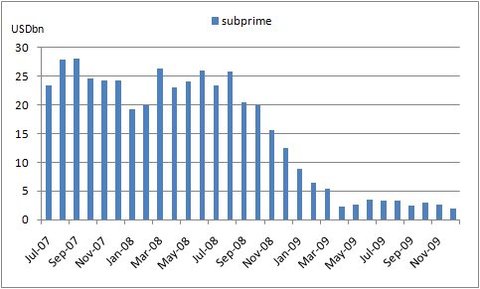 2. Banks need to lower lending standards for home mortgages. This will allow existing and new home sales to increase and prices to stabilize.
Key Indicator(s): Fed Senior Loan Officer Survey, mortgage rates (quarterly), Case Shiller Home price index (monthly), & New and Existing home sale prices
However, lending standards have tightened across all mortgage types according to the Senior Loan Officer Survey: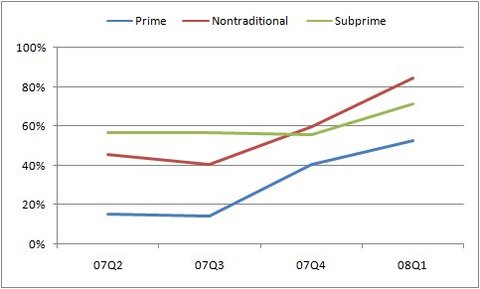 3. Once people are again able to buy homes we will see a reduction in inventory levels. When this occurs demand will rise for new constructions.
Key Indicator(s): New home sales data (monthly) & Existing home sales data (monthly)
But for now, increased foreclosures and tighter lending standards have caused new home sales to drop: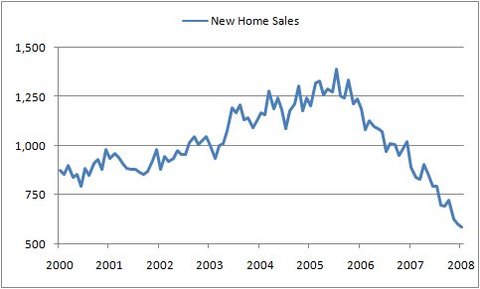 4. The rise in demand for new construction will first show up in building permits. The rise in building permits will lead to our next step...
Key Indicator(s): Building permits data (monthly)
But building permits have shown no signs of relief: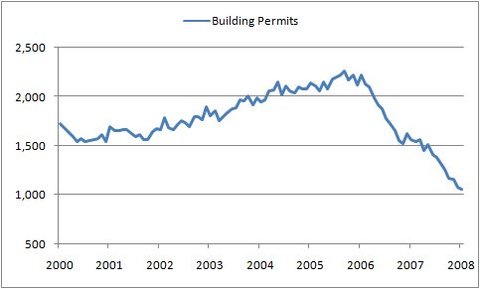 5. Very soon after the rise in building permits we will see an increase in housing starts.
Key Indicator(s): Housing starts data (monthly)
Currently, with permits being repressed, building starts are acting accordingly: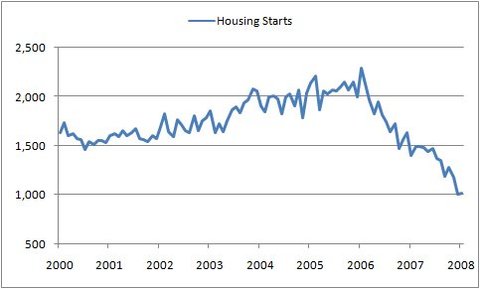 6. The increase in starts will lead to an increase in construction spending.
Key Indicator(s): Construction spending (monthly)
As you can see from this chart, this is not yet the case: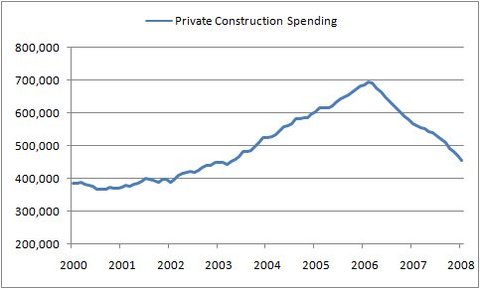 7. Finally, residential investment begins to rise and the housing crisis is over.
Key Indicator(s): Residential Investment via GDP release (quarterly)
Conclusion
Essentially, this crisis is occurring due to a substantial increase in the supply of houses through subprime foreclosures, and a decrease in demand to buy houses through harder to get mortgages. As more homes enter the market and less people are able to acquire mortgages to by them the price drops. Hence, the first major step in a recovery for the sector will be a slow-down in the number of foreclosures, which likely will not occur into the early parts of the second half of this year.
Secondly, and equally important banks need to reduce lending standards to allow qualified buyers to purchase new homes. These two actions combined will begin to reduce the inventory of homes on the market and stabilize price. Once the amount of inventory of homes for sale begins to drop, we will see demand for new constructions begin to rise. This will first show up in the building permits index, followed by housing starts, and finally private construction spending. All in all, this will not be a fast process, with the reduction in foreclosures and lowering of lending standards being the hardest hurdle to overcome.
Currently, the primary driver for subprime foreclosures are interest rate resets. When these borrowers we first given their mortgages they were given low teaser rates which would eventually reset into higher adjustable rates. Meaning some mortgage holders who were paying USD1,200 a month for their mortgage in November could be paying USD3,200 a month in December. For a lot of these borrowers it has been nearly impossible to pay the new amount and they have been forced to default.
On a positive note, based on available market information we should see the number of resets for adjustable rate subprime mortgages peak sometime in late spring/early summer. However, this means there are still a lot of resets in front of us which will prevent a sustainable recovery over the next few months. Are best estimates are indicating we should start to see the early signs of a recovery in 3Q08.
Investment Idea
Once a the market starts showing signs of a sustained recovery, we feel that US home builders could significantly benefit. US homebuilder stocks have been pounded since the housing crisis first began, and will be poised to make a recovery as demand for new homes eventually rises.
However, as we said this could take some time, but it will happen. In fact, we recently witnessed a rally in the sector when the market misinterpreted last month's housing data to imply we had reached a bottom. To us this means we aren't the only people looking at this trade. We had actually picked up a long position of iShares Dow Jones Home Contstruction ETF (BATS:ITB) at around 18 with the intent of holding for the long term. However, when the market rallied on what we felt wasn't substantial evidence for a recovery we sold the position at around 21. The ETF has since returned to trading at around 16, and we are considering re-purchasing for the long-term.
Performance of Home Builder ETFs