Last week's Supreme Court ruling on the Affordable Care Act has pointed a spotlight on the hospital industry, and one stock that looks especially promising to me is Community Health Systems, Inc. (NYSE:CYH). The company has strong sales, strong profits, and a stock that looks cheap by most price multiples.
Community Health is a mid-cap company that operates approximately 135 acute care hospitals across the US. The hospital operator also has a subsidiary, QHR, that provides management, consulting, and advisory services to independent hospitals and health systems in the US. Just Monday morning, the company announced it was acquiring a community hospital in York, PA with the agreement to replace it in 5 years time. The company focuses on meeting the medical needs of smaller communities.
CYH's market cap stands at $2.58B, with most recent closing price at $27.94. By many measures, the stock price appears to be low. PEG at 0.79. P/FCF at 5.67. TTM P/E at 9.67 vs. 15.38 for health care providers industry. TTM P/S at 0.18 vs. 0.74 for the company's industry.
Bear in mind too that the stock is not suffering from negative pessimism at the moment. The stock is rallying above its 20-day, 50-day, and 200-day moving averages. The stock is trading within 3% of its 52-week high, with a short float at 5.87% and a short ratio of 3.16 days.
The company's profits are strong according to DuPont analysis, with rising net margin, rising asset turnover, and falling leverage ratios along with rising return on equity. MRQ net profit margin at 1.99% vs. 1.83% y/y. MRQ sales/assets at 0.239 vs. 0.228 y/y. MRQ assets/equity at 6.363 vs. 6.368 y/y.
Encouraging sales trends are also supporting the company's strong profit trends, comparing revenue to inventory over the last year. Revenue grew by 12.8% during the most recent quarter ($3,783.49M vs. $3,354.05M y/y). Inventory grew by 7.53% during the same time period ($354.07M vs. $329.27M y/y). Inventory, as a percentage of current assets, decreased from 11.61% to 11.42% during the most recent quarter (comparing 3 months ending 2012-03-31 to 3 months ending 2011-03-31).
EPS growth for CYH over the last 5 years has been at 10%, in line with the industry's average. Looking forward, roughly the same EPS growth is expected for CYH over the next 3-5 years.
Taken all together, I believe Community Health's stock appears cheap considering its sound balance sheet, strong income statement, and steady earnings growth outlook.
For an interactive version of this chart, click on the image below. Analyst ratings sourced from Zacks Investment Research.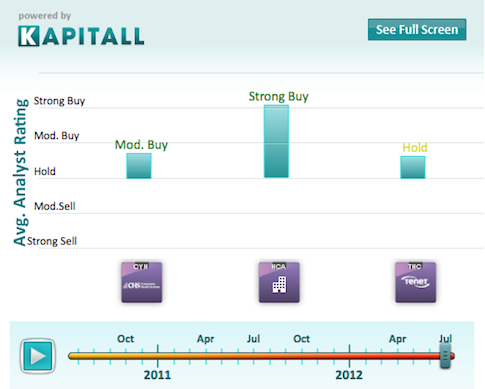 Tool provided by Kapitall.
*Written by Alexander Crawford. Price multiple data sourced from Fidelity, EPS data sourced from Yahoo! Finance, accounting data sourced from Google Finance.
Disclosure: I have no positions in any stocks mentioned, and no plans to initiate any positions within the next 72 hours.