By: Brendan Gilmartin
Overview
Alcoa (AA) is scheduled to report 2Q 2012 earnings after the closing bell on Monday, July 9. A conference call will follow at 5:00 p.m. EST. Alcoa is a critical release, as the company is the first of the Dow 30 members to report quarterly results and is often viewed as a proxy for the ensuing earnings season. The results therefore have an impact across the broader market, including the index futures and ETFs.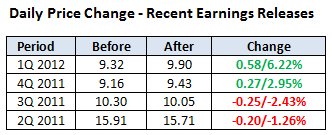 Outliers & Strategy
Sympathy Plays: Kaiser Aluminum (NASDAQ:KALU), Century Aluminum (NASDAQ:CENX), Alumina (AWC), and Aluminum Corp of China (NYSE:ACH).
Alcoa is seen posting EPS of $0.06 for the 2Q period (well below the $0.12 projected 90 days earlier) (Source: Yahoo! Finance). The range of estimates is from breakeven to $0.12.
On the London Metal Exchange (LME), aluminum prices have sunk to 2-year lows on waning global demand.
Despite lower aluminum prices, U.S. auto producers (Ford & GM), delivered stronger than expected June sales reports, implying demand for the metal may have picked up toward the quarter-end.
Recent News
06/26: Deutsche Bank cut its 2Q 2012 EPS estimate on Alcoa from $0.16 to $0.04, citing falling aluminum prices, coupled with repair and maintenance costs, according to a report on MarketWatch.com. Macroeconomic weakness was another factor.
06/25: Stifel Nicolaus cut its 2Q 2012 EPS estimate on Alcoa from $0.11 to $0.03 due to falling aluminum prices, according to a post on Barron's. The firm noted that LME aluminum prices dropped about 12.5% during the 2Q and projected further weakening.
06/21, According to StreetInsider.com, Goldman Sachs cut its 2Q 2012 earnings estimate on Alcoa from $0.17 to $0.07 on forecasts for lower aluminum prices. The firm expects weak supply/demand fundamentals through 2014. The price target was cut to $10.
Technical Review
Alcoa shares are off about 11% since the start of the 2Q period, nearly matching the pullback in LME Aluminum contracts over that same timeframe. The shares recently succumbed to a low of $8.21 (6/4) its weakest level since April 2009. Despite the waning sentiment and concurrent pullback in aluminum futures, the shares have been rebounding over the past several sessions, climbing toward resistance at $9 - a previous support level going back to mid-2009. Should Alcoa penetrate that key level, there is room to run toward the 200-Day SMA near $9.60, followed by the $10 per share area. Conversely, initial support is at the 20-Day SMA near $8.60, with further downside risk to the aforementioned low of $8.21. (Chart courtesy of StockCharts.com)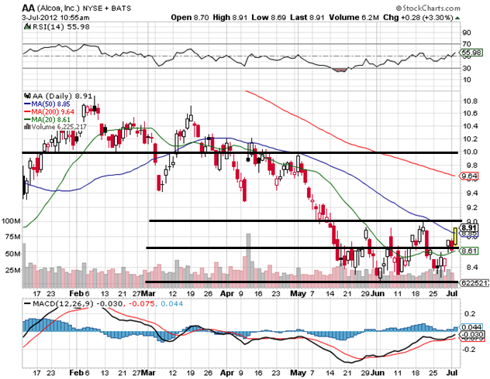 Summary
Alcoa shares recently tumbled to a multi-year low, mirroring the pullback in aluminum prices, due to slower worldwide demand stemming from softness in manufacturing activity in the U.S. and China, and the economic woes plaguing Europe. Against this negative backdrop, nearly every sell-side analyst has EPS estimates (Abnormal EPS per the Selerity methodology) in half from about $0.12 three months ago to a more recent $0.06. Technically, Alcoa shares have formed a pretty solid support base in the $8.40/$8.60 area, with potential upside toward $10.00 if earnings surprise to the upside. In either case, the results will be watched closely for clues on the health of the economy and as a gauge on the broader market entering the 2Q 2012 earnings period.
DISCLAIMER: By using this report, you acknowledge that Selerity, Inc. is in no way liable for losses or gains arising out of commentary, analysis, and or data in this report. Your investment decisions and recommendations are made entirely at your discretion. Selerity does not own securities in companies that they write about, is not an investment adviser, and the content contained herein is not an endorsement to buy or sell any securities. No content published as part of this report constitutes a recommendation that any particular investment, security, portfolio of securities, transaction or investment strategy is suitable for any specific person.
Disclosure: I have no positions in any stocks mentioned, and no plans to initiate any positions within the next 72 hours.