Some traders are suggesting that you avoid trading First Solar (NASDAQ:FSLR) until after they release earnings on August 6th. The company's stock has just bounced off of a 52-week low of $11.43. However, there are a couple of reasons you may want to take a chance and trade them.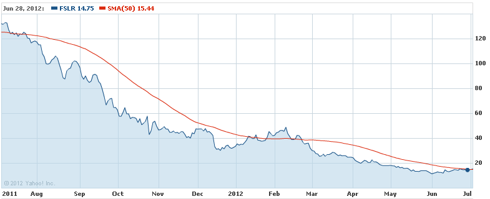 First, LDK Solar (NYSE:LDK) reported a wider than expected loss for the 1st Quarter, but a big part of that was a 30% increase in import tariffs imposed by the U.S. government on Chinese solar manufacturers. First Solar is a U.S. manufacturer and should absorb some of those sales that the Chinese solar manufacturers are losing.
Second, the company is trading well below book value and according to the most recent SEC filing, they had $606 million in cash on hand, $2.6 billion in current assets and $973 million in current liabilities. Intangible assets like Goodwill do not make up a significant portion of book value. Furthermore, analysts expect the company to earn 99 cents per share when they report earnings this quarter.
The Covered Call Trade
Looking at the July 21, 2012 options expiration, you may see that the $15 strike price call option has a bid price of $1.25. This in-the-money option gives the holder the right to buy shares at $15. The seller is obligated to deliver them for $15. If you enter into a covered call trade, you will receive the $15 per share, plus the proceeds of $1.25, or a net of $16.25 per share. With the current price of the stock trading around $15.67, you could record a profit of $0.58 per share, or 3.7%. The trade will option trade will settle in 18 days, making this an annualized return of 75%.
The risks associated with this trade are nearly the same as owning the stock outright (minus the $1.25 option premium), but the upside is limited to the $0.58 per share profit. The break-even price is $14.42.
For a higher break-even price and a higher potential profit, you can buy the shares and sell the $16 strike price option for $0.74 per share. The out-of-the-money calls will only be executed if the price rises over $16. If the shares are called, then you will make a profit of $1.07, or 6.8%.
Disclosure: I have no positions in any stocks mentioned, and no plans to initiate any positions within the next 72 hours.