ATP Oil and Gas (ATPG) announced on Monday that the company struck natural gas off the coast of Israel. The company has a 40% working interest in the project. The shares jumped more than 25% on the news of the discovery. It seemed that things were beginning to look up for the company, which was on the brink of financial catastrophe.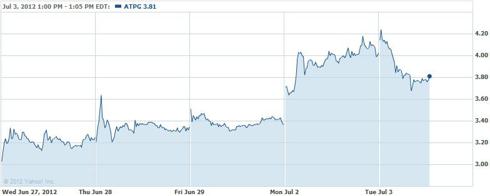 While common shareholders seem to be very excited about the discovery, I don't think it will have that large of a significant impact. This is mainly because the bond market does not seem to care about this discovery.
ATP's bonds are currently trading around $50. They closed trading on Friday around $47.8. So the bonds are still trading at a 50% discount to par value. This discovery does not seem to impress bondholders and that's a concern with the bond acting as a distressed asset. It seems that the stock may have gotten ahead of itself with this discovery.
The other thing that investors need to note is that the discovery is natural gas, not oil. A natural gas discovery is good for a company like ATPG, but the real question investors need to ask is, will it be profitable? Natural gas prices are extremely low, so it might not benefit the company as much as investors think. In addition, ATPG still only has a 40% interest in the well.
Bondholders seem to be more cautious than the common shareholders on this discovery. Investors should not purchase ATP's common stock until more is known about this discovery. Keep in mind, the company lost a $145 million last quarter alone and they have a $75 million bond payment coming up in November.
Disclosure: I have no positions in any stocks mentioned, and no plans to initiate any positions within the next 72 hours.