The easiest job you can give to a financial analyst is to limit his analytics to the Dow 30 Industrials. That is because there is an abundance of accurate information and data available. In today's world, the Dow 30 has more words published than a person can possibly absorb. The Dow 30 represents about 33% of the total market cap. At present, the NYSE has about 3,200 listed companies to choose from, and the Nasdaq sports about 6,000 companies.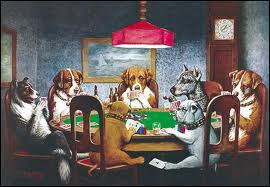 My definition of the 'Dogs Of The Dow' is rather basic. Simply put, it is: An investing strategy formulated in the early 1970s that consists of buying the 10 DJIA stocks with the highest dividend yield at the beginning of the year. The portfolio should be adjusted at the beginning of each year to include the 10 highest yielding stocks. In my opinion, and in this marketplace, these 10 high yielding companies must be valuated at least quarterly. It would also be wise not to hold any of these companies in a bearish cycle environment.
The two Dow components I will focus on in this article are, AT&T (NYSE:T) and Verizon Comm. (NYSE:VZ). The reason I have chosen them is to point out that, while many of the Dow companies have broken down in recent months, these two are the stalwarts of the current Dow. In future articles, I intend to rotate through all 30 Dow components using what I believe to be the strongest companies to hold in your portfolio.
click image to enlarge

Current Recommendation

T -- ((Click (here) for a view of my 20 year chart)

VZ -- ((Click (here) for a view of my 20 year chart)

Buy

Hold -- Long -- Warnings can appear at any time!

Hold -- Cash -- To buy the Company at a later date.

Sell

Short -- (Shorting is reserved for very aggressive investors).

Important Note: In this volatile market environment, investment recommendations can change within just a few weeks. You might want to visit my weekly updates for these companies in my Instablog.
I believe that conservative valuations and in-depth technical work produce the necessary foundations for meeting your financial objectives. They nearly always foretell the near to short-term direction of a company's share price. And that is the key for consistent annual profits. I've combined the valuations for these two companies so you can do your own comparison. Hopefully, you will see the rationale behind my work.
Valuation for AT&T and Verizon Comm.
| | | |
| --- | --- | --- |
| | AT&T | VZ |
| Current Price: | $36.00 | $44.00 |
| Target Price: | Plus 7+% / minus 22+% from the current price. | Plus 8+% / minus 18+% from the current price. |
| Trailing P/E: | 52.0 | 48.0 |
| Forward P/E (fye 12/ date): | 14.0 | 16.0 |
| PEG Ratio: | 5.76 -- terrible | 5.13 -- terrible |
| Price to Sales: | 1.64 | 1.13 |
| Price to Book: | 2.0 | 3.44 -- high |
| Dividend | 4.94% | 4.5% |
| Return on Investment (R.O.I.) | 1.86% -- very low | 7.4% |
| Valuation Divergence: | (minus) - 24+% from current the price. | (minus) - 20+% from current the price. |
Source of raw data: Finviz.
Target Price is calculated and produces a probable range of the current price over the coming one to three months or more. Valuation Divergence is calculated as a current absolute number. With this data in place, I give all my valuations a rating. My ratings are from Excellent to Very Poor. When the market is in between bullish and bearish inflection points, I often recommend holding cash and maintaining patience as an alternative to being fully invested. I also recommend holding cash for conservative investors in bear markets.
Combined Comments for AT&T and VZ
Right now, these are not overly strong Valuations and Target Price Projections. The current Valuation Divergence is negative. Although AT&T edges VZ in my current comparative analytics, it is not as strong as the financial analysts would have you believe. Projected earnings growth for AT&T indicates that it will be steady and mildly declining through 2014. Projected earnings growth for VZ indicates that it will be declining through 2015. My technicals are currently graded as "good," but a top could well be forming. Current consensus opinion is much too bullish. This suggests that both AT&T and VZ will continue to follow the general market indices. Securities' valuations should be updated, and holdings reviewed as frequently as possible.
Market Status
My general market opinion is that the fundamentals are overvalued; the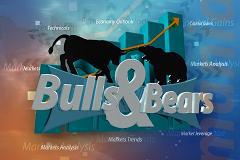 technicals are over-bought, and the consensus opinion is way too bullish. Economic and financial news is very negative, and doesn't support taking further bullish positions.
I am currently a bear because my valuations are convincingly negative. The charts are breaking down daily. And we are in a bearish cycle; it's that simple!
You can read my weekly Instablog article "Wednesday - General Market Update & Commentary," which further supports my market position.
Summary
Patience and discipline are more important than the above data, tables, charts and information. However, the question is always, do I buy, sell or hold? My question for you is, do you have the patience and discipline to hold cash for a time, and can you wait until there's profit there for the taking?
My criterion for taking a bullish position is that the company must show within its fundamental valuation and technical charts that it has the prospect to outperform the general market, its sector, and industry group.
Currently, the tables and charts above present notable warnings about these companies. It is a fact that the stock market cycles endlessly both fundamentally and technically. It continuously moves from bullish cycle to bearish cycle and then back to bullish cycle again. Unfortunately, this is a pattern that most investors do not understand well enough to take advantage of.
This analytic work I do each day is fun and profitable. There is always a list of the best (for buying) and worst (for shorting) companies to further valuate and study. Seeking profits by focusing on the best companies, or perhaps the worst companies is definitely a challenge. I never consider the companies that fall between the best and the worst as current investments. All companies rotate in and out of favor. Each company gets its turn to be a profitable investment. Sometimes it is one of the best, and others, it's one of the worst! To be consistently profitable, you must maintain lists of the best and worst companies. What's more, this analytic work must be complete well ahead of the next bullish or bearish market cycle.
Within this present bearish cycle, there is nothing (longer term) wrong with these companies. It is just an ongoing process, and what happens when companies turn bearish.
I hope you like my methodology and will continue to follow my work/analytics. It won't be long before I can offer you a bullish and upbeat forecast once again.
Conclusion
I am currently bearish on the world economy and the general market. My more recent Instablog postings are focused on securities that should currently not be held in your portfolio. I suggest that it is important for you to understand that holding cash is often a wise decision. During bearish cycles, this advice is always profitable. I can assure you that; this is definitely a "bearish cycle"!
I can also assure you that I am bullish longer term on all of these companies. Their bullish cycle will return again in the coming months. Currently, my "holding cash" advice is both prudent and wise investing. Ongoing support for some of these companies' statuses will be posted this coming Saturday. You can read my "Saturday Update" weekly in my Instablog.
Disclosure: I have no positions in any stocks mentioned, and no plans to initiate any positions within the next 72 hours.