In the beginning of May I wrote an article on Research in Motion (RIMM) right after watching the Blackberry World event, where I got excited with the first appearance of BB10. It appeared to me that it was almost like a new company being born, and so I wrote that an investment in RIMM should be thought of like an investment in a start-up, but with the advantage of already having a healthy balance-sheet, a well known brand, revenues, and a large and global client base.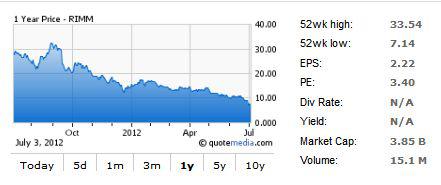 So, after last quarter results, you might imagine that I got a little bit upset and disappointed. It wasn't about the numbers, they were pretty normal, but the delay in the launch of BB10 was like a breach of confidence between me and the CEO. It's not that it's his fault, I believe CEO Thorsten Heins is taking the decisions he has to take. But when you know that the whole world is waiting for a new product, there should be, at least, some kind of expectation management. Isn't it better to exceed perceived expectations than to disappoint? Come on, it's better to announce a release date a quarter later than you expect and deliver a quarter earlier so you can create a positive event in releasing the product earlier than expected, or having an extra quarter to work if there is a delay.
But things didn't go that way and so it's time to try and analyze the new information and what it might mean for someone who invested earlier. Apart from the obvious drop in the share price, is the start-up rational in question? Or more importantly, is the delay enough to put the company in danger?
Let's check some financial data from the Q1 results:
| | | | |
| --- | --- | --- | --- |
| | June 2, 2012 | March 3, 2012 | May 28, 2011 |
| Revenue millions | $2,814 | $4,190 | $4,908 |
| Gross margin % | 28% | 33,4% | 43,9% |
| Net income millions | $(518) | $(125) | $695 |
| Impairment of goodwill millions | $335 | $355 | |
| Cash and Investments millions | $2,247 | $2,111 | |
| Long-term liabilities | 0 | 0 | |
| Shareholders' Equity millions | $9,608 | $10,100 | |
For the first question, there is really no change in the "start-up" rationale that was suggested. You continue to have revenues, no long-term debt, more customers, and cash even increased slightly, so if you invested in the last couple of months because you believed in the BB10, then this last quarter performance shouldn't scare you. Again, as it was the case before, all the focus remains in the company delivering the BB10, and not if the company manages to survive until a year from now. So, for both questions, the answer is no.
But this doesn't mean that the risks haven't increased. After all, the company has to manage to go by a quarter more than before without the new product, and we don't know if non-USA sales will also begin to suffer. RIMM is continuing to cut costs and to transform the company to its new dimension, but there are no doubts that risk increased. Let's hope that management at least starts managing the expectations slightly better. Sometimes, in the short-term, it's all a question of perception.
Either way, unless the 78 million global subscribers suddenly decide to change to the competition all at once, there is no question that the company can go through until the BB10 launch.
Taking note from the recent promises from the CEO, if he manages to deliver, recent shareholders will have a pretty good return.
I will end with a sentence from my previous article that I believe it still applies: "I guess that ultimately, everyone of us should take a look at what has been coming out regarding the new BlackBerry 10 and decide if they want to invest in that product."
Disclosure: I am long RIMM.