Shares of Patriot Coal Corporation (PCX) surged on Tuesday to close higher by more than 30%, despite the lack of any major news.
Broad Market Rally
One reason why PCX surged Tuesday was the rally in the broad market indices. PCX has a high beta of 2.9, so the stock likely benefited from the move higher in the Dow and S&P 500.
Sector Rally
In addition to the broad market rally, the coal sector also was lifted after a report from Bloomberg discussed increased coal demand from Europe. As shown by the chart below, PCX was the leader on Tuesday by a significant margin. While James River Coal (JRCC), Alpha Natural Resources (ANR), Peabody Energy (NYSE:BTU), Arch Coal (ACI), and Consol Energy (NYSE:CNX) all moved higher, PCX was the standout.
It should be noted that the second biggest winner was James River Coal. This is noteworthy because PCX and JRCC have a much higher short interest than the rest of the steel sector. This likely means that a good part of Tuesday's move in PCX was driven by short covering.
Click to enlarge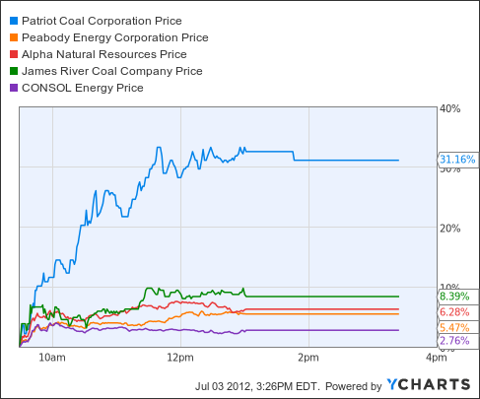 PCX data by YCharts
Short Interest
Short interest in PCX currently stands at roughly 25.48 million or 28% of the float. It is likely that part of Tuesday's move was a short squeeze. However, it should be noted that the short interest likely remains high and the potential for the squeeze to continue is high.
Playing Catch-UP
Despite Tuesday's surge higher, PCX is still the worst performing coal stock over the past month. Part of Tuesday's move was likely PCX catching-up to what other names in the sector have already done.
My Take
In a piece written just days ago, I raised questions about the weak relative performance of the sector and suggested that short-term traders move to the sidelines. However, given Tuesday's move across the sector, it might be time for traders to once again go long coal.
In my previous commentary, I have consistently said that I would avoid PCX as it is the most risky name in the sector. That being said, because of the massive volume, more than 17 million shares in a shorted trading session, it appears that institutional money believes the worst is behind PCX. However, I am not yet certain that PCX is in the clear and for that reason I would continue to favor other coal stocks over PCX.
Disclosure: I have no positions in any stocks mentioned, and no plans to initiate any positions within the next 72 hours.