In one of my earlier articles, I had discussed about BRICS currencies as a long-term buy. I maintain my long-term positive view on Brazilian currency and economy. However, in this article, I will be discussing the primary reasons for considering Brazilian ETFs as a near-term avoid.
To keep things simple, below is a chart on Brazilian exports diversification from June 2011 to May 2012.
Click to enlarge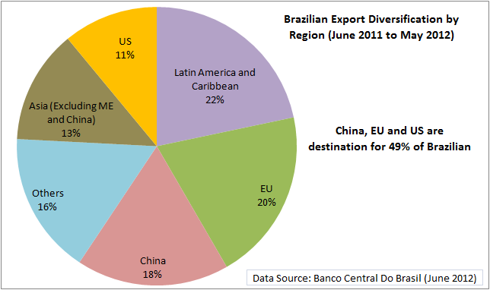 As evident from the chart, 49% of Brazilian exports are directed towards US, EU and China. I had discussed in another of myrecent articles about some of the real indicators of a meaningful slowdown in China. In my opinion, real GDP growth in China might not be over 5% at this point of time.
It is also known that many of the eurozone countries are already in recession with others struggling with a banking and Sovereign debt crisis. The growth in the eurozone is also expected to be sluggish for a prolonged period.
The most recent ISM manufacturing data (which slipped below 50) in the United States also shows that growth for the world's largest economy is also stalling. Besides these regions, I have to additionally mention that growth in India has also slowed down meaningfully.
In other words, I would be not surprised if we are heading towards another global recession in the third or fourth quarter of 2012. Amidst all this, it is relatively easy to guess that a commodity export driven economy like Brazil is bound to suffer.
Two of the major exports for the first three months of 2012 were iron ore and raw oil. With a China slowdown, the iron ore exports will decline in the coming quarters. Raw oil exports are also expected to slow down. Therefore, the commodity export driven economy is sure to take a hit in the near to medium term.
My fear is that a relatively prolonged slowdown globally can lead to a negative impact on local housing prices, consumption and other manufacturing related activities. As a result, the slowdown can develop into a more serious one than expected.
Therefore, it might be best to avoid Brazilian ETFs at this point of time. Having said this, any meaningful correction (from these levels) in commodity prices and Brazilian equities might be a good time to consider long-term exposure to the country. As mentioned above, I remain bullish on the long-term prospects of all commodity producing countries.
For now, the strategy would be to avoid the ETFs listed below and look for meaningful corrections in these as long-term buy opportunities.
1) iShares MSCI Brazil Index ETF (NYSEARCA:EWZ)
2) Market Vectors Brazil Small-Cap ETF (NYSEARCA:BRF)
3) Global X Brazil Consumer ETF (NYSEARCA:BRAQ)
I mention the consumer ETF among avoids, as a relatively long slump in commodity prices will eventually impact consumers and consumption-related themes.
Disclosure: I have no positions in any stocks mentioned, and no plans to initiate any positions within the next 72 hours.