A January 2013 annual review of this portfolio is linked here.
Thesis
The individual investor has no control over the ups and downs of the market. However, it is possible to reduce the response of one's portfolio to large market swings and at the same time receive a high level of income from that portfolio.
Method
On November 14, 2012, I published a Seeking Alpha article entitled "Create A High Income, Low Risk Portfolio", which is linked here. Stocks, all having a yield of 3% or higher and a beta of 0.60 or less were selected from several sectors. On January 3, 2012, each of 18 holdings in the portfolio was assigned a value of $10,000, which created a sample portfolio of approximately $180,000. This High Yield, Low Risk Portfolio is further described below and results for the six months ending June 29, 2012 are given.
Stock Selection
Yield is simply the amount of a stock's annual dividend divided by the stock's selling price on the market. That is, if a stock has a price of $100 and a dividend of $3, the stock may be said to have a 3% yield. If the company increases the dividend 10% to $3.30 and the market price stays at $100, the yield would be 3.3%. However, if the company did not raise the dividend, that is, it remained at $3.00 and the price of the stock decreased to $90.91 per share, it would also yield 3.3%.
Therefore, while yield is a good initial screen the trend of the company's dividends is the underlying interest of the investor. While current income is the primary goal, we seek stocks that have a record of increasing their dividends, which will defer the effects of future inflation.
Beta is a measure of the volatility of a stock involving the systematic risk of a security, or portfolio of securities, to market swings. The benchmark is the S&P 500, with an assigned beta of 1.00. If a stock moves, on average, only 60% as much as the S&P 500 does, it has a beta of 0.60. If its swings are 30% more than the overall market, it has a beta of 1.30. Typically, an electric utility or a company producing consumer staples will have a low beta, often in the 0.30 to 0.70 range. The stock of a high technology company or a mining company might have a beta of 1.40 to 3.00 or higher. While some firms can influence the volatility of their stock by managing sales, expenses and earnings to predictable levels, it is ultimately a measurement, which the market controls.
Sectors
Next, we spread our investments over several sectors of the economy to create diversity, which further reduces portfolio risk and dampens volatility, as sectors usually do not move in concert. Within each of the sectors, we looked for the highest possible yields and lowest possible betas with consideration given to a host of other factors. This includes dividend growth rate, dividend payment history, payout ratio, return on equity, free cash flow, debt level and others.
Sector
Firms
Basic Materials
Enterprise Products Partners L.P (NYSE:EPD)

Kinder Morgan Energy Partners L.P (NYSE:KMP)

Magellan Midstream Partners, L.P. (NYSE:MMP)

Consumer Staples
General Mills, Inc. (NYSE:GIS)

H.J. Heinz Company (HNZ)

Kellogg Company (NYSE:K)

Proctor & Gamble Co. (NYSE:PG)

Consumer Discretionary
McDonald's Corporation (NYSE:MCD)

PepsiCo Inc. (NYSE:PEP)

Financial Services
Anally Capital Management, Inc. (NYSE:NLY)
Healthcare
Abbott Laboratories Common (NYSE:ABT)

Johnson & Johnson Common Stock (NYSE:JNJ)

Industrials
Waste Management, Inc. (NYSE:WM)
Telecommunications
AT&T Inc. (NYSE:T)
Utilities
American Electric Power Company Inc (NYSE:AEP)

Entergy Corporation Common (NYSE:ETR)

PPL Corporation Common Stock (NYSE:PPL)
Performance
I am pleased to say that the portfolio performed as it was designed to, with minimal variations in price and a very respectable yield of 4.60%. Of the 18 stocks, 10 were up and 8 were down. In addition to dividends paid of approximately $4,200, the portfolio gain was $3,049, or about 4%. While this was lower than the S&P Index, which was up nearer 8% with the dividend, it is expected that low beta stocks will rise or fall less than other stocks. Some of the stocks, McDonald's Corporation for example, were near their 52-week highs on January 3, so it really was an inopportune time to buy them. It is always better to buy stocks when they are "on sale".
The big difference was in the reduced volatility of the portfolio compared to the S&P 500. As the green line of the graph immediately below shows, the ups and downs of the portfolio were much less than the S&P 500. Therefore, I believe we have demonstrated that stocks with low betas and high yields can form a portfolio with little volatility and high dividend income.
Click to enlarge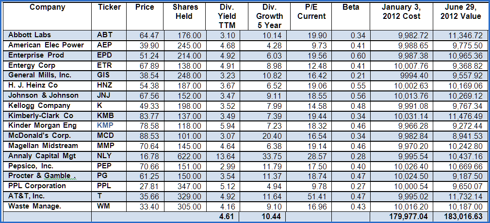 Your Due Diligence
This collection of stocks can be used as a starting point in constructing your own portfolio. It will serve you well if you do your own due diligence. For some tips on due diligence see my Seeking Alpha article, "The Importance of Due Diligence". It is important that these continue to be sound companies, and that their future dividend stream is secure. Warning signs of increasing problems include increasing payout ratios and smaller percentage increases in dividends year over year.
Disclosure
I currently hold 12 of these stocks: ABT, GIS, EPD, JNJ, K, KMB, MCD, MMP, NLY, PEP, PG and T. For tips on portfolio construction, see my Seeking Alpha article, "Constructing the Core of Your Dividend Growth Portfolio".
Disclosure: I am long ABT, GIS, EPD, JNJ, K, KMB, MCD, MMP, NLY, PEP, PG, T.