In February, I wrote about research that showed that high-yield, low-payout stocks outperformed the overall market in total return, as well as other yield-payout groups. A performance update on these stocks was published earlier this week. This article focuses on the rebalancing of the High-Yield, Low-Payout dividend growth stock portfolio (DG-HYLP) by applying a screening process to the CCC stock list. Because this model identifies undervalued stocks, there was less need to implement my -20% stop-loss rule. However, I decided to rebalance the portfolio semi-annually to capture gains from stocks that appreciated significantly and were no longer value plays, and to redeploy the funds into currently undervalued equities in equal weightings. I expected many of the same stocks to stay in the portfolio, and in fact, 20 of the 30 portfolio holdings are the same as in the original portfolio.
Determining "High" and "Low"
In the research, stocks were sorted into high, medium, and low groups based on yield and payout. No specific cutoff numbers were given, though the appendix did say that stocks were first sorted by yield. I chose a slightly different approach. I sorted the combined CCC stock list [around 475 stocks] by payout, and then checked each third to get an idea of what the cutoffs looked like based on the data set. This check yielded the following cutoffs:
| | | | |
| --- | --- | --- | --- |
| | Low | Medium | High |
| Yield | <2.4% | 2.4% <= x < 3.6% | >=3.6% |
| Payout | <34% | 34% <= x < 62% | >=62% or negative (n/a) |
I didn't want to be too restrictive as I planned to apply additional filters-- and this universe also included MLPs and REITs, which were sure to be eliminated due to high payout ratios-- so I relaxed the limits slightly, settling on the cutoffs in the table below. I reduced the high yield cutoff, as this group probably would not have many 4%+ stocks, compared to other models I have created; "high" is a relative term. The cutoff choices impact whether a stock such as Campbells Soup (NYSE:CPB), at 3.48% yield, ends up being in the Medium Yield-Medium Payout or High Yield-Medium Payout group. Readers are free to choose different cutoffs.
| | | | |
| --- | --- | --- | --- |
| | Low | Medium | High |
| Yield | <=2.1% | 2.1% < x <= 3.5% | >3.5% |
| Payout | <=45% | 45% < x <= 65% | >65% or negative (n/a) |
Screening Process
Using these cutoffs, I sorted the CCC list into the nine combinations of low, medium, and high payout and yield. The table below shows how many stocks are in each classification. In general, I would classify the top left squares as signaling an overvalued stock, based on the high payout and low yield. There are few stocks in that region, though those that froze or cut their dividend are removed from the CCC list, so there is survivor bias. There are many in the Low-Low group, which includes smaller firms with good earnings and dividend growth. The High-High group contains most of the MLPs, utility, tobacco, and REIT stocks; higher yield, but potentially less growth.
Group Sizes
| | | | |
| --- | --- | --- | --- |
| | High Payout | Medium Payout | Low Payout |
| Low Yield | 5 | 6 | 128 |
| Medium Yield | 27 | 51 | 82 |
| High Yield | 110 | 46 | 18 |
The lower right quadrant is the focus of this model. The Medium-Medium group contains the likes of McDonald's (NYSE:MCD), Abbott Labs (NYSE:ABT), and Colgate (NYSE:CL). Nothing wrong with those stocks, but as we move to the right, we get similar yields with lower payout ratios, so there is more room to grow the dividend. Moving to the High Yield-Medium Payout group provides higher yields than MCD, at comparable payout levels, which also seems like a good upgrade. The holy grail is the High Yield-Low Payout, where just 18 stocks of the original 473 ended up. In an effort to achieve more value, this model will not utilize stocks from the Medium-Medium group; it draws from the other 3 groups in this quadrant [146 stocks].
Note: There was some movement from Medium-Medium to High-High since January. Johnson & Johnson (NYSE:JNJ), Kimberly Clark (NYSE:KMB), and Procter & Gamble (NYSE:PG) now have payouts yields above 3.5% and payouts in the 65%-70% range. Nothing to necessarily worry about, but as some contributors have noted, these stocks seem richly valued at these levels and less (or negative) earnings growth has increased the payout ratios.
Screened Group Characteristics
After combining the stocks from the Hi-Med, Hi-Low, and Med-Low yield-payout groups, I made two adjustments. First, I removed all stocks below a $250MM market cap, as I wanted firms that were more liquid in terms of trading volume and that had achieved a minimum size. Next, I removed all stocks with payouts above 60%, as I wanted to leave some room before crossing into the high payout category at 65%. This mainly eliminated a bunch of small banks and some higher yielding utilities and consumer staples stocks. Those interested in higher yields could skip this step. 108 stocks remained in the screened group. The table below shows the group characteristics.

Next, I added sector tags and sorted the list by sector and yield. By count, the group is heavy on financials (23%), industrials (19%), and consumer discretionary (14%) stocks. However, several of the stocks were small caps, so I also calculated market cap weightings, which favored energy (27%), industrials (16%), and info tech (15%). To determine the portfolio weightings, I averaged the count and market cap weightings. Based on this, energy received the highest allotment of stocks (5), followed by industrials and financials (4 each). The purpose of this weighting is to allocate the 30 stocks in this portfolio in a manner that represents the overall characteristics of the larger group. Those of you with lots of money could just buy all 108!
I am curious to see how this portfolio plays out, as my other models are more heavily weighted toward consumer staples (DG-Income Growth) or financials and utilities (DG-Small Cap). In a recovery, I would expect it to outperform, though with the low payout, it could outperform regardless as long as the dividends keep getting boosted at a strong rate.
For reference, the screened group had an average yield of 3.2%, a payout ratio of 37.4%, and 1-, 3-, and 5-year dividend growth rates [DGRs] of 13.5%, 11.2%, and 14.2% respectively. We can already see that while the yield is lower than other income-focused models, the payout is also much lower, and the DGRs are consistently in the double-digits.
Stock Selection Process
4 pts

3 pts

2 pts

1 pt

0 pts

Yield

>4%

>3.5%

>3%

>2.5%

>2%

Payout

<25%

<35%

<45%

<55%

>55%

NY Earnings
Growth Rate

10%+

7-10%

3-7%

0-3%

Negative

DGR 1-yr

12%+

>8%

>4%

>2%

<2%

DGR 5-yr

20%+

>15%

>10%

>5%

<5%
Because the focus of this model is on dividend yield and payout ratio, I created a scoring formula that utilized those two variables, in addition to the next year's earnings growth rate and the 1-yr and 5-yr DGRs. For stocks with no 5-yr DGR provided, I used the 3-yr DGR. The formula ranked these metrics for each stock according to the table above, then summed the values. Since I want the model to be relevant for income investors, I double-weighted the yield score to emphasize yield, knowing that the average payout is relatively low. I then searched for the highest scoring stocks in each sector, with preference given to those with higher yields or higher DGRs in the case of a tie score. I excluded stocks that were overdue for a dividend increase: Greif (NYSE:GEF), Guess (NYSE:GES), Tower Group (NASDAQ:TWGP), Strayer Education (NASDAQ:STRA), and American Greetings (NYSE:AM) fell into this category. Unlike the original portfolio, this time the industrials included a nice mix of companies, not just defense, so I made no override adjustments. The final portfolio is presented below.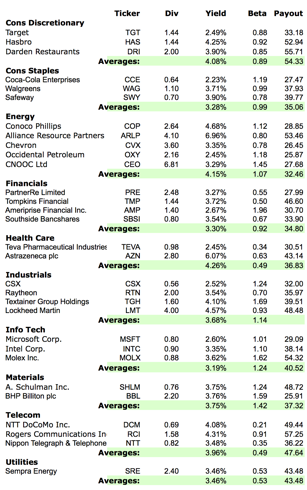 It is also worth mentioning that I used the CCC data as is. There are potential issues with some of the payout ratios, as one-time earnings gains or losses can throw off the value. I figured that if the firm had one-time charges causing a high payout ratio, then I probably would want to stay away from it anyway. One-time gains make the ratio lower than it should be, so I did investigate some ratios below 25%, and for the MLP and REIT, to verify that the earnings or cash flows were consistent. One example where it was not was Universal Healthcare REIT (NYSE:UHT). UHT had an unusual gain last year, and its operating cash flow does not cover the dividend, so I removed it from consideration. Also, some stocks that made the portfolio last time, such as China Mobile (NYSE:CHL), were part of the screened universe, but other stocks beat them on points.
Portfolio Observations

As of June 29, 2012, the final portfolio had an average yield of 3.73%, a payout ratio of 36.9%, and its 1-, 3-, and 5-yr DGRs were 19.9%, 14.9%, and 19.1% respectively. All of these numbers exceed the overall screened universe's traits. Compared to my Small-Cap, Dividend Aristocrat, and Income-Growth DG models, this portfolio had the lowest payout and highest DGRs, but not the lowest yield. It also had the highest beta, just a hair below the 1.00 of the SPY, which I'm using as the primary benchmark. The High-Yield, Low-Payout portfolio also has 7 non-U.S. holdings (mostly in Telecom), only three of its holdings overlap with the Income-Growth model, and only two overlap with the DA+ portfolio, so these models mostly hold different stocks. It will be interesting to compare their performance results over time.
I was surprised that this group offered a yield so close to 4% considering it contained just one MLP, and no high-yield/high-payout stocks like Altria (NYSE:MO) or Verizon (NYSE:VZ). The yield is less than the Income-Growth DG model, but the dividend growth rates are doubled and the payout ratio is much lower. Seems like a great combination! One concern is that about one-third of the stocks are either foreign and/or lesser known companies, which reduces my comfort factor, as I am not as knowledgeable about them and information may be harder to get. The low payout ratio increases the dividend safety factor though, which is helpful for income-oriented investors.
The majority of the portfolio resides in low-payout stocks, though there are more medium payout stocks than in the original portfolio. I will be curious to see whether this makes a difference. 50% of the stocks in the High-Yield Medium-Payout category lost 10% (or more) during the first half of the year. This compares to around 25% of stocks in the low-payout groups experiencing losses. The table below sorts the portfolio holdings based on yield and payout for your reference.
Medium Payout (45% to 60%)

Low Payout (<45%)

Medium Yield
(2.1% to 3.5%)

Target (NYSE:TGT)
Coca-Cola Enterprises (NYSE:CCE)
Chevron (NYSE:CVX)
Occidental Petroleum (NYSE:OXY)
CNOOC Ltd (NYSE:CEO)
Ameriprise Financial (NYSE:AMP)
PartnerRe Ltd (NYSE:PRE)
Teva Pharma (NYSE:TEVA)
CSX (NYSE:CSX)
Microsoft (NASDAQ:MSFT)
Intel (NASDAQ:INTC)
Sempra Energy (NYSE:SRE)

High Yield (3.5%+)

Hasbro (NASDAQ:HAS)
Darden Restaurants (NYSE:DRI)
Alliance Resource Partners (NASDAQ:ARLP)
Tompkins Financial (NYSEMKT:TMP)
Lockheed Martin (NYSE:LMT)
Molex (NASDAQ:MOLX)
A. Schulman (NASDAQ:SHLM)
NTT DoCoMo (DCM)
Rogers Communications (NYSE:RCI)

Walgreens (WAG)
Safeway (NYSE:SWY)
Conoco Phillips (NYSE:COP)
Southside Bancshares (NASDAQ:SBSI)
Astrazeneca (NYSE:AZN)
Raytheon (NYSE:RTN)
Textainer Group (NYSE:TGH)
BHP Billiton (NYSE:BBL)
Nippon Telegraph (NYSE:NTT)
Next Steps
I have updated the virtual portfolio with the holdings as of the closing prices on July 3, 2012. I will continue to track this portfolio and report on its performance relative to the S&P 500 (NYSEARCA:SPY), S&P Dividend ETF (NYSEARCA:SDY), and the other DG model portfolios. The next rebalance will occur in early January 2013, based on December 31st data.
I welcome feedback on this model and its process, as I continue to refine it based on comments, observations, and new learning. I hope SA members find the model and the recommended list useful for identifying potential candidates for their portfolios.