When insiders buy shares on the open market, their companies are usually undervalued. Corporate insiders often have the inside track on their companies' prospects. Insiders probably wouldn't risk investing too much of their own money into their own company unless they thought the stock might rise.
I screened for companies where at least one insider made an open-market buy in the last three days. Here are three energy-related stocks that I found:
1. Samson Oil & Gas (NYSEMKT:SSN) is an USA/Australian oil & gas company focusing on oil production in the Niobrara and Bakken formations in the USA.
Click to enlarge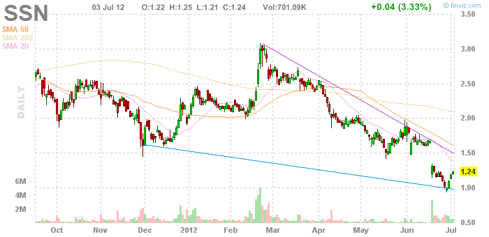 Insider buys
Terence Barr purchased 1,000,000 shares on June 29th from the Australian exchange at $0.054 share price and currently holds 24,104 ADS and 12 million Australian ordinary shares. Mr. Barr was appointed as a Managing Director of the company on January 2005.
David Ninke purchased 1,400 shares on June 29th and currently holds 79,587 shares (ADS) of the company. Mr. Ninke is Vice President of Exploration in the company.
2. Laredo Petroleum (NYSE:LPI) is an independent energy company with its headquarters in Tulsa, Oklahoma. Laredo's business strategy is focused on the exploration, development and acquisition of oil and natural gas properties in the Permian and Mid-Continent regions of the United States.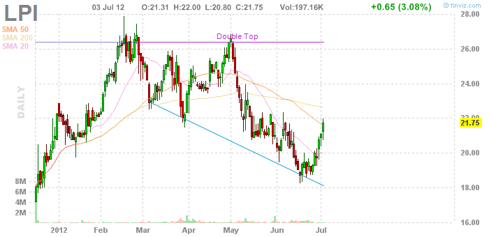 Insider buys
Myles Scoggins purchased 5,000 shares on June 29th and currently holds 13,004 shares of the company. Dr. Myles Scoggins joined the company's board of directors in 2012.
3. Global Geophysical Services (GGS) provides an integrated suite of geoscience solutions to the global oil and gas industry including high-resolution RG-3D Reservoir Grade seismic data acquisition, multi-client data library products, micro seismic monitoring, seismic data processing, data analysis, and interpretation services.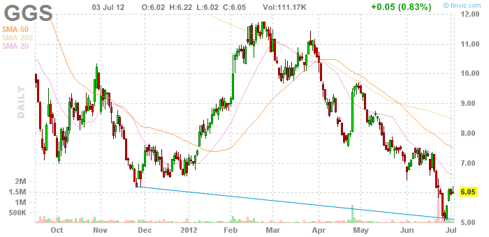 Insider buys
Conclusion
The share prices of Global Geophysical Services and Samson Oil & Gas hit a new 52-week low last week. Laredo Petroleum's stock may have hit a multi-month bottom at $18 in June.
Disclosure: I have no positions in any stocks mentioned, and no plans to initiate any positions within the next 72 hours.