France-based Total SA (NYSE:TOT) is an international gas and oil company. The company has integrated various aspects of operations from exploration of gas and oil to natural gas, marketing, refining and trading of crude and petroleum products. Total has also ventured successfully in the manufacturing of specialty chemicals and base chemicals for consumer and industrial markets and has interests in the power generation, coal mining and solar photovoltaic power. Diversification of its operations has been successful as it has helped cushion the company from the frequent economic turbulences caused by the oil prices. Total has a number of subsidiaries some of which are; Total E&P Nigeria SAS, Total E&P USA, Total Venezuela and Elf Aquitaine.
The global petroleum industry is competitive as each player strives to gain a greater market share, retain its customers as well as maintain a positive public emerge especially at the rising of eco-friendly measures that have been a great challenge to this industry. Nonetheless, each player has strategies in place to curb every rising challenge. Main competitors of Total are Exxon (NYSE:XOM), Chevron (NYSE:CVX), BP PLC (NYSE:BP), and ConocoPhillips (NYSE:COP). To read my full analysis on BP p.l.c., please click here.
Investment decision
The decision to invest in a stock and factors to consider when selecting a stock is still a challenge among many investors. While many have differing tastes and preferences, they all share one thing in common; the need to gain from such investment whether through dividends gains or capital gains from buying and selling of the shares. I look closely at Total SA in my analysis, looking at its performance in the market from historical data, as well as its prospects in the future. My analysis will have two approaches. One is the financial statements analysis by use of the financial ratios, and secondly, by financial markets analysis on its performance in the New York Stock Exchange (NYSE).
Financial Statement Analysis
| | | | |
| --- | --- | --- | --- |
| Ratio | Q1 March 2012 | December 31st 2011 | 31st March 2011 |
| | 1.3907 | 1.3632 | 1.403 |
| | 8.58% | 8.18% |   |
| | 21.14% | 19.11% |   |
| | 7.85% | 7.55% |   |
| | 16.34% | 15.00% |   |
| | 1.62 | 1.02 | 1.76 |
| Sales (M €) | 51168 | 47492 | 46029 |
Current ratio- depicts the ability of the firm to meet its short term obligations. The higher the ratio is greater than one the better for the firm. As can be seen from the chart given above, it is clear that the current ratio is above one. This reflects the ability of Total in meeting its short term debts. This also reflects the going concern aspect of the firm. Every investor would want to be aware of the going concern of a firm before committing their funds to invest. However, the current ratio has to be compared with that of other companies in the same industry. Having a close look at the following it is evident that Total has outperformed other players in the same industry.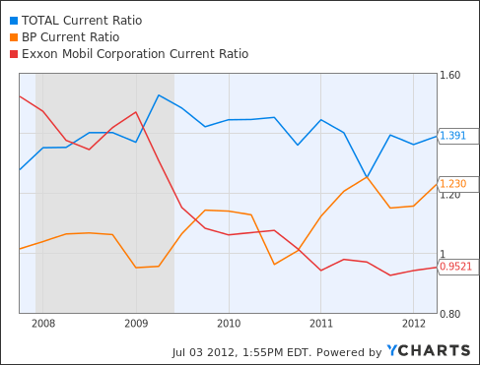 TOT Current Ratio data by YCharts
NOTE: Exxon and BP have been picked for comparison as in terms of market capitalization and asset base, they have a higher net worth compared to Total and therefore stand a better chance to effectively compete Total.
Comparison of the above competitors reflects that among the players in the petroleum industry, Total has an efficient current ratio, making it in the best position to meet its short term debt obligations. Analysis of the net profit margin from BP and Exxon shows 6.2% and 8.0% respectively as at July 3rd 2012. From this it can be deduced that, Total has outperformed the two as with a market capitalization that is considerably lower has been able to generate a profit margin that is equivalent to that of the two giants. The profit margin reflects how efficiently Total is using its raw materials, labor and manufacturing- related cost to generate profits.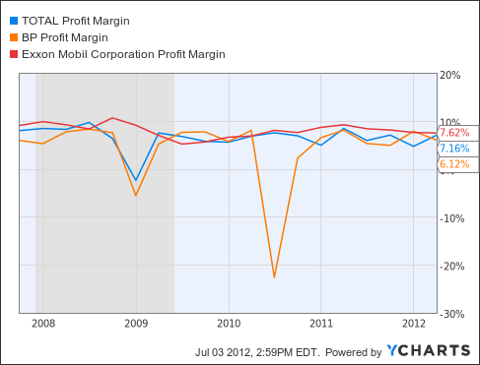 TOT Profit Margin data by YCharts
Return on assets shows an upward trend and reflects the ability of the company to generate earnings from invested assets. This in comparison to other players in the same industry; that is BP and Exxon, which stand at 8.26% and 11.99% respectively, shows the aggressiveness of Total to perform despite its low market capitalization. The sales figures from the income statement also depict the company's aggressiveness to boost its sales despite the harsh global economic climate. The sales of a company are a key indicator of the company's growth aspect. Based on its indicators, Total has an O-Metrix score of 10.9.
(For more information on O-Metrix calculations, please click here.)
Cash flow from operating activities reflected from its cash flow statement indicates that it has been the primary source of cash for the company. A financially sound company ought to have its cash flow from operations been the main contributor of cash to the company. This also shows the going concern of a company, as it is able to generate most of its cash from its primary trading activities.
Financial Market Analysis
This analysis draws its comparison from the Beta, Price to earnings Ratio and comparison with industrial benchmarks as S&P 500 INDEX.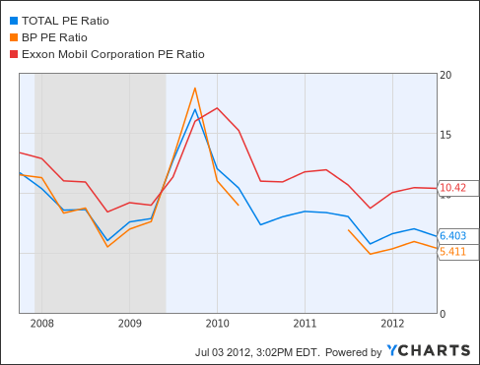 TOT PE Ratio data by YCharts
| | |
| --- | --- |
| Company | Beta |
| Total | 1.0 |
| Exxon Mobil | 0.5 |
| BP PLC | 1.25 |
| Chevron | 0.79 |
Beta is a measure of risk that compares with the market risk. Usually the market beta is 1 and therefore every stock above depicts that its risk exceeds that of the market. From the above statistics, Total has a standard beta of 1 as that of the market making it fall within the acceptable range of beta. The P/E, on the other hand, can be used to reflect the share price as whether overpriced or underpriced in relation to the industry P/E. From the above analysis, the share price of Total can be said to be correctly priced as the average industrial P/E is approximately 7. Dividend growth rate for Total compared to the S&P 500 index stands at 6% and 2.20%, respectively. Over the past five months, its share price ranges between $40-58. I have written an article on May 31 regarding Total's promising performance, and the stock is up by 8% since then. My analysis also covered the Holding Period Returns calculations (NYSE:HPR) over the past 12 months and depicted Total out performing its major competitors as Exxon and BP.
In summary, though volatile in price, Total has been aggressive to grow its dividends over time. All this done in comparison with other players, it is evident that an investor with long term position can go for this stock as its aggressiveness is expected to accelerate its growth. There is no better time to purchase this stock than at the prevailing prices as its P/E is lower in comparison with the S&P 500. Diversification of operations is key to its success as it reduces the risk of operations which varies in different economies.
Disclosure: I have no positions in any stocks mentioned, and no plans to initiate any positions within the next 72 hours.