When insiders buy shares on the open market, their companies are usually undervalued. Corporate insiders often have the inside track on their companies' prospects. Insiders probably wouldn't risk investing too much of their own money into their own companies unless they thought the stock might rise.
I screened for companies where at least one insider made an insider buy on June 29th - July 3rd. Here are three healthcare stocks that I found:
1. Strategic Diagnostics (OTC:SDIX) is a biotechnology company with a core expertise in creating better antigens, better antibodies and better assays for the pharmaceutical, biotechnology and food safety markets. For over 20 years, SDIX has been a leading immuno-solutions company, developing results-oriented and innovative antibody-based solutions that enable customers to meet high performance research, diagnostic and commercialization objectives.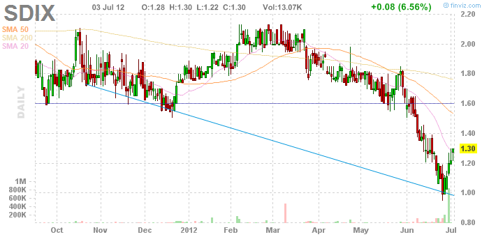 Insider buys
Becker Drapkin Management purchased 804,500 shares on June 29th and currently holds more than 10% of the shares.
2. Catalyst Pharmaceutical Partners (NASDAQ:CPRX) is a specialty biopharmaceutical company focused on the development and commercialization of prescription drugs targeting diseases and disorders of the central nervous system (CNS), with a focus on the treatment of addiction, infantile spasms, epilepsy and other CNS indications. Catalyst is developing vigabatrin (designated CPP-109 by Catalyst) for the treatment of addiction to cocaine, methamphetamine and other addictive substances. Catalyst is also developing a more potent vigabatrin analogue (designated CPP-115 by Catalyst) for the treatment of cocaine addiction, infantile spasms and epilepsy, as well as other addiction and CNS indications. Catalyst believes that it controls all current intellectual property for drugs like CPP-109 and CPP-115 whose primary mechanism of action relates to GABA aminotransferase(GABA-AT), which is also known as GABA transaminase (GABA-T).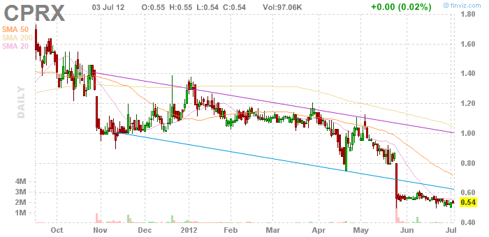 Insider buys
3. Cytomedix (CMXI.OB) is a biotechnology company that develops, sells, and licenses regenerative biological therapies for wound and tissue repair. The company currently markets the AutoloGel System, a device for the production of platelet rich plasma (PRP) gel derived from the patient's own blood for use on a variety of exuding wounds; the Angel Whole Blood Separation System, a blood processing device and disposable products used for separation of whole blood into red cells, platelet poor plasma and PRP in surgical settings; and the activAT Autologous Thrombin Processing Kit, which produces autologous thrombin serum from platelet poor plasma. The activAT kit is sold exclusively in Europe and Canada, where it provides a completely autologous, safe alternative to bovine-derived products.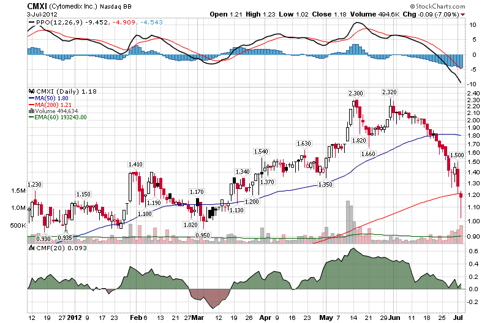 Insider buys
Andrew Maslan purchased 5,000 shares on July 3rd and currently holds 102,780 shares of the company. Mr. Maslan joined Cytomedix in July 2005 and he was appointed Chief Financial Officer in August 2005.

Martin Rosendale purchased 8,000 shares on July 3rd and currently holds 158,251 shares of the company. Mr. Rosendale joined Cytomedix in March 2008 as COO and he was appointed Chief Executive Officer in July 2008.
Conclusion
Shares of Cytomedix just made a new 4 month low on July 3rd. Shares of Catalyst Pharmaceutical Partners have been building a bottom base since late May and has seen insider buying for more than one month already. Strategic Diagnostics' shares made a new 52 week low last week.
Disclosure: I have no positions in any stocks mentioned, but may initiate a long position in CPRX over the next 72 hours.