What an amazing week in the capital markets. The Fed cut 75 basis points, gold had its biggest weekly decline in a quarter century, the S&P had its biggest one day rally in half a decade, and a great, nearly century-old brand collapsed. It left me exhausted, but I still found time to read up on two great ideas: American Ecology Corporation (NASDAQ:ECOL) and Clean Harbors (CLHB).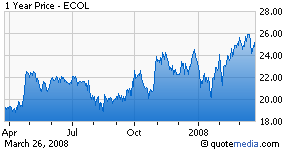 ECOL and CLHB are two companies in a similar sector. Both are fairly small cap and show great strength, considering the market. Hazardous waste doesn't wait for recessions to be over. Both are well positioned to keep performing into the future. American Ecology looks more reasonably valued when compared to Clean Harbors; however both operate with lots of room for growth.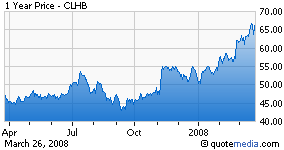 American Ecology has many small interesting stories behind it. Some of their revenues are generated from large one time clean-ups that can cause fluctuations in quarterly performance, although management is working on generating more recurring revenue. For the investor that pays attention, these fluctuations can present pristine buying opportunities.
A note of interest is that an increasing part of ECOL's revenue is generated from the nuclear space. That makes it a very small diversified play that benefits from the trends in this sector. It recently was awarded permits in the radioactive clean-up sector that are good until 2018. The company is making smart moves in seeking these permits and the trends are on their side. The space is going to do really well as the nuclear industry grows over the next decade. Apparently, the Idaho facility operates with some of the best margins in the industry.
A word of caution: the company has a fairly strong ability to generate cash and a strong balance sheet with barely any debt. However, in 2007, 41% of sales came from the clean-up at Honeywell (NYSE:HON). The Honeywell deal is about $240M in sales and is expected to wrap up by 2009.
Disclosure: No position.