The Fourth of July is here, and Q2 is but a distant memory. Well, not too distant, it just closed this past Friday, and I've got a recap of how My Mad Method has helped me shape my portfolio so far this quarter and, in fact, this year.
In case you're new to this series, My Mad Method (or MMM) is my way of evaluating stocks to determine which ones to either add to my portfolio from my watchlist, or which ones in my portfolio I should add more shares to. MMM consists of 15 metrics that are applied to both the watchlist and the portfolio, and then those metrics are ranked in descending order, so that the stock with the lowest rank number is considered the best for that metric (#1). Those metrics' ranks are then averaged for each stock and ranked, and the resulting final ranking helps me determine what to do when I've accumulated enough dividends, or made a sale, to warrant making a new purchase. In addition to the 15 metrics used for both the watchlist and the portfolio, I also rank the members of my portfolio based on their percentage allocation of the total of the portfolio. I now also have the ability to weight any of the 16 total metrics to allow me to skew the results in favor of one or more of them, depending on what I think the portfolio needs most at that time in order to keep it in balance and to help me meet my investing goals.
Since this is my first quarterly recap of MMM I'll include all of the changes I've made so far this year so that you get a complete baseline picture of how my portfolio and watchlist have evolved over the past six months.
Baseline
To start with, let's take a look at what I had in my portfolio at the beginning of 2012:
| | | |
| --- | --- | --- |
| MMM | | |
| Rank | Company | Ticker |
| 7 | Apple | (NASDAQ:AAPL) |
| 12 | Abbott Laboratories | (NYSE:ABT) |
| 5 | Alamos Gold | (AGIGF.PK) |
| 24 | Central Fund of Canada | (NYSEMKT:CEF) |
| 23 | Contact Energy Ltd | |
| 2 | Cirrus Logic, Inc. | (NASDAQ:CRUS) |
| 19 | Crescent Point Energy Corp | (CSCTF.PK) |
| 18 | Duet Group | |
| 11 | Endeavour Silver Corp | (NYSE:EXK) |
| 22 | Ford | (NYSE:F) |
| 9 | Freehold Royalty | |
| 20 | Kimberly Clark Corp | (NYSE:KMB) |
| 4 | Keppel Corp | |
| 13 | McDonald's Corp | (NYSE:MCD) |
| 3 | National Presto Industries | (NYSE:NPK) |
| 21 | PetroChina Co | |
| 16 | Peyto Expl & Dev Corp | |
| 10 | RWE AG NPV | |
| 13 | Statoil | (NYSE:STO) |
| 6 | AT&T | (NYSE:T) |
| 17 | Telstra Corp | |
| 15 | United Parcel Service | (NYSE:UPS) |
| 1 | Annaly Capital Mgmt | (NYSE:NLY) |
| 8 | StoneMor Partners, L.P. | (NYSE:STON) |
Before everyone freaks out, let me say that, no, those are not all "Pinks" in the list above. All of those companies whose symbols end in ".PK" were held on the exchanges of their respective countries; it's just that in order for the Seeking Alpha publishing software to pick them up and display them correctly, I had to refer to their Pink Sheet symbols, as Seeking Alpha doesn't recognize their symbols on their home exchanges.
Using the above as a baseline, I'm going to walk through the stocks that I've removed and added so far this year. I'll then take a look at two key pieces of information: How well has this portfolio performed so far in terms of capital gains, and, more importantly, how well has it improved in terms of the yield that it now generates.
The Sold Ones
The stocks I sold in Q1 and Q2 of this year were liquidated for a variety of reasons, but mostly because they were foreign stocks and were generally underperforming. The exceptions were CRUS, which got called away in June after realizing a 54% profit; McDonald's, which while being a great dividend growing company didn't fit in at the moment with what I was trying to do, and which ended up scoring rather poorly in MMM; and RWE which didn't appear to be doing too poorly with regard to its MMM rank, but which had seen a significant drop in its price and a considerable slashing of its dividend.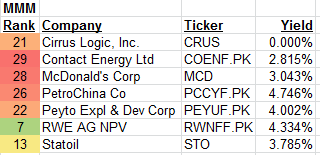 The MMM Rank is the My Mad Method rank that each of these stocks held at the time I liquidated them relative to the other stocks in my portfolio at that time.
The New Ones
With the proceeds from the stocks I sold, plus the approximately 12% in cash that I held in my portfolio at the beginning of the year, I purchased the following positions throughout Q1 and Q2:
| | | | | |
| --- | --- | --- | --- | --- |
| MMM | | | | Days |
| Rank | Company | Ticker | Yield | Held |
| 6 | Arch Coal | (ACI) | 1.742% | 14 |
| 1 | Alliance Resource Partners, L.P. | (NASDAQ:ARLP) | 7.341% | 42 |
| 5 | Exelon Corp | (NYSE:EXC) | 5.130% | 170 |
| 13 | France Telecom | (FTE) | 10.870% | 9 |
| 1 | Corning, Inc. | (NYSE:GLW) | 2.320% | 169 |
| 5 | Johnson & Johnson | (NYSE:JNJ) | 2.709% | 37 |
| 4 | Main Street Capital Corp | (NYSE:MAIN) | 6.942% | 9 |
| 1 | Medtronic | (NYSE:MDT) | 2.505% | 95 |
| 1 | Microsoft | (NASDAQ:MSFT) | 2.615% | 176 |
| 6 | MV Oil Trust | (NYSE:MVO) | 12.100% | 16 |
| 14 | Nokia | (NYSE:NOK) | 8.696% | 14 |
| 11 | SeaDrill, Ltd. | (NYSE:SDRL) | 9.009% | 177 |
| | | Average: | 5.998% | |
The MMM Rank of these stocks was their nominal (that is, unweighted) rank in my watchlist prior to being purchased and added to my portfolio. As you can see, many of them were ranked #1 at the time that I purchased them.
In addition to these new positions, I also added to the following existing positions throughout the first half of this year:

These are some of my Dividend Monsters, stocks with the highest yields in my portfolio, and adding more shares to these positions boosted the total amount of dividends that I expect to be paid this year.
Summary
After those deletions and additions, here is my current IRA portfolio as of the end of Q2, 2012: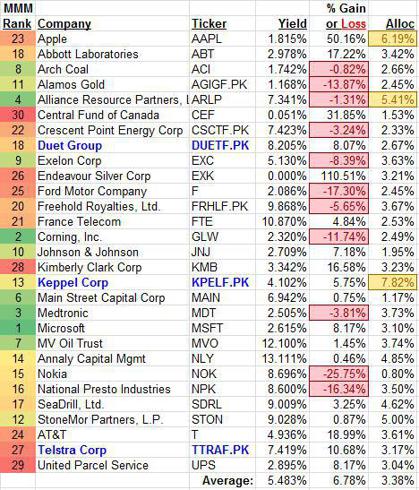 Duet Group, Keppel Corporation and Telstra Corporation are all in blue bold text because they are still in my old account at my previous brokerage. I maintain them as part of this "portfolio" since that old account is also a rollover IRA. These companies are doing very well, and yield nice dividends, so I'm leaving them alone for the time being, although I may liquidate them and close that account once and for all once I've received Telstra's second semi-annual dividend payment in late September.
The last column in the table above is the percentage allocation that each of these positions enjoy in terms of my combined total across the two IRAs. I've used Microsoft Excel's Conditional Formatting on this column so that whenever a position registers an allocation over 5%, that cell turns yellow (warning), and if it were to tip over 10% the cell would turn pink with red font (danger). This is my visual queue that a given position has exceeded the 5% allocation that I want to maintain for all positions in the IRAs. Looks like AAPL needs a haircut, and I've already discussed liquidating Keppel along with the other two positions in the old account. I have a nice, round number of shares for ARLP, so I'll let it pass being over the 5% allocation threshold for the time being.
As I mentioned at the beginning of the article, the things I'm most interested in in terms of how well this portfolio is doing is 1) overall capital gains, but more importantly 2) the improvement on the yield. While the various positions average out to a 6.78% gain, that's over the life of each position. The gain for the portfolio as a whole for 2012 so far comes to exactly 11%, which beats the S&P500's (NYSEARCA:SPY) gain for the year by 1.46%. That's great, but I've become a full-fledge Dividend Zealot and convert to Dividend Growth Investing, so I'm more interested in how much the portfolio's yield has improved, as well as how much its Yield on Cost, or YOC, has improved from the beginning of the year. The overall average yield of the portfolio has grown from 4.96% to 5.83%, an improvement of just under 0.9%. The YOC has improved from 4.39% to now be 5.24%, an improvement of 0.84%.
The reason I mention YOC is that my goal for this portfolio is for it to provide me a steady stream of growing dividends that I will eventually use as income in my retirement. This is not a "closed" account, meaning that I will continue to add to it the maximum $6,000 per year that I'm allowed by the IRS now that I'm 50, in addition to the dividends that the portfolio generates. I want to continue to grow this account so that by the time I'm ready to retire it will throw off enough income in the form of dividends and distributions to supplement the income I will be receiving from the Social Security Administration and my company's "pension" program. I'm going to borrow from David Van Knapp's Dividend Growth Portfolio and give myself a target that this portfolio will be generating a 10% YOC by the end of 2021, ten years after I started managing it myself.
Next Steps
Right now I've got some cash in the IRA that is locked up securing some puts that I wrote for July that will probably expire worthless. Once the July expiry has come and gone, and with some additional funds that I've injected into the account as part of my annual contribution, I'll have a dandy pile of cash with which to work. Based on my last look at my watchlist, American Capital Agency (NASDAQ:AGNC) is first in line to join my portfolio, followed closely by BHP Billiton (NYSE:BBL). In addition to those two, there are some existing positions that I'd like to add to, such as JNJ and MSFT.
At the moment, the market has been on an upward rally the past few days of trading, and a lot of the stocks that I'd like to purchase are a bit higher in price than I'd prefer, so I'm going to have to set some limit orders and watch for a pullback. I had thought that we'd see a decent drop in the market this summer, but so far things have been looking up. It may sound perverse, but I'm really hoping for a good old slump to provide me with fair values and some bargains.
That wraps up this look at the first half of this year. I will move to a quarterly report out going forward. So far My Mad Method has been working out pretty well for me. It's enabled me to identify stocks that have made a great addition to my portfolio, as well as helping me weed out some of the positions that weren't living up to my expectations. This is an organic process, one that I want to share with the Seeking Alpha readers as a way of documenting what has worked and what hasn't as I play catch up with my retirement nest egg. As always, comments and questions are more than welcome, so please feel free to opine below.
Disclosure: I am long AAPL, ABT, ACI, AGIGF.PK, ARLP, CEF, CSCTF.PK, OTC:DUETF, EXC, EXK, F, OTCPK:FRHLF, FTE, GLW, JNJ, KMB, OTCPK:KPELF, MAIN, MDT, MSFT, MVO, NLY, NOK, NPK, SDRL, STON, T, OTCPK:TTRAF, UPS.
Additional disclosure: I may also initiate a position in AGNC and/or BBL within the next 72 hours. Finally, I am not a professional investment advisor or financial analyst; I'm just a guy who likes to crunch numbers and can make an Excel spreadsheet do pretty much whatever I want it to do, and I'm doing my best to manage my own portfolio. This article is in no way an endorsement of any of the stocks discussed in it, and as always, you need to do your own research and due diligence before you decide to trade any securities or other products.