I was about a week too early in predicting the sell-off in precious metals, but it certainly materialized as we witnessed gold lose $100 (10%), and silver lose $3.50 (17%) in just 48 hours. It looked like a manufactured event by commercial traders (mostly big banks) to take advantage of technical investors, liquidate their short positions and go long again by buying the cheap gold that weak hands and technical traders were dumping into the market. Ted Butler wrote a good article about how this works, for anyone interested in reading more.
At the beginning of the year, I wrote an article with my 10 Predictions for 2008. So far, 8 of those 10 predictions have come true. One of the predictions was that corrections in the gold market would become increasingly violent, but also increasingly short in duration. After falling below their 50-day moving averages and looking like a huge drop was approaching, gold and silver both rebounded in the last two days, and recaptured about 30% of their devastating 2-day loss. The metals rebounded in the first day to rest on their respective support lines ($935 for gold and $18 for silver), and then continued decisively upward on Wednesday.
Technically speaking, any drop back below $935 and then below $900 could see the gold price freefall as low as $800. There is simply no support below $900. But as long as precious metals can hold the current support levels, it is safe to assume the correction is over. Fundamentals still point to much higher prices, and I believe we will see gold hit $1,000 again before it hits $900.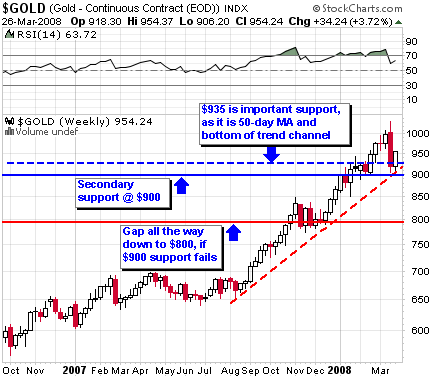 The next upleg should see silver outpace gold by a significant margin and see junior producers finally join in the fun. There have been a number of recent articles exposing how the silver market is experiencing a significant shortage and customers are being asked to wait for months in order to receive their silver due to dealers running out. Silver breaking the $20 level caught investors' attention, and if the supply/demand situation is truly as bad as it seems and even a small amount of investment dollars begin to flow into silver, we could see the price spike to $50 or more. Investors would be wise to take a position ahead of such developments, as silver anywhere under $20 will soon be a thing of the past.
Silver mining companies bring additional leverage to the equation and could go ballistic if silver breaks out as anticipated. There are obvious choices such as Coeur d'Alene Mines Corp. (NYSE:CDE), Silver Wheaton (SLW), Pan American Silver (NASDAQ:PAAS) or Silver Standard Resources Inc. (NASDAQ:SSRI). But I believe the best returns will be offered from smaller producers or miners that are just beginning to bring their properties online and are only now starting to get attention from silver investors.
Yesterday, the general markets ended their two-day rally, with the S&P down (0.8%), and the Nasdaq off (0.7%). The financial and real estate sectors also ended their mini-rally, and crashed hard Wednesday helping our market shorts gain 6.8% and 5.3%, respectively. We might see more gains in the broader market, but I don't anticipate it to last more than a week or two, and will be maintaining these short positions in the GSB portfolio in expectation of further downside.
Alternative energy stocks and solar stocks in particular have come to life in the past few days after three months of getting pounded. Some stocks have gained as much as 25% in a few days, after having lost 50% or more of their market cap since the start of the year. This sector is not for the faint of heart, but it is hard to deny the role that solar, wind and geothermal energy will have in our future.
While the stocks became clearly overheated and overvalued towards the end of 2007, yesterday's levels are much more reasonable. I have increased my exposure to solar stocks in the past week, but have set tight stops and will keep a close eye on the effect the overall market downturn has on alternative energy shares.