Gran Tierra Energy (NYSEMKT:GTE) has done a wonderful job in growing production and revenues (CAGR of 70%) over the past three years. It has some solid prospects for continuing growth in South America as well. Unfortunately, it has not been rewarded for those achievements recently due to sharply fluctuating oil prices. It also suffers an unfair discount because of some minor exposure to Argentina and temporary production disruptions in Colombia. However, I think the stock is finally ready to break out and move closer to its intrinsic value.
Recent positives for Gran Tierra:
Global Hunter initiated the shares as a "Buy" on Friday.
The consensus earnings estimates for FY2012 and FY2013 have fallen in drips over the past three months, but have stabilized over the past two weeks.
Gran Tierra has solid, long term technical support at just under this level. The stock has moved up solidly off these support levels in the past five trading session and this could be the stock of longer term breakout (See Chart).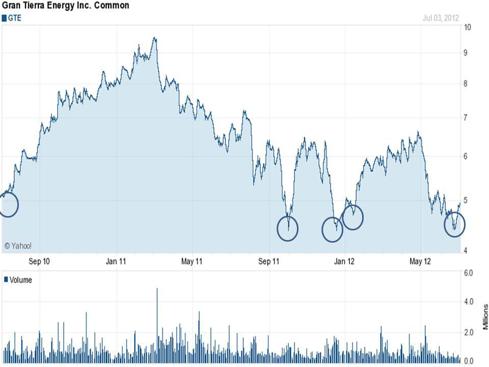 Gran Tierra Energy is an independent energy company, engages in the acquisition, exploration, development, and production of oil and gas properties in Colombia, Argentina, Peru, and Brazil.(Business description from Yahoo Finance)
4 reasons GTE is a good long value at $5 a share:
The company has a solid balance sheet and no debt with $230mm in net cash, its production guidance for 2012 calls for a 95% oil ratio to its overall production mitigating risks of low natural gas prices.
Although Gran Tierra has some production coming from politically unstable Argentina, approximately 80% of its production for more stable Colombia. It also has a partnership with Statoil (NYSE:STO) and Petrobras (NYSE:PBR) on a promising speculative offshore venture off the coast of Brazil.
Analysts expect north of 20% revenue growth for both FY2012 and FY2013 and has a projected five year projected PEG of under 1 (.91).
GTE sells for just four times operating cash flow, which more than doubled from FY2009 to FY2011 and GTE is also priced at just 6.5 times forward earnings.
Disclosure: I am long GTE.