Seagate Technology
I've developed a screen for value-based stocks with a strong, growing dividend for income. Following this screen, I've decided to take a closer look at Seagate Technology (STX). The screen itself consists of:
Security Type: Common Stock - I am interested in investing in US-based companies.
Market Capitalization: Greater than or equal to 740 Million - I am looking for middle-large cap companies who have established themselves in the marketplace. Seagate: $10.52 billion.
P/E (Intra-day/ TTM) - Less than or equal to 12 - I want a company with a lower than average P/E to give it some 'value' and room for the stock price to grow. Following the screen, I must compare this to the industry and historical average. Seagate: 5.69 TTM
Dividend Yield: Greater than or equal to 3.2% - I am looking for a yield above 3.2% to give myself a consistent stream of income above the current Treasury yield. Seagate: 4.04% annualized.
Dividend Payout % Last Quarter: Less than or equal to 65% - while I would like a strong dividend, I want to ensure that the company is also investing some of its profits back into itself. Seagate: 17.29%
Dividend Growth Rate (5 Year Average): Greater than or equal to 5% - I want a dividend that has, on average, been growing over the past five years. Following the screen, I must check the dividends declared to ensure consistency in the growth of the dividend. Seagate: 21.35%
Company Overview:
Seagate is a leading provider of both hard drives and storage solutions. Offering a broad portfolio of hard disk drives, solid state drives, and solid-state hybrid drives, Seagate is the world's foremost producer of hard disk drives based on revenues. Seagate produces disk drives targeting: A) enterprise applications, where its products are used for enterprise servers and mainframes; B) client compute applications, focusing on desktops and notebooks; C) client non-compute applications targeting DVRs, personal data backup systems, and portable external storage systems. Seagate also provides data storage services for small and medium sized businesses. Seagate derives most of its revenue from its Client Compute defined units, at 72% of revenues in fiscal Q3 2012.
Upcoming Events:
Quarterly earnings report July 17th.
Computer Hardware Industry and Seagate:
The electronic data storage industry can be broken up into the following supply chain:
Major subcomponent manufacturers, who manufacture subcomponents for -> hardware storage manufacturers such as Seagate, who develop hardware components (IE: HDD or SSD storage devices) for -> end users or companies who create products such as PC's, collecting, processing, or otherwise combining the storage components to fit their needs.
Thus, Seagate is dependent upon the PC and storage markets for its demand for its products and subcomponent manufacturers for supply. Seagate has a longstanding relationship with many customers such as HP, Dell, and EMC.
The PC market has recently been roiled by flooding in Thailand, which affected the supply chain and diminished supply, specifically of hard disk drives. However, much of the supply chain has been restored at this point.
In terms of growth and hard drive demand, tablets have become household items and laptops continue to lead desktops (with portable computers accounting for 59% of PC shipments in 2011). PC growth was strong at 13.7% in 2010, but lagged in 2011 at only 1.6%. The Asia/Pacific market is the world's largest regional market for PCs, with 1/3 of the world's unit shipments in 2011. Focusing on desktops, the IDC Worldwide PC Forecast Update forecasts a slow growth rate of .2%, while portables should grow at 9% and tablets a phenomenal 38.6%. It is important to note that tablets, smart phones, and similar smaller devices all primarily use SSD, while desk tops and those demanding larger storage capacities will still utilize HDD.
On the other hand, the server market consists of tough pricing competition with some growth while facing lessening economic growth conditions. After consecutive growth quarters following the market downturn in 2009, revenue fell in the fourth quarter of 2011. Looking forward, the need to improve outdated systems (that perhaps were not updated due to the downturn in 2009), fulfill cloud computing, and store data and develop data centers should fuel demand for servers. A more recent trend of "virtualization", in which servers are upgraded via a software application to split the server into multiple operating systems for more capacity and efficiency may dampen demand for new systems entirely. Companies have been packaging their servers, IE: developing server systems and also attempting to tell software and related support for those servers all in one.
In fiscal year 2011, the total available market for hard disk drives was approximately 657 million units, representing a 4% increase from 2010; overall storage demand increased approximately 40% year over year.
Positives:
The company's valuation ratios are very low. Seagate currently trades at a P/E of 5.69 and an extremely low PEG of .16. Competitors Western Digital Corp (WDC), Toshiba (OTCPK:TOSBF), and Hitachi (OTCPK:HTHIY), sport P/Es of 7.0, 3.0, and 22.7 respectively. Seagate's Price/ Sales is .81 while Western Digital's is .72 and Toshiba's is .04. Seagate's Price/ Cash Flow is 3.91, slightly lower than the 4.42 of Western Digital and 4.14 of Hitachi. Seagate has delivered some growth post 2009, posting 65.12% revenue growth quarter over quarter for the last quarter ended March 31st. EPS growth quarter over quarter for the same period is an astounding +1,081%.
In terms of returns, Seagate has posted a 31.73% return on investment TTM, well above Western Digital's 14.60%. Similarly, its return on assets is 21.17% TTM, twice WDC's 10.54%. It also has a high inventory turnover ratio, at 12.38x for the most recent quarter and 9.27x for the most recent fiscal year.
Seagate recently completed the acquisition of Samsung Electrons Co.'s HDD business; the company expects to improve its position as a supplier in markets including mobile computing, cloud computing and solid state storage, and expand customer access in China and Southeast Asia.
Neutral:
Seagate Technology announced in April 2012 that it has been authorized to repurchase up to $2.5 billion shares, reaching a total authorized capacity for approximately $3.5 billion shares. However, it is my belief that much of this has already been 'priced in'. This is also in response to Seagate distributing authorized but unissued shares to Samsung shareholders as a result of its acquisition; at the time, Seagate diluted outstanding shares by 10%.
Negatives:
It is important to understand that Seagate engages primarily in HDD production. Disk drive competition is extremely competitive, as manufacturers compete for a limited number of major disk drive customers and also compete with other companies in the electronic data storage industry that provide alternative solutions such as SSD or flash memory. Seagate's principal competitors include Western Digital Corporation, Hitachi Global Storage Technologies, and Toshiba. For hard drives specifically in fiscal year 2011, revenues decreased 4% in spite of 3% growth in units shipped, illustrating just how cost competitive this industry is.
SSD, or solid storage drives, is generally a much faster option but also much pricier and Seagate has limited exposure to this product. Cost per gigabyte for an HDD is about $.10 compared to $1.75 for SDD. Currently, SSD is the default storage device in the new Ultra book category, tablets, and MP3s and smart phones. As SSD technology continues to improve, it will almost certainly eat into HDD sales.
Shaky economic growth will also affect Seagate. As noted, Seagate is dependent upon major disk drive customers such as HP, Dell, and other companies that produce or otherwise demand storage capacity. If PC and other application growth is slow, especially in Asia where PC market share by region is highest, Seagate's growth will slow as well as demand from these clients declines.
Seagate's annualized dividend yield of 4.04% with a payout ratio of 17.29% and 5 year growth average of 21.35% is impressive. However, it had to suspend dividends in 2009 and 2010, paying .03 cents in Q1 2009 and not paying a dividend again until Q2 2011. This is not a good precedent moving forward. This was largely influenced by events in 2009, including the global downturn leading to decreased demand, which in turn led to a markdown of $2.3 billion in Seagate's goodwill and a $271 million unfavorable adjustment on deferred taxes.
Finally, while Debt/ Equity may be an unreliable statistic for Seagate given such dramatic negative retained earnings stemming from losses in 2009, Debt/ Assets paints a stronger and more-easy-to compare picture. With a Debt/ Assets of 34.37% TTM, Seagate carries much more debt than Western Digital or Hitachi, which boast ratios of 9.08% and 29.13% respectively. This is worrisome, since the company has had to suspend dividends in the past and is financing a larger portion of its operations with debt than its competitors.
The Chart and Historical Price Comments: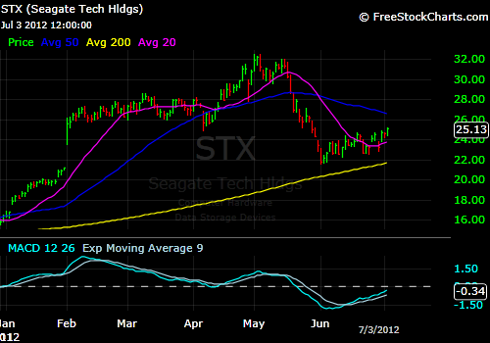 After experiencing a greater than 300% gain between last October and this May, from $10/ share to a high of $32.55/ share, Seagate has traded between $22 and $25 dollars for all of June. In the past 52 weeks, the disk drive manufacturer has gained 50.09%. Volumes indicate that this range is being widely supported, with much higher than average volume recently (approximately 90 million shares trading hands on June 29th), well above the 90-day average volume of approximately 13 million.
Technically, the 20 day moving average is below the 50 day moving average (a short-term bearish signal). Both are above the 200 day moving average. The MACD is below the center line, a negative indicator. However, it crossed the signal line in mid-June, a positive signal. Look for the 200 day moving average to be a heavy support level while the 50 day moving average should provide some resistance.
Margins:
Seagate Fiscal Quarters

Q3 2012

Q2 2012

Q1 2012

Q4 2011

Q3 2011

Revenue Growth (Quarter over Quarter)

65.12%

17.54%

4.23%

-6.23%

-10.97%

Gross Margin

41.53%

37.48%

26.01%

25.36%

26.12%

Operating Margin

27.26%

19.56%

8.82%

6.72%

6.72%
All margins have improved considerably quarter over quarter for the past 4 quarters. Continued improvements in both gross and operating margins will be essential considering the competitive nature of the industry and the ensuing price erosion. Revenue growth for the close of FY 2012 should be strong, as a very high 65.12% revenue growth quarter over quarter in Q3 2012 should buoy this number.
Seagate Fiscal Years

FY 2011

FY 2010

FY 2009

Revenue Growth (Year over Year)

-3.72%

16.22%

-22.84%

Gross Margin

26.30%

34.73%

23.05%

Operating Margin

7.49%

16.35%

-.81%
Price erosion ate into margins in FY 2011, while FY 2010 represented a major step forward from Seagate as it recovered from a significant industry downturn in 2009.
DCF: Indicates Seagate is fairly valued
WACC of 12.9%, slightly higher than bloomberg's 11.4% and wikwealth's 12%
Sales growth of 3.0% for five years and perpetuity growth of 2.2%.
Implied Share Price: 23.05
Conclusion:
Passing my test, Seagate currently trades at a mere 5.69 P/E TTM and a very low .16 PEG. Compared to its closest and most similar competitor, Western Digital, Seagate is slightly undervalued by almost all ratios and posts much stronger returns on investment and assets. Significantly, improving margins and recent quarterly revenue growth are bullish indicators for Seagate. However, the suspension of dividends in 2009 is very disconcerting, as is its financing of larger portions of its programs with debts.
Beyond Seagate's fundamentals, the fact that it is reliant upon revenues primarily from HDD sales must be weighted carefully. If one is bullish on economic conditions and believes that PC growth and business demand for digital storage will ultimately create demand for component HDD parts, then Seagate could be a decent play. SSD growth, HDD's counterpart, must also be carefully considered. I believe that at least in the short to intermediate term, SSD will not dramatically hamper HDD growth. Although SSD is commanding in tablets, ultra books, and smaller devices such as MP3s and smart phones, users requiring cheaper options for large amounts of storage will inevitably gravitate towards HDD, at least in the short to intermediate term. The fact of the matter is that 10 cents per gigabyte is simply far more enticing than the benefits derived from $1.75 per gigabyte via SSD. Thus, corporations and other establishments with large PC and cloud storage needs will still demand HDD. I believe that this sector has a moderately growing demand base, which will allow both HDD and SSD to experience growth; however, SSD will grow quicker especially if costs can be brought down. Ultimately, HDD is the much older, established technology while SSD is just beginning to become relevant and perfected.
Given the DCF, P/E ratios, and qualitative data, I believe that Seagate is currently fairly valued. Considering that the report of results for fiscal year 2012 for Seagate is on July 17th, I would wait until after earnings to disseminate competitive pressures moving forward as well as guidance towards what demand will look like for the rest of the year. Seagate's improved margins are comforting, but I think that waiting two weeks for a more full and complete picture about Seagate's business going forward is the wisest choice.
Disclosure: I have no positions in any stocks mentioned, and no plans to initiate any positions within the next 72 hours.