Shares in General Electric (NYSE:GE) soared nearly 12% during the month ending March 20, providing a momentum boost to iShares Dow Jones Industrial ETF (BATS:IYJ) during a period when most broad market indices sank. IYJ, which recently invested about one-fifth of its assets in GE, climbed eight spots on the ETF Momentum Tracker table during the same period, reaching position number 17 last week. During that month, IYJ lost only 0.7%, besting the S&P 500's performance by 1.3 percentage points.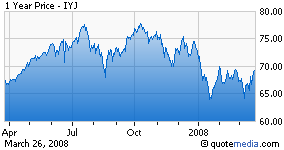 Most of IYJ's holdings did not perform as well as GE in recent months. In fact, Deere & Company (NYSE:DE) was the only other stock among IYJ's top 10 holdings to produce a gain for the month through March 20. Still, the kinds of blue-chip, large-cap stocks in which IYJ invests might compare favorably with the broader market during the coming months. After several years of market leadership by small-cap value stocks, some analysts think the current market downturn might signal a shift to an era of large-cap dominance. If the economy remains troubled and markets continue to be volatile, investors may find that stocks delivering slow, steady growth and a sizable dividend are much more appealing than they were during the recently ended bull market.
IYJ devotes an enormous chunk of its portfolio to top holding GE, but it distributes the remainder of its assets widely. As of March 20, the fund held 261 stocks, and its second-largest holding, United Technologies, accounted for only 3.35% of assets. IYJ's fate clearly is tied closely to that of GE—but there are worse stocks in which to hold a concentrated position, given GE's size, diversity and financial stability. Furthermore, IYJ's broad overall portfolio is likely to help manage volatility that results from its considerable single-stock exposure. The fund's recent standard deviation of 10.02 indicates that its performance for the three years through February fluctuated only slightly more than that of broad market indices. (The S&P 500's standard deviation was 8.74 for the same period.)
The firms represented in IYJ's portfolio vary greatly in terms of industry, geographic focus and size. The fund offers exposure to stocks in defense and aerospace (United Technologies (NYSE:UTX), Boeing (NYSE:BA), Lockheed Martin (NYSE:LMT), Honeywell (NYSE:HON)), transportation (United Parcel Service (NYSE:UPS)), construction and housing (Caterpillar (NYSE:CAT)), engineering (Emerson Electric (NYSE:EMR)), agriculture (Deere & Company), and several other industries. Most of the companies in which IYJ holds shares are international players, providing investors in the fund with a good deal of exposure to foreign markets. And most but not all of those companies are big: IYJ's average market capitalization recently stood at $24.5 billion, with about 65% of the fund's portfolio designated as large- or giant-cap and a sprinkling of assets in small- and even micro-cap holdings.
GE's stock may be poised for performance after several years of fairly stagnant returns. At least that's the take of many analysts, who generally consider the stock undervalued. Merrill Lynch analysts last Thursday upgraded their rating on the stock from "hold" to "buy," and Morningstar is bullish on the stock as well. "The company's largest end markets in power, energy infra- structure and aerospace are growing rapidly," writes Morningstar analyst Tom D'Amore. "We think continued rapid expansion in emerging markets will fuel substantial earnings growth over the next five years."
GE's many businesses are organized into six distinct segments—industrial, commercial finance, consumer finance, entertainment and media (through its NBC Universal division), infrastructure, and health care. While the majority of GE's growth stems from its infrastructure segment, the company derived about 40% of its 2007 pretax profits from financial services.
The reliance on finance is a concern to some observers, who have worried in recent months that GE's financing arm could get tangled up in the credit crunch that has caused turmoil throughout the economy. But confidence that GE is mostly immune to the worst of the crisis caused the stock to rally last week. GE shut down its subprime mortgage unit last November, and the firm's AAA credit rating, enormous cash flow and solid balance sheet suggest it could be far better positioned than many of its competitors to fare well in a credit-scarce environment.
GE generates about half of its revenues from outside the United States, much of it from emerging economies. D'Amore describes the firm as "a veritable one-stop shop for emerging economies seeking to industrialize," because of its offerings in the realms of power generation, water infrastructure and transportation. Many of IYJ's other top holdings, including 3M (NYSE:MMM), Boeing and UPS, are similarly poised to benefit from growing foreign economies.
IYJ's international breadth could be beneficial for investors here, for several reasons. If the U.S. economy continues to cool, firms prepared to capitalize on growth opportunities abroad will likely generate faster sales and earnings growth than domestically oriented companies will. Meanwhile, diversification among many markets is likely to steady IYJ's performance. And the current weakness of the dollar has boosted the competitiveness of U.S. firms overseas while increasing the value of revenues earned in foreign currencies.
The industrial sector's performance has not been overly impressive during the last few years—IYJ gained just 7% annually for the three years ending March 20—but it generally has out-gained the broader market. That said, market conditions today are dramatically different than they have been in recent years. If the U.S. economy remains weak relative to the rest of the world, IYJ may be able to build further on its recent momentum.