Since I'm a huge fan of cereal, I had to take a look at General Mills (GIS) as an investment. When looking at the big picture, the company doesn't have too many negative surprises. What the company does have is a certain degree of predictability which is paramount when considering an income producing dividend stock
In addition to manufacturing branded consumer foods, General Mills also supplies branded and unbranded food products to the food service and commercial baking industries. Of General Mills' $15 billion in annual sales, $10.2 billion comes from U.S. retail sales, $2.9 billion comes from international sales, and $1.8 billion comes from bakeries and food service. Some of its well-known products include Cheerios, Wheaties, Cinnamon Toast Crunch, Betty Crocker, Green Giant, Bisquick, Chex, Gold Medal, Nature Valley, Old El Paso, Haagen-Dazs, Progresso, Yoplait, and Fiber One.
The company is fairly valued with a forward PE ratio of 13.41, a PEG of 2.02, and a price to book ratio of 3.94. General Mills should be expected to maintain a fair valuation as the business is relatively steady and predictable. With few negative surprises, it is rare for the stock to become undervalued.
General Mills has a healthy profit margin of 9.41% and an operating margin of 16%. The company's operating cash flow is $2.4 billion and free cash flow is $1.74 billion.
The company paid out $1.1 billion to shareholders with a 3.4% dividend. The company has raised the dividend every year for the past 8 years.
General Mills is expected to grow earnings annually at 7.23% for the next five years. Those interested in building wealth should reinvest the dividends to achieve a total annual yield of about 10.63% (dividends plus stock appreciation). At this rate, a $10,000 investment in GIS should be worth about $16,000 in 5 years and about $27,000 in 10 years.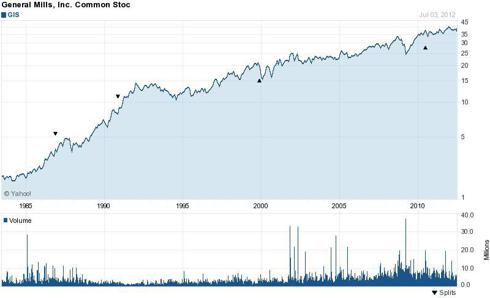 The company did some restructuring for about $75 million in annual cost savings. Partial year savings are expected to be realized this fiscal year. Reinvestments in the U.S. yogurt business, Yoplait Canada, and emerging markets will support continued growth.
General Mills' acquisition of Brazilian food company Yoki Alimentos is expected to cause a loss of 2 to 3 cents in partial year earnings per share. However, the acquisition is a part of a long-term strategy to build its international business. The company expects Yoki Alimentos to more than double sales in Latin America to $1 billion.
With an investment in General Mills, investors have a reliable stock that pays consistent dividends while preserving and growing capital.
Disclosure: I have no positions in any stocks mentioned, and no plans to initiate any positions within the next 72 hours.