In late May, I proposed that owning mREITs was one (of many) strategies that an investor can use to hedge against market weakness. At that time, I included a chart that showed performance from March 19th (when the S&;P 500 peaked) through May 19th; Chimera (NYSE:CIM) and a REIT ETF (NYSEARCA:MORT) had outperformed the sinking S&P 500 (NYSEARCA:SPY) by about 5%, while American Capital (NASDAQ:AGNC) and Annaly (NYSE:NLY) had outperformed by over 10%.
Since then, the market has bumbled sideways and slightly higher, while (most) mREITS have continued to outperform the S&P 500. Charts in this article are courtesy of Stockcharts.com: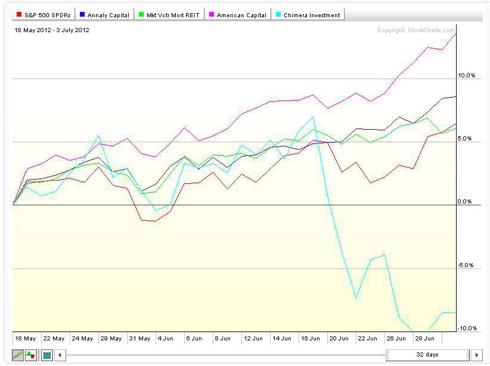 Unfortunately for Chimera holders, a dividend cut in June sent the stock sinking, and all relative and absolute gains were erased; because of the cut, CIM shares have underperformed the S&P 500 by about 15% during the past six weeks, as shown above. However, holders of other mREITs have not had such unfortunate fate.
AGNC continues to be the best-of-breed MREIT. It is up almost 15% over the past six weeks, during which the overall market has advanced just 5%, and most of the S&P's gain happened within the past week. Annaly has outperformed significantly as well; shares are up almost 10%, beating the market by a few percentage points; the announcement of a continued 55 cent dividend certainly helped shares. The mREIT ETF, MORT, also outperformed during most of the window, but recently has returned to in-line performance as the broader market rallied.
Over the timeframe since the market began its correction in late March, the mREIT outperformance is even more notable.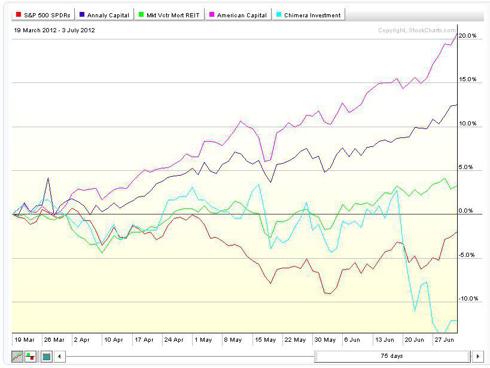 The S&P 500 is still sitting about 2% below its March 19 close. Chimera has been a very poor investment over this window (due to the dividend cut), and shares are down more than 10% in relative and absolute terms. All of the other REITs that I have tracked have outperformed substantially.
Since March 19th, AGNC is up an incredible 20% (which translates to a more-than 50% annualized rate). Annaly shares are up more than 10%, and while MORT is only up marginally, it has still beaten the broader market by about 5%. However, the past is the past - is it still appropriate to own mREITs?
As is the case in many data-cleaning exercises, I think it makes sense to throw out the best- and worst-performers when considering which REITs to buy and hold going forward. While AGNC has provided shareholders with great returns, it seems unlikely to be able to continue at the current pace indefinitely - as mentioned earlier, its recent gains have been at more than a 50% annualized rate, and that just seems unsustainable for an mREIT (and most stocks of any type). However, at 14.9%, the yield still remains incredibly attractive.
Shorting shares would be suicidal, but now may not be the time to buy more. Investors should probably also avoid Chimera shares; it has long been regarded as one of the weaker mREITs, and the recent dividend cut supports that sentiment. More dividend cuts or even just souring investor opinion may continue to hinder share performance.
However, as an asset class, I still think that one should consider owning mREITs. The high dividends provide an excellent return in a low-yield environment, and the low betas help insulate a portfolio against market fluctuations. I think that Annaly is still a great individual choice - its recent performance is not as seemingly unsustainable as AGNC, and shares seem appropriately valued based on yield (13%). The MORT ETF also seems like a decent way to own mREITs if one does not want to choose individual stock(s) - it yields about 10%, and should hedge against dangers in both the broader market and individual REITs. Now may not be as great of a time to jump on the mREIT bandwagon as March 19th was, but it still seems like investors can make room for mREITs in a diversified portfolio.
Disclosure: I am long NLY.