One of my favorite Warren Buffett quotes is "the investor of today does not profit from yesterday's growth." While there's plenty of money to be made on companies with long and storied histories, those with strong growth prospects in the coming years are more likely to provide investors with truly exceptional returns.
One way to analyze a company's future is through its Forward EPS Long Term Growth, which is essentially a consensus estimate of the company's expected annual growth rate over the next three to five years. Cross referencing analyst ratings with companies with high expected growth can provide investors with a good starting point on analyzing good growth investments.
The companies listed below have several things in common: they're all in the auto parts industry, they have forward EPS growth of at least 25%, if not more, and analyst consensus is either "Buy" or "Strong Buy" according to the First Call Consensus Recommendation, which collates multiple analyst opinions into the mean recommendation.
This list is intended to be a starting point for further research -- do you think the companies named might be good candidates for a growth portfolio? Why or why not?
1: Dana Holding Corp (DAN)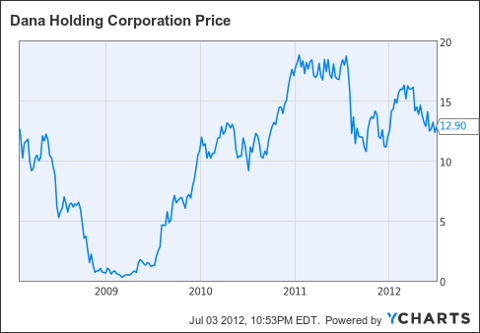 Dana supplies axles, driveshafts transmissions, sealing and thermal-management products, and genuine service parts for vehicle manufacturers across the globe. It provides parts for both light vehicles and commercial/off-road vehicles. Dana's market cap is $1.8 billion. Dana has a First Call Consensus Recommendation of "Buy."
Dana's long-term projected EPS growth is 29.50%. Three-year historical EPS growth is 367%, with same-timeframe cash flow growth of 9.5%. Dana's Return on Equity (27.7%) is solid.
2: Goodyear Tire and Rubber (GT)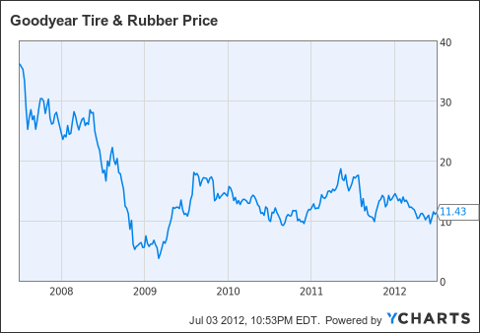 Goodyear is a well-known manufacturer of tires, though they also produce and sell various rubber-related chemicalsIt operates 1,400 tire and auto service center outlets. Goodyear's market cap is $2.8 billion. The First Call Consensus Recommendation is "Buy."
Goodyear's forward long-term EPS growth is projected at a very nice 43.6%. This follows 3-year historical EPS growth of 58%, which was accompanied by a 22% cash flow growth rate over the same time period. Goodyear's return on equity is a solid 32%.
3: Stoneridge Inc (SRI)
Stoneridge designs and manufacturs of engineered electronic components, modules and systems for the commercial vehicle, automotive, agricultural and off-highway vehicle markets. The company's market cap is $191M. The First Call Consensus Recommendation is "Buy."
Stoneridge's projected long-term EPS growth is 34.7%. This follows a five-year historical EPS growth of 26%, which was accompanied by 11% cash flow growth rate over the same timeframe. Stoneridge has a 43.9% return on equity.
4: Tenneco Inc (TEN)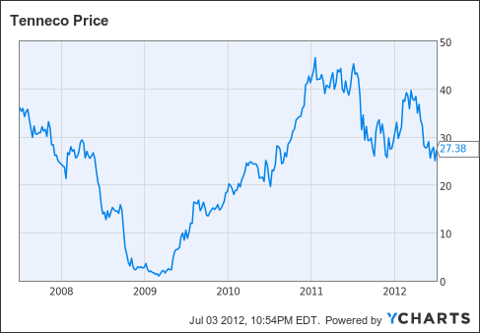 Tenneco produces emission control and ride control products and systems for light, commercial and specialty vehicle applications on a global scale. The Company serves both original equipment vehicle manufacturers (OEMs) and repair/replacement/aftermarket. Tenneco's market cap is $1.6B. The First Call Consensus Recommendation is "Buy."
Tenneco's projected long-term EPS growth is 25%. This follows a solid 5-year historical EPS growth of 19%. During the same timeframe, cash flow grew by 9.3%.
Disclaimer: I am an individual investor, not a licensed investment advisor or broker dealer. Investors are cautioned to perform their own due diligence. All information contained within this report is presented as-is and has been derived from public sources & management. Always contact a financial professional before making any major financial decisions. All investments have an inherent degree of risk. The future is uncertain, and actual results may be materially different from those expected. Past performance is no guarantee of future results. All views expressed herein are my own, and cannot be interpreted as the views of my employer(s) or any organizations I am affiliated with. Presentation of information does not necessarily constitute a recommendation to buy or sell. Never make any investment without conducting your own research and reading multiple points of view.
Disclosure: I have no positions in any stocks mentioned, and no plans to initiate any positions within the next 72 hours.