Delphi Automotive PLC (DLPH) is a parts manufacturer for automobile OEMs. It does a lot of its business with its biggest customer, General Motors (GM). A couple of Delphi's other important customers are Ford (F) and Volkswagen (OTCPK:VLKAY). All of these will be hurt by the financial troubles in Europe. The European Automobile Manufacturers' Association reports that commercial registrations are down -11.8% over the first five months of 2012; and passenger car registrations are down -7.7% over the same period. GM has been losing money in Europe for the last few years. Those losses stand to get worse in FY2012.
Closing one German GM plant may help, but it will also be a big expense. In fact, GM is even talking of bankruptcy again. It now thinks that it did not do a good enough job of resolving its problems in its recent bankruptcy proceedings. Another bankruptcy may be the only way to win the concessions management feels it needs in order to be competitive. In addition its former finance arm, Ally (the Residential Capital arm), filed for bankruptcy in May 2012. Ally provides 75% of the car credit for all US GM dealers.
In China, the world's largest auto market, sales are still higher than in 2011. However, some of this can be attributed to Japanese auto sales slumping hugely last year after the earthquake/tsunami that hit Japan in March. Even so, auto sales growth in China has slowed from 35% in 2010 to 2% in Q1 of 2012. Local governments have imposed traffic curbs. Banks (government) have tightened credit policies. Plus, economic growth has slowed considerably. China's GDP growth is estimated to be 7.6% in Q2 2012 (BOC) versus +9.5% in the year ago quarter. Some estimate that it will even be worse than this. Recent economic news from China has been mostly negative.
US auto sales have grown year to date. However, that growth has only been at or below most expectations. US auto sales growth may soften considerably in the second half of the year as the world economic slowdown continues. South American auto sales forecasts have been trimmed recently. Polk just trimmed its 2012 forecast by -2%, its 2013 forecast by -3%, and its 2014 forecast by -5%. This is mostly due to expected slowing in the Brazilian market, which accounted for 67.3% of total South American auto sales in 2011. Registrations between Jan. and May were down -4.4%. Wholesales were down -9.3% due partly to a higher tax on imports. This tax has been in effect since mid-December 2011.
This all makes perfect sense in economic terms. Brazil's GDP growth was up only +0.2% in Q1 over its Q4 GDP. In contrast Brazil's GDP growth was +7.5% for FY2010. The slowdown has been rapid and dramatic. Some contend that Brazil's economy is now bottoming. However, the actuality of that remains to be seen. Historically Brazil has fallen dramatically on EU or US problems. The EU is in trouble. China is slowing (almost -2% in GDP growth from Q2 2011 to Q2 2012), and the US's most recent news indicates that it may be slowing too. With growing problems in its three biggest markets, Brazil seems likely to continue slowing.
In sum, GM's biggest auto financer is in bankruptcy. GM is considering going into bankruptcy itself. GM has decided to close at least one German auto plant, and it may close more EU plants. Many automakers selling in the EU may lose money in 2012 as that market is predicted to be down at least -7% for the full year. It is already down more than that so far this year. South American and Chinese auto sales are likely to disappoint. Even US auto sales may disappoint in 2H 2012. Delphi's production should be significantly negatively impacted. This calls into question its profitability going forward in 2012. Ally's bankruptcy makes a GM bankruptcy that much more likely. GM's possible bankruptcy calls into question whether Delphi will be able to collect on its invoices to GM (and possibly others).
At best many invoice payments may be significantly delayed. Even this would negatively impact profitability. Further CIT Group (CIT) stopped financing for Sears' suppliers early this year on questions about Sears' ability to pay its bills. The same thing could happen to Delphi's suppliers, or even to Delphi itself. Events such as these could drive Delphi back into bankruptcy from which it only recently exited. At the least they could raise Delphi's borrowing costs. This would negatively impact its earnings. None of the above can be good for banks like CIT either.
I have looked at Delphi's forecasts for growth in sales and revenues, and the numbers do not seem to agree at all with the situation I am seeing in the auto industry around the world. Keep in mind that China is currently the biggest auto market, not the US. If you add in the other risks that many of its customers are facing this year, Delphi's risk profile goes far higher. On that basis alone it is a sell. If you are an aggressive trader, you will want to short it. Keep in mind that the auto industry moves slowly. DLPH's stock may move down slowly too.
Delphi is not a parts retailer. It mainly sells to / supplies the automakers (OEMs). If its biggest customer GM may go into bankruptcy, it is in trouble. It may sell at a current P/E of 7.39, but that may be completely misleading in today's market. Its price to book ratio is 3.99. This compares poorly to GM's price/book of 1.12. It compares poorly to the Delphi's industry average of 2.76. It should be able to cover its debts in the short term as it has $1.41B in cash. However, if some or many of the above described problems cascade on Delphi, it would quickly find itself in serious trouble. Further, it might be termed a growth stock in its industry with an average analysts' five year EPS growth estimate of 16.87% per annum. If this growth slows to any appreciable extent, which I fully expect it to do, Delphi will quickly suffer the fate of most "growth" stocks whose growth erodes, stops, or reverses. Since this has in fact happened in the recent past, it is just that much more likely to happen again, especially given the current world economic circumstances.
The one year chart of DLPH gives some technical direction to the trade.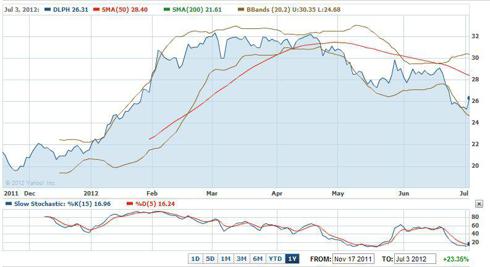 The main chart shows that the price line is significantly below its 50-day SMA, and it has been for sometime. DLPH rallied a bit on the relatively good news from the EU recently. However, most stocks rallied on that news. DLPH seems to be in a downtrend. A small rally on the EU news does not change that. If anything it provides a better sell or short point. The slow stochastic shows that DLPH is at oversold levels, even after the EU mediated rally. You would expect that of a stock in a downtrend. The world economic fundamentals, especially with regard to the auto industry, agree strongly with the downtrend. With the bankruptcy by Ally's Residential Capital arm, a possible GM bankruptcy could easily send DLPH stock spiraling downward.
More severe economic weakness could do the same thing. In contrast the chance of truly positive news for DLPH is low. This makes it an excellent bet for a short while such economic worries persist. If you own it, you should sell it. It is much more likely to go down than up in the near term. It could easily go bankrupt again.
NOTE: Some of the fundamental financial data is from Yahoo Finance and TDameritrade.
Good Luck Trading.
Disclosure: I have no positions in any stocks mentioned, but may initiate a short position in DLPH over the next 72 hours.