The past year or so has not been a kind one for First Niagara Financial Group (FNFG) shareholders. Over the past 18 months, the company's share price has tumbled, losing half of its value and leaving investors feeling like the poor turtle in this video.
That said, the turtle survived to live another day, and both investors and First Niagara endure as well. There is no easy balm to soothe a 45% drop in value, but getting back in and making some of that money back helps. First Niagara has fallen into a position to provide value to shareholders, and investors should take notice.
The Story So Far - One Dive Too Many
First Niagara has long been a favorite of analysts. The Buffalo-based bank has been a classic small regional bank in the Northeast, a perennially strong economic area. The bank grew steadily with acquisitions that were generally well-received by investors, with the most recent success a merger with New Alliance Bank closed in 2011 that gave First Niagara $5.1B in deposits, $4.9B in loans, and 88 branches in Connecticut and Massachusetts. It was, at the time, the largest acquisition in First Niagara's history. In the meantime, the stock price bounced between 11 and 16/share, with the dividend growing steadily from 1998-2007, staying steady through the financial crisis, and then rising twice in the past three years. All was well.
Just about a year ago, however, the bank announced an even bigger buy: it acquired 195 branches from HSBC USA (HBC), based mostly in New York but also in Connecticut. The deal, which saw First Niagara pay a 6.67% premium for $15B in deposits, was announced on July 31st, 2011. Investors and analysts already worried about the debt-crisis debates grew more concerned about the specifics of the deal, which required First Niagara to raise $750-800M in equity and $300-400M in debt. The stock tumbled below 11 last August, and has, the first quarter of this year excepted, been on a slow, sinking trajectory ever since.
The coincidence of the two events was not inconsequential. With the overall difficult macro environment as well as the later announcement of Operation Twist that continues to suppress interest rates, the business climate for First Niagara grew more difficult, which made the process of integrating a huge acquisition more challenging. Ultimately, the company confirmed investor fears by cutting the dividend in half at the end of 2011. That, combined with a series of steadily declining earnings expectations - due to net interest margin pressure, a later than forecast closing of the HSBC deal, general market uncertainty, and a recent decision to sell $3.1B in mortgage-backed securities that will negatively affect short-term earnings - has served to create a steady undertow on the stock price. First Niagara does not have a great deal of credit with analysts and brokerage firms, and will have to rebuild its near-term reputation.
There are reasons to believe the stock has reached the bottom of the fall, however. The relatively attractive climate for regional banks, the company's refocusing on the core business, and the valuation and technical aspects of the price movement all speak for the idea that First Niagara may have hit its low, which makes it worth getting into.
The Attraction of Regional Banks
(First Niagara's nearly 430 branches - Source: First Niagara)
Regional banks are currently more attractive than the major banks. Less prone to major regulatory burden, and less likely to lose $9B in a rogue trade or manipulate interest rates, these regional banks provide domestic security and more traditional banking business. They are also more directly tied to U.S. housing, which appears to be in the early stages of a recovery. Banks of First Niagara's size - smaller regional banks - are attractive because they for the most part maintained dividends through the crisis and had healthier balance sheets than larger regional banks, while also having more visibility for growth and expansion than savings & loans institutions and smaller, local banks.
First Niagara has grown into a top-25 bank in the U.S. on market cap, and is the number one bank in Upstate New York, as well as a top 3 or 4 bank in most of its other markets. The bank a strong, stand-alone player with an opportunity to consolidate its growth over the coming months. Its flexibility still enables First Niagara to grow its loans at an impressive rate, especially compared to the giants in the industry. With the integration of the new branches and this flexibility, First Niagara should be able to grow its business, if not necessarily its net interest margins, singlehandedly.
First Niagara's Plan
The integration process and the upcoming year or two are key years for the company. Management has been vocal about pausing the acquisition and merger pace to allow the bank the room and air to work in the HSBC branches and continue building on organic and other recent acquisition growth. This step in organizational humility should serve the bank and shareholders well as it hunkers down amidst the perennially difficult interest rate climate. Considering the Fed intends to keep rates low through the end of 2013, First Niagara's response to focus on organic integration and growth should prepare them well for 2014, when rates might begin to rise again.
As part of this refocusing effort, the company recently announced the sale of $3.1B in mortgage-backed securities. The downside is that this sale is expected to eat into Q2 earnings - the securities in question provided $.04 in Q1 earnings - and future quarters. The positive is that it allows First Niagara to pay off debt and stabilize the balance sheet in the post-HSBC period, and the mortgage-backed securities involved a degree of volatility regarding rates that will be reduced, stabilizing earnings. This decision also came in response to the difficult macro Q2 and the clarity that interest rates will stay low for quite some time.
This general attitude of integration and sticking to the core business as well as the specific steps First Niagara is taking to smooth out results should pay off as the overall economy improves, which will someday happen. I hope.
The Numbers Argument
While operationally, First Niagara is getting its house in order, the technicals and the valuation for the company are growing stronger. First, while I don't mean to make a sophisticated technical argument, I note that the company has held a steady range since hitting its 52-week lows in early June. While First Niagara has set marginally lower 52-week lows, it has mostly held in a range between 7.5-8/share for a month. The last time it built that sort of base was in the end of 2011; it went on a 20-25% run up shortly after that.
(Source: TDAmeritrade (with my Microsoft Paint additions))

Beyond being near its 52-week low, the company also has a very attractive valuation, despite the lowered earnings estimates. Take a comparison of First Niagara with Huntington Bancshares (HBAN), Cullen/Frost Bankers (CFR), Hancock Holding (HBHC), Fulton Financial (FULT), and East West Bancorp (EWBC):
(Sources: TDAmeritrade, WSJ)
| | | | | | | |
| --- | --- | --- | --- | --- | --- | --- |
| As of Q1 2012 | FNFG | HBAN | CFR | HBHC | FULT | EWBC |
| Market Cap | $2.7B | $5.3B | $3.6B | $2.7B | $2.0B | $3.4B |
| Quarterly Revenue Growth (Y-over-Y) | 35% | 3.75% | 1.30% | 118% | -2.05% | 3.78% |
| Yearly Revenue Growth | 40.41% | -7.6% | 1.56% | 63.23% | -6.57% | -3.46% |
| EPS Growth (Annual) | 14.64% | NA | 0.74% | 1.60% | 57.03% | 66% |
| Estimated Earnings Growth (next 3 years) | 5.82% | 8.86% | 6.96% | 11.34% | 11.80% | 10.92% |
| Earnings 2011 | 0.98 | 0.59 | 3.58 | 2.02 | 0.73 | 1.6 |
| Earnings 2012 (Est.) | 0.77 | 0.64 | 3.82 | 2.34 | 0.81 | 1.85 |
| Earnings 2013 (Est.) | 0.85 | 0.67 | 3.89 | 2.74 | 0.9 | 1.97 |
| Book Value/Share | 15.07 | 5.78 | 37.44 | 35.83 | 9.97 | 14.57 |
| Tangible Book Value/Share | 8.38 | 5.07 | 28.61 | 22.78 | 7.08 | 11.92 |
| 2011 P/E | 7.89 | 11.03 | 16.22 | 15.56 | 13.89 | 14.82 |
| 2012 P/E | 10.04 | 10.17 | 15.20 | 13.44 | 12.52 | 12.82 |
| 2013 P/E | 9.09 | 9.72 | 14.93 | 11.47 | 11.27 | 12.04 |
| P/Book | 0.51 | 1.13 | 1.55 | 0.88 | 1.02 | 1.63 |
| P/Tangible Book Value | 0.92 | 1.28 | 2.03 | 1.38 | 1.43 | 1.99 |
| Price | 7.73 | 6.51 | 58.07 | 31.44 | 10.14 | 23.71 |
| Dividend | 0.32 | .16 | 1.92 | 0.96 | 0.28 | 0.4 |
| Yield % | 4.14% | 2.46 | 3.31% | 3.05% | 2.76% | 1.69% |
First Niagara is the cheapest bank in the group on all metrics while paying the best dividend. Again, there are reasons First Niagara is undervalued, but investors who believe the bank can turn it around have an opportunity to get in near the ground floor. Raymond James analyst Anthony Polini reports that the top 40 banks in the U.S. trade on average at 99% of book value, 130% of tangible book value, and 9.8x 2013 earnings. The average price target for First Niagara, given these varying metrics is 11.38, mostly driven by First Niagara's high book value. A more conservative estimate, derived by averaging 10x 2013 earnings and 1.3x tangible book, gives 9.7/share, which is still a 25% increase over current levels.
The dividend too, despite the cut, is back where it has been historically. Or in other words, the stock price has corrected almost 50%, meaning the cut of a dividend by 50% has been balanced. An above 4% yield is very attractive in the market in general but especially in the financial sector. Management has given no signal as to its forward dividend policy and cut the dividend to build capital; one tactic for rebuilding investor and market confidence would be to return to dividend growth, and it's something to watch for the next 12 months.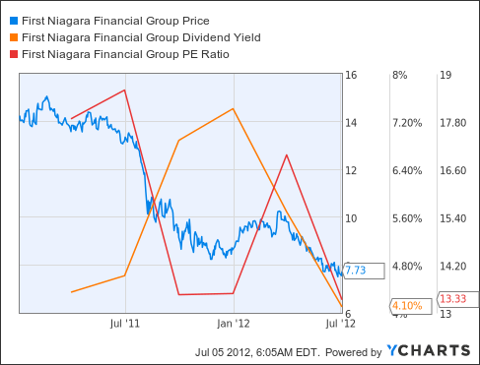 The Last Splash
After such a crushing experience, many an investor would feel reluctant to dive back into the same pool. It's just at this time, however, that First Niagara's profile becomes attractive. As the company clears away the wreckage from a rough period and enters calmer macroeconomic waters, the appeal for investors should grow.
I've entered about a quarter of my desired position at 7.7, and I'd like to add to that incrementally below that price if any macroeconomic shocks come, and around 7.5-7.7 if the stock stabilizes. Between the numbers and the company's renewed focus, I believe now's the chance to get back into the company. They can't go over the same falls twice, can they?
Disclosure: I am long FNFG.