One of my favorite Warren Buffett quotes is "the investor of today does not profit from yesterday's growth." While there's plenty of money to be made on companies with long and storied histories, those with strong growth prospects in the coming years are more likely to provide investors with truly exceptional returns.
One way to analyze a company's future is through its Forward EPS Long Term Growth, which is essentially a consensus estimate of the company's expected annual growth rate over the next three to five years. Cross referencing analyst ratings with companies with high expected growth can provide investors with a good starting point on analyzing good growth investments.
The companies listed below have several things in common: they're all in the aerospace/defense industry, they have forward EPS growth of at least 25%, if not more, and analyst consensus is either "Buy" or "Strong Buy" according to the First Call Consensus Recommendation, which collates multiple analyst opinions into the mean recommendation.
This list is intended to be a starting point for further research -- do you think the companies named might be good candidates for a growth portfolio? Why or why not?
1: Taser International Inc (TASR)
TASER International develops, manufactures, and sells electronic control devices to law enforcement, military, corrections, private security and personal defense markets. Taser's market cap is $293M. The First Call Consensus Recommendation is "Buy."
Taser's forward long term EPS growth is estimated at 30%. It's worth noting that EPS has been growing consistently and has accelerated as of late: 11.38% on average over the past five years and 26% on average over the past 3 years.
2: Transdigm Group Inc (TDG)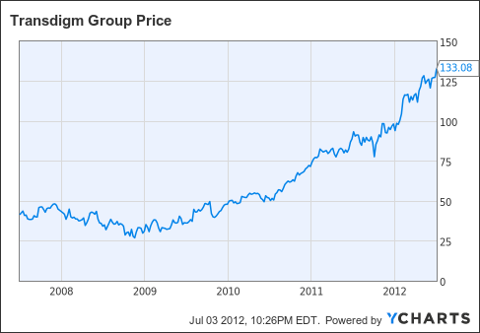 TransDigm Group is a global designer, producer and supplier of aircraft components for use on commercial and military aircraft in service. These components are sold both on new aircraft and through aftermarket consumption on existing aircraft. TransDigm's market capitalization is $6.7B. The First Call Consensus Recommendation is "Buy."
TransDigm has strong projected EPS growth over the next 3-5 years: 27%. The company has shown a strong history of EPS growth as well -- EPS has grown 39% on a 5-year historical basis, and cash flow grew at a 38% rate over the same time period. Other notable positives include TransDigm's Return on Equity of 31.43%, and Profit Margin of 18.65%.
3: Textron Inc (TXT)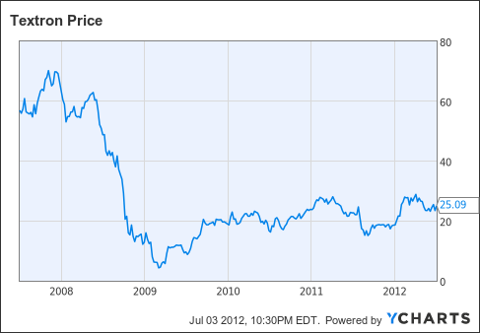 Textron Inc. is a multi-industry company focused on aircraft, defense, industrial and finance. Famous segments include Cessna and Bell Helicopter. Textron has a market cap of $6.9 billion. The First Call Consensus Recommendation is "Buy."
Textron's long-term projected EPS growth is 31.23%. Over the past few years, however, Textron hasn't done so well: cash flow has shrunk by 9.34% on a five-year basis, and EPS has shrunk by 22% over the same time period. However, projected growth definitely suggests that the worst is behind Textron.
Disclaimer: I am an individual investor, not a licensed investment advisor or broker dealer. Investors are cautioned to perform their own due diligence. All information contained within this report is presented as-is and has been derived from public sources & management. Always contact a financial professional before making any major financial decisions. All investments have an inherent degree of risk. The future is uncertain, and actual results may be materially different from those expected. Past performance is no guarantee of future results. All views expressed herein are my own, and cannot be interpreted as the views of my employer(s) or any organizations I am affiliated with. Presentation of information does not necessarily constitute a recommendation to buy or sell. Never make any investment without conducting your own research and reading multiple points of view.
Disclosure: I have no positions in any stocks mentioned, and no plans to initiate any positions within the next 72 hours.