Brand USA, America's travel promotion office has launched its first-ever campaign "Discover America" targeting overseas visitors. The Land of Dreams advertisement is shot against backdrop of majestic landscapes and attractive people having fun. Rosanne Cash (daughter of Johnny) and a multicultural assortment of musicians tell the world that, "It's closer than it seems; come and find your land of dreams."
Here is a link of the clip to get a taste of the advertisement.
According to The Economist article "International tourism - Brand of dreams", America so far had no reason to advertise, being the second-most-visited country in the world after France. But skeptics feel that the campaign is long overdue with American share of spending on global travel falling a third between 2000 and 2010.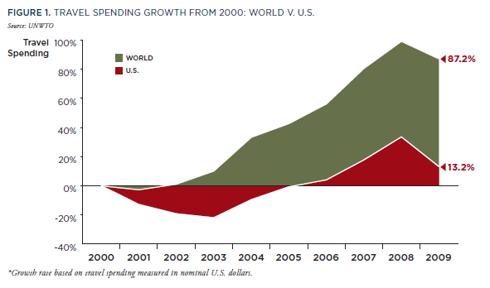 Source: US Travel Association and Oxford Economics
According to a report by U.S. Travel Association in conjunction with Oxford Economics, an analysis of international travel figures, the failure of the United States to simply keep pace with the growth in international long-haul travel worldwide has cost US economy:
1. 68.3 mn lost visitors, each of whom on average spend well over $4,000.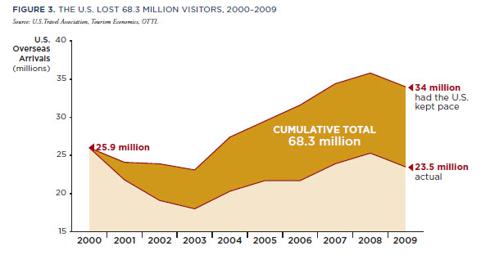 Source: US Travel Association and Oxford Economics
2. 441,000 lost jobs, direct and indirect, in all regions of the country.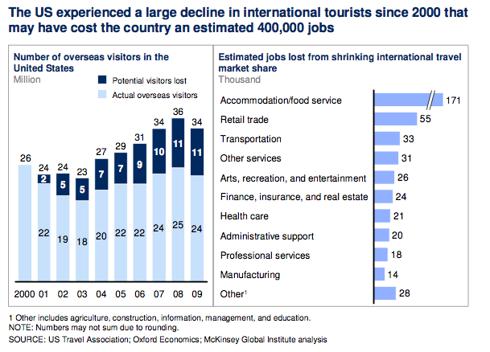 Source: US Travel Association and Oxford Economics
3. $270 bn in lost trade surplus, as international travel to the U.S. is its largest service export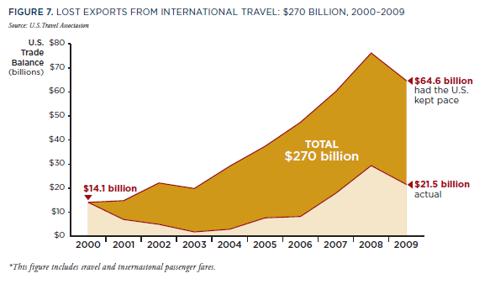 Source: US Travel Association and Oxford Economics
4. $509 bn in lost spending, including $214 bn in direct spending and $295 bn in downstream spending at restaurants, retailers and scores of other small businesses.
5. $32 bn in lost tax revenue at the federal, state and local levels.
What is the reason behind this? But since 9/11, tourism has waned. There are three plausible explanations.
First, intrusive security policies are scaring away families.
Second, foreign countries especially in Europe, have upped their travel promotion game
Third, the United States hasn't. Today, the countries in the European Union spend nearly a billion dollars on tourism promotion. The U.S. government doesn't have a federal tourism promotion policy.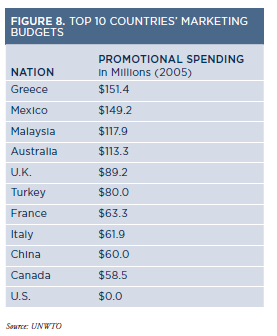 Source: US Travel Association and Oxford Economics
Tourism is an export and creates jobs
Today, with unemployment at more than 10% and job creation at barely a third the pace US need to keep up with population growth, Congress is deadlocked over strategies to create jobs. But travel promotion moves beyond the question of stimulus versus spending cuts. For an infinitesimally tiny fraction of our budget, the US could invest in a new travel promotion strategy to entice foreign families to visit for a long weekend and leave a thousand dollars behind in the U.S. economy.
Brand USA was created to change those ideas. Among its duties, as laid out in the Travel Promotion Act passed by Congress in 2010, is "to identify, counter, and correct misconceptions regarding United States entry policies around the world".
US needs to do more
According to McKinsey Global Institute, the U.S. isn't doing enough to attract the world's emerging middle glass. Although a weak dollar should lure tourists from China, Indian and Brazil, MGI finds that more Chinese tourists visit France than the United States. The report also offers solutions to convince foreign travelers.
Increase Promotional Spending: Similar to EU spending levels of $800 mn on travel promotion
Simplify New Visa Rules: Make the visa approval process streamlined, predictable and immigration rules to attract more foreign students and make it easier for immigrant graduates to stay, spend money, and ultimately create jobs.
Find Productivity Gains
Investment Options: This trend offers various investment opportunities across the tourism and travel value chain.
| | |
| --- | --- |
| Tourism listing | Expedia (NASDAQ:EXPE), Orbitz (NYSE:OWW), Travel Zoo (NASDAQ:TZOO), Priceline (NASDAQ:PCLN), HomeAway (NASDAQ:AWAY), Yahoo (YHOO), Tripadvisor (NASDAQ:TRIP), Ctrip.com Intl (NASDAQ:CTRP), MakeMyTrip (NASDAQ:MMYT), eLong (NASDAQ:LONG) |
| Hotels, Resorts and Casinos | Marriott (NYSE:MAR), Starwood (HOT), Wyndham Worldwide (NYSE:WYN), MGM Resorts International (NYSE:MGM), Hyatt Hotels (NYSE:H) , Las Vegas Sands (NYSE:LVS), Choice Hotels (NYSE:CHH), Morgans Hotel (NASDAQ:MHGC), InterContinental (NYSE:IHG), Orient-Express (OEH) |
| Theme Parks, Entertainment and Cruise | Walt Disney (NYSE:DIS), Cedar Fair (NYSE:FUN), Six Flags Entertainment (NYSE:SIX), Gaylord Entertainment (GET), Carnival (NYSE:CCL), Royal Caribbean (NYSE:RCL), MTR Gaming (MNTG), Live Nation Entertainment (NYSE:LYV), Penn National Gaming (NASDAQ:PENN) |
| Airlines and Aircraft Manufacturers | JetBlue (NASDAQ:JBLU), Delta (NYSE:DAL), United Continental Holdings Inc (NYSE:UAL), US Airways Group (LCC), Southwest Airlines (NYSE:LUV), Alaska Air Group (NYSE:ALK), Boeing (NYSE:BA), Embraer (NYSE:ERJ), Airbus (OTCPK:EADSF) |
| Road Trip Stocks | Winnebago (NYSE:WGO), McDonald's (NYSE:MCD), Harley Davidson (NYSE:HOG) |
| Others | Ambassadors Group (NASDAQ:EPAX), WebMD Health (NASDAQ:WBMD), Zipcar (ZIP), Dollar Thrift Automotive (NYSE:DTG), Avis (NASDAQ:CAR), Universal Travel (UTA) |
Disclosure: I have no positions in any stocks mentioned, and no plans to initiate any positions within the next 72 hours.