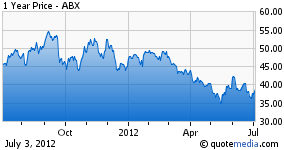 Barrick Gold (ABX) is the leading producer in gold mining and is deeply undervalued in the market. This is one of the most appealing assets to own for shareholders and investors interested in the precious metals industry. Barrick Gold has a number of promising ventures on the horizon that will help increase its stock price and intrinsic value organically. There are also potential economic developments that can help to decrease its price and increase Barrick Gold's appeal among analysts and potential investors. I will explain these developments below.
Barrick Gold's sales growth has increased by nearly 18 percent from the previous year. However, sales growth is down by almost four percent since the previous quarter. The price is relatively stable at less than eight times earnings. Its beta is around 0.5 while its PEG ratio is almost four. Return on equity has been stable for the last three quarters. Barrick's operating margin and net margin have decreased by around one percent and three percent, respectively over the last three quarters. The current ratio and quick ratio have decreased significantly over the past three quarters but both remain greater than one. Its debt to equity ratio has also decreased over the past three quarters and is now below 0.5 Barrick recently raised its dividend yield to around 2.19 percent, this equates to an annual rate of $0.80.
Barrick's growth rate this year is far below the industry average. However, its growth rate for the past five years and projected growth for next year exceed the industry average. The projected growth rate for the next five years however is less than half of the industry average. Barrick's price to earnings ratio is far above the industry average while its price to book and price to cash flow ratio for the most recent quarter and fiscal year respectively, are below the industry average. Its dividend yield is significantly higher than the industry average. Barrick's net profit margin for the trailing 12 months is more than 50 percent higher than the industry average. Its return on equity is nearly triple that of the industry average. By its balance sheet alone, it's apparent that Barrick is the leader in the industry and therefore its growth can be significantly less impressive. This is especially true as it finances various ventures to maintain its leadership position in the industry.
The unpredictable economic environment worldwide is creating advantageous entry points for gold investments. Barrick is currently one of the best investments in the industry. Barrick produced around 7.7 million ounces of gold by the end of 2011. Estimates project around 9 million ounces produced by the end of 2016. Barrick continues to expand and improve upon its portfolio of gold and silver assets. Barrick has around 26 operating mines among five different continents. Pueblo Viejo and Pascua-Lama are two new mines that are expected to contribute substantially to its existing portfolio. These mines also have lower production costs than the other mining assets currently in its portfolio. Barrick is also investing in additional mines in Nevada, Gold Strike and Turquoise Ridge that along with the Lumwana mine in Zambia, Africa will help improve its current gold and copper production as well.
Pueblo Viejo is expected to come into production this year as it is 93 percent complete. Pascua-Lama has been faced with various environmental headwinds but is 30 percent complete and expected to come into production towards the second half of 2013. In exchange for upfront capital, Barrick has already sold 25 percent of the silver production from this mine to Silver Wheaton (SLW). If the production for this mine is delayed and not running up to 75 percent capacity, Barrick has agreed to compensate Silver Wheaton with production from three of its other mines into 2015. Barrick is growing at a slower rate than its increasing number of competitors but it still has superior assets and financials in comparison to the industry at large.
Vale (VALE) is currently interested in expanding its portfolio by partnering with Cliffs Natural Resources (CLF) to service the growing steel industry in China. One of the reasons to be bullish on gold is the increasing demand from places like China and India. This new partnership helps Vale diversify its current portfolio. Goldcorp (GG) is one of Barrick's direct competitors, its gold production decreased by over 17 percent from the previous year. Similarly to Barrick and New Gold (NGD), Goldcorp recently increased its dividend yield for shareholders as well. Many of the leaders in the industry are focused on appeasing shareholders with increased dividends as growth and earnings have been hampered with the increased strength of the dollar and the potential for QE3 on the horizon later this year or possibly in 2013. However, Barrick still has one of the highest dividend yields in the industry.
The degree of competition is steadily increasing for Barrick in the gold mining industry. However, Barrick still remains the only one in the industry with "A" rated financials on its balance sheet. Despite its dominance, Barrick made recent changes to management in order to spur growth and bolster confidence with shareholders, potential investors and analysts in the market. However, the inability to increase its growth and stock price may be out of management's control.
The scarcity of high yielding properties and evolving macroeconomic conditions have larger implications in this regard. These headwinds affect all of the gold mining entities in the industry. However, Barrick is most equipped to outlast and withstand the changes in prices and demand. At around $39, Barrick is currently undervalued in the market and therefore it is the most appealing asset for investors interested in the gold mining sector. It has a diverse portfolio, strong financials and takes an aggressive approach towards growing its portfolio and sustaining its leadership position in the industry. Shareholders should hold onto this asset as a long-term defensive position against the current unpredictable economic environment.
Disclosure: I have no positions in any stocks mentioned, and no plans to initiate any positions within the next 72 hours.