How green are you? My personal answer to that question is, not very. I took the "Green IQ" test on greeniq.com and scored 23 out of 100. I guess simply changing to energy efficient light bulbs and appliances are considered baby steps. I really need to start leaving my V8 in the garage and start walking or pedaling to the grocery story with my eco-friendly reusable grocery bags in tow…or….perhaps I could consider one of the many new hybrids several manufacturers have made available to ease my "not-so-green" mind.
Import manufacturers made it possible for consumers to purchase their green auto as early as 2000 – it has taken a bit longer for the domestics to catch up. But here they are and they include Large Pickups and Full-Size SUVs. The question is, are they succeeding at drawing environmentally conscious consumers to their websites? We took a look at the 7.6 million visitors in the month of January that we categorize as "Environmentally Conscious" to see which brand websites they were most likely to visit and this is what we found.
On average (among brands shown below), each of the brand sites only had 97,000 consumers among the 7.6 million actually visit in January. If you are looking for a rich concentration of these environmentally conscious consumers among those brands, Saturn wins. You are 2.5 times more likely to see a green consumer on Saturn.com as you are on the internet in general. However, if you measure success based on the "number" of unique green consumers that visit a brand website, then Honda takes the prize. In January, among the 7.6 million consumers, 238,000 of them also visited Honda.com. Falling short among the competition was Chrysler, Nissan and Dodge, coincidentally newcomers to the hybrid arena.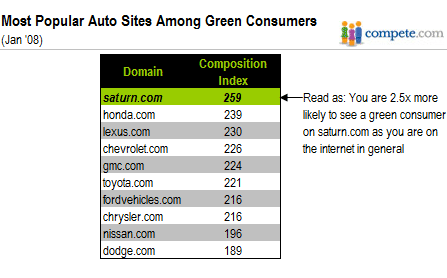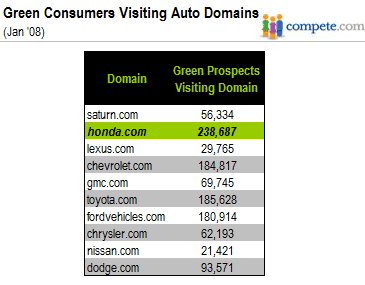 So what does the reverse look like? Which environmentally conscious websites are automotive prospects most likely to visit?

One site stands out among all brand browsers: fueleconomy.gov, where consumers can coincidentally get the entire list of available hybrid vehicles by manufacturer and determine if there is a tax credit available should you make the investment.
Browsers from the majority of brands visit hybridcars.com. Toyota leads the pack for this particular website. GMC browsers are more likely to be found visiting treehugger.com; Chrysler browsers, though few in number that actually visit an environmentally conscious website, will more likely be found on motherearthnews.com.
Overall, automotive browsers do not generally visit Environmentally Conscious websites. Out of the 106 tracked by Compete, browsers of the brands shown above visit an average of only 7 sites. I, with my poor Green IQ score of 23, have visited none of these sites… until now. As car manufacturers offer more choices among vehicles that have a hybrid option beyond that of compact or mid-size cars, perhaps more consumers will jump on the green bandwagon. Time will certainly tell.