While this book has been on the market for some time, The Prince thinks it is worth highlighting. The Accidental Investment Banker is a fresh and easy-to-read look at the investment banking industry and the ethos of bankers in general. The author, Jonathan Knee, worked at Goldman Sachs and Morgan Stanley but was hired as an associate (not an analyst) since he worked for a few years on the corporate side. The book truly gets inside how investment bankers pitch and execute business. It also chronicles the decline of relationship investment banking and explains the transactional nature of banking today. The story is not all negative, though, since it also emphasizes the immense sway that a trusted banker can have on a CEO or a company. Knee shares his opinions on the industry and on what it takes to be successful at bringing in business to a bank.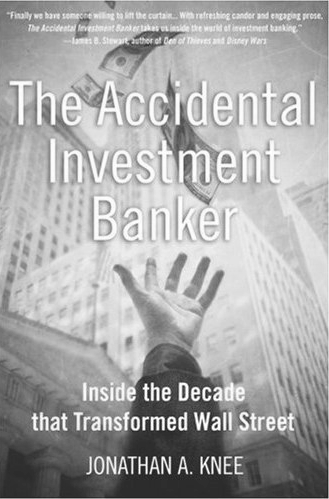 In addition to being easy-to-read, Knee's book, with its candid insider's accounts, is hilarious at times. The intimate glimpse into the life of a mid-level, and later a senior, banker is unique among books of its kind. Knee had a ringside seat during the boom and bust decade and into the 21st century, so his take on the tech bubble's collapse is especially interesting. Knee's account of an industry in free fall captures an era of fabulous deal-making and the catastrophe that followed when the bubble burst. However, the book is about more than just the tech bubble. Its insights can help us through these turbulent times. It can also give some comfort to those bankers who are slogging along now with the credit (or LBO cycle) at bottom or nearing a bottom.
The warning embodied in Knee's book can be summed up by the decline he witnessed, and which probably started even before he came on the scene. Knee entered an industry that was typified by the motto "first-class business in a first-class way" (Morgan Stanley's motto) and saw it transformed in a mere decade to a free-for-all typified by the acronym IBG, YBG ("I'll be gone, you'll be gone"). Mercenary-like bankers signed off on weak deals, knowing they would leave them in the rear-view mirror. Once, investment bankers prospered largely on their success in serving the client, preserving the firm, and protecting the public interest. Now, however, this is no longer the case, and only a handful of bankers still work in the trusted advisor role. While this state of affairs is unfortunate, it appears to be irreversible.
Now, in the "financial supermarket" era, bankers feel that their worth is tied exclusively to how much revenue they generate for the firm. Today, most young executives feel no loyalty to their firms or to their clients; Knee chronicles this unprecedented but understandable level of cynicism and distrust of investment banks.
The Accidental Investment Banker is filled with power players, back stabbers, celebrity bankers, and incredibly rich individuals. It provides a vivid account of investment banking and where the industry has been, plus some predictions of where it is going. The book is both cautionary and hopeful for the future of the industry. Brimming with insight into what investment bankers actually do, and told with humor and unflinching honesty, The Accidental Investment Banker offers a fascinating glimpse behind the scenes of Wall Street. At least, that is the Prince's take. The Prince enjoyed reading the book, and hopefully this review encourages you to read this book if you have not already.
Here is a short bio of Knee: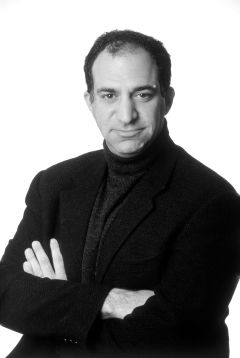 Jonathan A. Knee is now a partner at a boutique investment banking firm. He is also Adjunct Professor of Finance and Economics and Director of the Media Program at the Columbia Graduate School of Business. His writing has appeared in the Wall Street Journal, New York Times, Washington Post, Los Angeles Times , and elsewhere.
Here are some reviews from other people:
Not since Michael Lewis's 'Liar's Poker' has there been as good, as accessible or as pithy a look at the world of investment banking…. Unlike Lewis, who was a flash in the Wall Street pan, Knee has spent more than a decade working his way up the ladder, and he has a pleasant and self-effacing way of weaving his own experiences at Goldman Sachs and Morgan Stanley with the history of those firms. Knee has great fun cutting some of Wall Street's biggest egos down to size while exposing how little there really is to all that high-priced financial wizardry. He's written a wonderful primer for anyone who has wondered how Wall Street really works, and a wonderful reminder for those who already know how far professional standards have fallen. Steve Pearlstein, Washington Post
This insider's chronicle brims with humor and insight as it depicts a civilized world driven mad by money. Fast Company
A thumping ride across deep waters, Knee evokes the precarious, risky thrills courted by businesspeople great and small. Smart, clever and unfailingly articulate…. Knee maintains a reporter's sense of detachment, observing how the decade in question turned into an economic house of mirrors as money-guzzling dotcoms bloomed and withered, playing havoc with long-established rules and mores, nurturing an era of incompetence and brawling, veiled in the traditional pseudo-gentility of a privileged profession…. Funny and knowing, this business memoir debut should appeal to a wide swath of business veterans. Publishers Weekly
A refugee from the investment-banking implosion that accompanied the various other bubble bursts of the late '90s, Knee argues that his profession has sold out its legacy of independence and solid judgment, much to its own shame–and to the clear and present danger of those affected by its decisions (which is to say everyone). Atlantic Monthly
Return with us now to those thrilling days of yesteryear, when giants like Mary Meeker moved millions with a single appearance on CNBC. Knee, a partner at boutique investment bank Evercore Partners who's also logged time at Goldman Sachs and Morgan Stanley, here provides a candid and irreverent insider's account of an industry in free fall during the boom-and-bust decade and into the 21st century. Knee takes aim at a range of Street figures, from Joseph Perella to new Treasury Secretary Henry Paulson. But there's also a bit of self-stroking, as the author celebrates the virtues of boutique firms like his own. BusinessWeek
The best account I've read of how the Internet boom and bust was experienced inside the investment banking department of a big Wall Street firm. Michael Lewis, Bloomberg.com
The fashion world has 'The Devil Wears Prada'. Hollywood has 'You'll Never Eat Lunch in This Town Again'. Now Wall Street is getting…The Accidental Investment Banker …. A rare, ringside seat inside the madcap and often egomaniacal world of Wall Street's Masters of the Universe…. For would-be bankers, the book is an excellent primer on what it's really like; for current bankers it will be a guilty pleasure. Andrew Ross Sorkin, New York Times
Entertainingly indiscreet…. Knee's talent for wicked pen portraits is put to good use because he worked in the vicinity of some the most colorful and intriguing investment bankers of the 1990s. John Gapper, Financial Times
Articulate and funny…. One of the street's top media bankers, Knee has written what is at once an homage to old school investment banking and an insider's reflection on how the boom era reshaped his industry…. A very good picture of work life on Wall Street through the turn of the century. MarketWatch.com
For anyone who remembers the crazy boom times, and the even crazier bust, Jonathan A. Knee's 'The Accidental Investment Banker' is a must…. Reveals a world that rivals '24′ in intrigue and drama. Fortune