I had discussed the relative attractiveness of U.S. banks compared with European and Japanese banks in my previous article. At the same time, I had discussed about a meaningful correction in global markets in the third or fourth quarter of 2012 due to a global slowdown.
My fear related to a global recession is strengthened when I see the global manufacturing index slip below 50 for the first time since the 2008-09 recession. The chart below gives the global purchasing manager index for manufacturing, services and the composite index.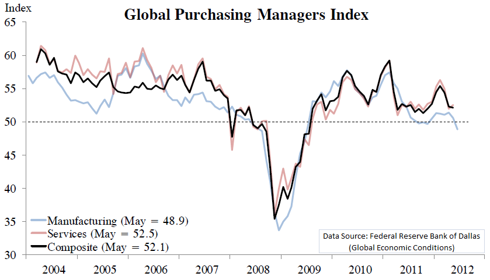 Very clearly, the sharp downturn in the manufacturing index indicates the sluggishness in the Chinese, European and Indian economy. The composite index is also at 52.1 and I would not be surprised to see the index slump below 50 in the near term.
The second indicator of a possible global recession is the global inflation (headline CPI) for the world, advanced economies and emerging economies.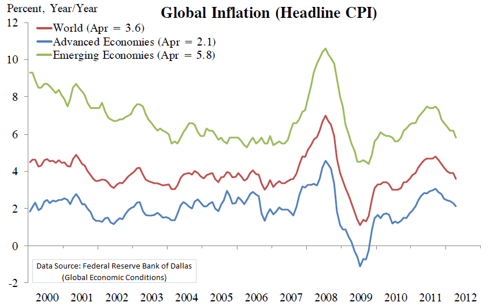 As the chart above shows, inflation has eased globally and the primary reason has been a decline in commodity and energy prices. Needless to say, the decline is due to declining global demand.
The real value of the U.S. dollar is another important indicator of a global recession in my opinion.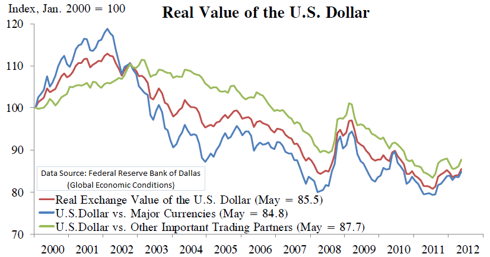 A stronger dollar is an indication of tightening global liquidity, which comes from flight away from risky asset classes to safer asset classes such as Treasury bonds and the dollar itself.
One can also look at specific indicators for major economies like U.S., eurozone, China and India to conclude that the slowdown looks relatively sharp.
From an investment perspective, I would do the following -
Consider exposure to Treasuries and dollar for the near to medium term. The next 3-6 months might be good for the PowerShares US Dollar Index Bullish (NYSEARCA:UUP).
Avoid gold for now and buy when the dollar gets stronger in the foreseeable future. SPDR Gold Trust ETF (NYSEARCA:GLD) might be an attractive buy in the next 3-6 months.
Avoid industrial commodities and oil in the medium term.
Avoid fresh exposure to equities and shift part of existing investment to relatively defensive themes such as healthcare, pharmaceuticals, fast moving consumer goods and utilities. I find the iShares S&P Global Healthcare Sector Index Fund (NYSEARCA:IXJ) as an interesting defensive buy. The iShares Dow Jones U.S. Pharmaceuticals Index Fund (NYSEARCA:IHE) can also help in capital preservation in the current scenario.
Avoid commodity producer's currencies and equity.
In conclusion, a global recession will again result in more quantitative easing by policymakers. Asset classes such as gold and other hard assets are an excellent buy on any deep correction. Also, U.S. equities will remain relatively more attractive when compared with emerging market equities.
Disclosure: I have no positions in any stocks mentioned, and no plans to initiate any positions within the next 72 hours.