The retiree income investor has a major tactical advantage over the big hedge funds, college endowments and pension funds. The individual investor can buy when they find value and income. They can also exit quickly when these securities become extended in value. I don't believe in owning a stock if it is not going to make money. Investments should either provide income or capital appreciation. Retirees can take advantage of all income producing strategies which fit their risk versus reward profile. In this article, I will highlight 3 high yielding income strategies for retirees.
1. Annaly Capital Management, Inc. (NYSE:NLY)
Annaly is benefiting from a Federal Reserve focused upon low interest rates. The Fed has pushed the 10 Year Treasury Bond yield down to 1.65% as of July 3rd:

The Federal Reserve has used Operation Twist and Quantitative Easing to effectively decrease interest rates. Individual investors can invest in Annaly and receive a 13.10% annual yield. Annaly makes money by borrowing short term funds via repurchase agreements. Management uses these funds to purchase and lever Government Sponsored Entity (GSE) Mortgage Backed Securities (MBS).
Hedging Strategy: The retail investor can buy Annaly and collect a 13.10% annual dividend. The investor can buy a protective put to place a maximum loss on his or her position. A NLY Oct 2012 $12.000 protective put (NLY121020P00012000) provides downside protection if Annaly hits $12.00 per share by October 19th. This insurance premium costs $10 per 100 shares. Annaly closing price was $16.97.
Annaly is the largest mortgage real estate investment trust (mREITs). Many investors buy Annaly shares due to its size, name awareness, and life span. I believe the data proves another mREIT offers higher net income and net return.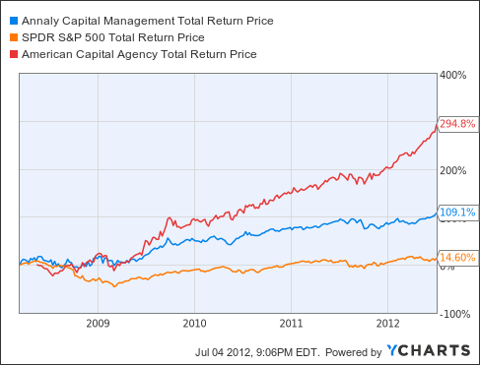 NLY Total Return Price data by YCharts
If a graph can say 1,000 words, then this comparison says vast differences of return are available in the mREIT sector. American Capital Agency Corp. (NASDAQ:AGNC) has produced a 294.8% total return price over the past 5 years. This significantly exceeds Annaly's return of 109.1% over the same time frame.
2. Altria Group Inc. (NYSE:MO)
Altria is a dividend cash cow. This is a valuation strategy which highlights the over valued Altria versus a peer. Domestically cigarette consumption continues to decline. Investors have bought Altria's shares to the point where the yield is not compelling. The cigarette tax hikes continue to price out many consumers. Regulation and media also place pressure on domestic cigarette consumption. Domestic sales are declining due in part to an informed public and lack of advertising opportunities.
Altria's stock price is extended and yields below 4.7%. It's time to take some money off the table. Proceeds should be placed in smaller cap names with higher dividend growth rates. Altria's business model is declining at a time when the price is peaking. In my view, there are more risks than rewards in owning Altria.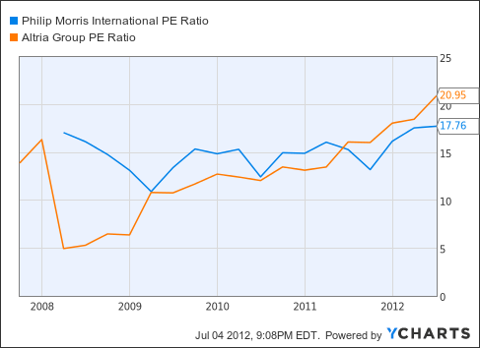 PM PE Ratio data by YCharts
Philip Morris International, Inc. (NYSE:PM) is the global leader in tobacco sales. The company sells products in over 180 countries. The brands controlled 16% of 2011's international market share outside of the U.S.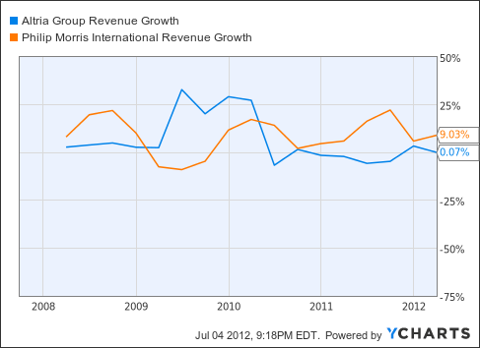 MO Revenue Growth data by YCharts
The above chart highlights Philip Morris International's 8.96% annual revenue growth rate advantage compared to Altria. Philip Morris International should be trading at a higher price to earnings multiple based upon increasing earnings and increasing dividends.
3. Apple (NASDAQ:AAPL)
Although Apple is planning its initial dividend payout, I believe in making money on Apple today. At close to $600 per share, it is financially difficult for some retail investors to pay $60,000 for 100 shares. An investor can make money by employing a synthetic covered call strategy. This requires the investor to possess a bullish bias on Apple.

The first step is to control 100 Apple shares. This can be done by buying a January 2014 Long Term Equity AnticiPation Security (LEAP) $595 call. At the same time, the investor will sell a January 2014 LEAP $595 put. The net result is a credit $360.

The second step it to implement sell the covered call to make money. We can sell a July 2012 $605 covered call and buy a July $550 protective put. The net result is a credit of $775. Thus far we have received a net credit of $1,135. The image highlights the net credit proceeds.
We have a protective put at $550 in case Apple decreases in price. Apple is presently trading at $599. We have sold a $605 covered call. Since the LEAPS expire in 2014, we can continue to sell covered calls against our Apple shares.
The risk is Apple decreases in value. We have $1,135 up front. Apple shares are at $599. Apple's balance sheet has over $100 net cash per share. The stock is trading at a 14x price to earnings multiple. Apple's growth rate exceeds this multiple. Clearly, this is not an investment for everybody. For some investors who are bullish on Apple, this is one way to generate monthly cash flow.