We can blame $108 oil and Meredith Whitney for Thursday's drop, as both looked very scary to the majority of holdings. Oil stokes inflation fears, while Ms. Whitney threatens severe deflation for your portfolio: "The best-case scenario is that financial firms take the pain quickly and purge assets from their balance sheets. That could bring stock valuations down by as much as 50%, which would be enough so that you could legitimately buy long-term positions," says Whitney.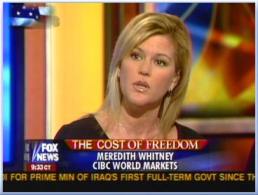 Make no mistake about it, Whitney is not saying another 15% down from the 35% the financial sector has already fallen; she is saying that the average bank, which was worth $100 last year and is now trading at $65, is really worth just $32.50.
It amazes me that this woman is being treated as some kind of genius by the media, as she met her husband in 2004 on TV as she made a bearish call on Citi then, when it was trading at $50, a level that held for 3 years. So NOW Ms. Whitney is right and she is using her 15 minutes of fame to attack all things financial, single handedly causing a world-wide sell-off.
It should not be lost on readers that Meredith Whitney is an analyst for CIBC, the CANADIAN Imperial Bank of Commerce, a group that benefits tremendously from a weak US dollar and weak US financial markets. Her report on Citigroup cost the bank $15Bn in market cap yesterday, more than the $13.5Bn she predicts they will write down in her doom and gloom (and admittedly worst-case) scenario. With the bank trading at just 6 times earnings, it should take a loss of $90Bn to have that sort of effect but investors are in the mood to panic and Whitney is one very scary lady!
I find it very interesting that she is consistently referred to as an Oppenhiemer analyst on CNBC when that group was folded into CIBC a long time ago and I find it even more interesting that she is given the 4pm "last word" on the markets by CNBC, whose GE Capital parents are one of the last men standing with a boatload of cash and also stand to make Billions off a smack-down of the financial industry.