Some doubts emerged in Qinect's "Buy Renren: The Facebook Of China" article. Among these, the most relevant was whether Renren (NYSE:RENN) really was China's Facebook.
It turns out that it isn't. The largest social network in China, presently, is Tencent Holding's Qzone. This is followed somewhat afar by Sina's (NASDAQ:SINA) Weibo (which is more of a twitter-like site) and then Renren.
These positions are both confirmed in a survey by McKinsey & Company - which also carries a lot more interesting data on the Chinese social media boom - and by Alexa traffic and pageview statistics, as shown below: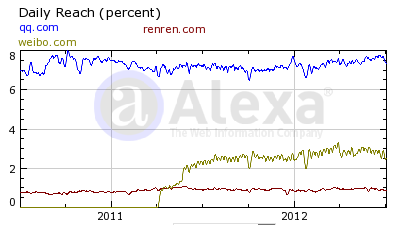 Indeed, it's worthy of notice that Qzone is China's 2nd most visited web property, being beaten only by Baidu (NASDAQ:BIDU).
There are a few differences between the leading social networks, which have been noted in other studies as well. They pertain to the way the services were born, with Tencent's Qzone user base initially coming from its QQ messenger and being spread wider over China including lower tier cities, while Renren had its roots in a college social network much like Facebook, so it still has a higher penetration within university students and recent graduates.
Still, given the advantage Tencent shows in terms of traffic and users, with estimates placing its user base at over 500 million (and the QQ messenger user base at near 700 million), to Renren's estimated 170 million users, it seems clear that Tencent / Qzone really is China's Facebook.
What is worse here, for Renren, is that typically the social network space is a winner-takes-all space where network effects dominate and whoever has more users gets an increasing advantage over its competitors. Renren can still have some hope of bridging the gap due to two factors:
China's internet market still having a lot of potential growth in it (internet penetration was at 38% of population in December 2011, according to McKinsey);
Renren is stronger in a demographic - college students and young, recently graduated, professionals - that sometimes can lead wider adoption amongst others, as seen by Facebook's emergence (and it beating the established myspace).
Conclusion
As we've seen above, we can conclude that for the time being Renren is not China's Facebook. And indeed, the chance remains that instead of being China's Facebook, Renren might actually be China's myspace. It's not clear cut at this point - all we know for sure is that Renren is far from being the social leader.
It would seem hasty to pay a premium valuation for Renren while such reality holds. And right now, Renren does trade at a premium since it's expected to produce losses, albeit growing revenues at a 30-50% year-on-year clip, and for this it carries a $1.7 billion market cap on 13 times sales.
Disclosure: I have no positions in any stocks mentioned, and no plans to initiate any positions within the next 72 hours.