In a matter of hours, the European Central Bank (ECB) as well as the People's Bank of China (PBOC) lowered key interest rates. For that matter, the Bank of England stepped up its bond-purchasing, quantitative easing program.
In the recent past, stimulative measures might have been seen as a positive for stocks of faltering economies. The measures might even have been viewed as a benefit to nations around the world that export their wares.
However, the initial reaction by foreign equity ETFs was rather uninspiring. For example, through the first half of Thursday's trading session, the Vanguard MSCI EAFE Index Fund (NYSEARCA:VEA) retreated by roughly -1.35%.
Click to enlarge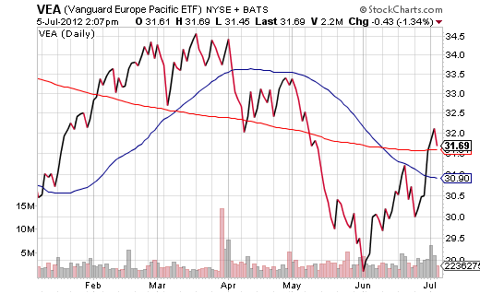 Granted, the U.S. Dollar Index (DXY) and its exchange-traded proxy, PowerShares DB Dollar Bullish (NYSEARCA:UUP), have a lot to do with poor performance in foreign markets. Most of the exchange-traded stock funds are not hedged for currency changes. In essence, a weakening euro and a weakening British pound adversely affected many foreign stock ETFs.
Nevertheless, even the dollar-hedged DBX MSCI EAFE Currency Hedged Index Fund (NYSEARCA:DBEF) was down as much as a percentage point. It follows that currencies alone cannot be blamed for a pullback in developed world stocks, particularly in Europe and the Far East.
Click to enlarge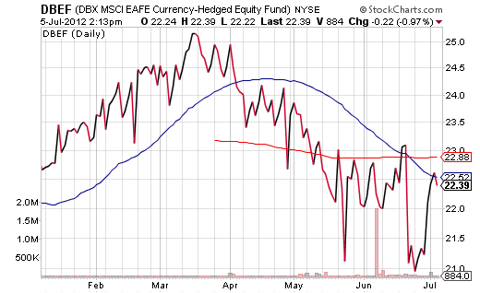 Some have suggested that the rate cuts can do little to inspire economic confidence in crisis-slammed Europe. There are those who believe the ECB will have to fire up their quantitative easing guns once more. In particular, the ECB may need to acquire extensive quantities of Italian and Spanish debt to push down Spain/Italy's costs of borrowing.
For example, last month, Spain paid a rate of 6% for newly issued 10-year notes. Today, the auction witnessed 6.4% yields. Indeed, rates rose in spite of the fact that the eurozone bailout fund can (as of last week's EU summit) directly recapitalize struggling Spanish financial institutions.
Looked at another way, certain ETFs are getting a lift from China's slowdown, England's need for QE and Europe's recession/debt crisis. In fact, many of those ETFs have been in the limelight for months.
PowerShares German Bund Futures ETN (NYSEARCA:BUNL) surged 0.7%. Long-term bonds via iShares 20 Year Treasury (NYSEARCA:TLT) rose 0.6%. And U.S.-oriented mortgage REITs via iShares FTSE NAREIT Mortgage REIT (BATS:REM) pushed forward to hit yet another 52-week pinnacle.
Click to enlarge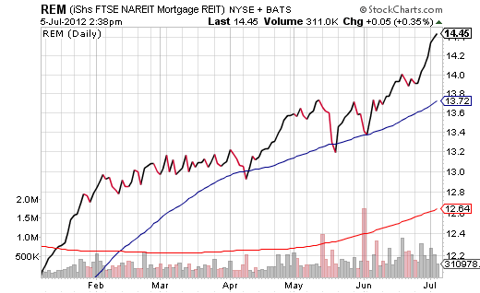 Summit-by-summit measures to contain Europe's financial crisis is not providing the markets with the same confidence that the Troubled Asset Relief Program (TARP) did for the United States. As long as the European overhang exists, market participants are unlikely to take on enormous risks.
Personally, I am not intrigued by piling into risk-off, low-yielding U.S. treasuries. I've been more inclined to run with higher-yielding assets that also have potential for client capital gains. I still like investments with historically wide yield spreads with comparable treasuries, including but not limited to: Vanguard Long-Term Corporate Bond (NASDAQ:VCLT), iShares High Yield Bond (NYSEARCA:HYG), iShares FTSE NAREIT Mortgage REIT (REM), Vanguard High Dividend Yield (NYSEARCA:VYM) as well as PowerShares Emerging Market Sovereign Debt (NYSEARCA:PCY).
Disclosure: Gary Gordon, MS, CFP is the president of Pacific Park Financial, Inc., a Registered Investment Adviser with the SEC. Gary Gordon, Pacific Park Financial, Inc, and/or its clients may hold positions in the ETFs, mutual funds, and/or any investment asset mentioned above. The commentary does not constitute individualized investment advice. The opinions offered herein are not personalized recommendations to buy, sell or hold securities. At times, issuers of exchange-traded products compensate Pacific Park Financial, Inc. or its subsidiaries for advertising at the ETF Expert web site. ETF Expert content is created independently of any advertising relationships.