Paramount Gold and Silver Corp. (NYSEMKT:PZG) continues to report good results from its drill program at its San Miguel Zone of its San Miguel project near Chihuahua, Mexico (Paramount owns 70% of the San Miguel project). The initial goal of the drill program was to obtain additional evidence of near surface mineralization encountered by sampling and trenching in the vicinity of historic workings. Targeted mineralization follows a strike length of about two kilometers along a well defined contact of andesites and rhyolites. More importantly, Paramount has enjoyed good success locating deeper and higher-grade veins extending below the near surface mineralization, which it refers to as 'Clavo 99.'
Drilling at San Miguel Zone, San Miguel project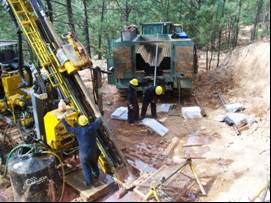 Source: Analyst
The latest drill results have extended 'Clavo 99' about 150 meters to the south (SM-21, SM-22, SM-23) and 50 meters to the north (SM-24), encountering mineralization at about 50 meters below earlier drilling. Drilling of 'Clavo 99' has defined a mineralized zone with a length of at least 400 hundred meters, presently dipping 200 meters. Mineralization is open to the north, south, and at depth, and is increasing in grade at depth. These are the characteristics which lead Paramount COO Larry Segerstrom to comment "that this high grade body may be much larger than previously thought… In appearance, grade, and mineralogy, this body of mineralization remains very similar to that of nearby Palmarejo."
Mineralized Contact area and Drill Result Crossection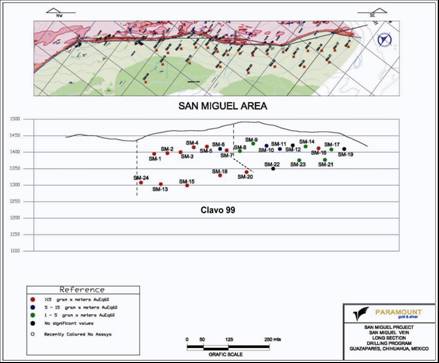 Source: Paramount
The deeper drill results to date demonstrate a nesting of mineralized veins along the contact of andesites and rhyolites. The mineralized zones summarized in the table are intended to demonstrate the numerous mineralized intercepts encountered in individual drill core, which may suggest broader mineralization along contact. The summary does not identify higher grade veins encountered within the summary of mineralized zones. For example, drill hole SM-20 included an intercept with a true width of 0.92 meters grading 2.5 g/t gold and 1,615 g/t silver, with a combined gold equivalent grade of 29.43 g/t. In addition, drill hole SM-15 included an intercept with a true width of 0.60 meters grading 4.85 g/t gold and 1,785 g/t silver, with a combined gold equivalent grade of 34.60 g/t. While these are among the highest grades encountered to date, they provide an additional perspective of the grades and character of the mineralized intervals.
image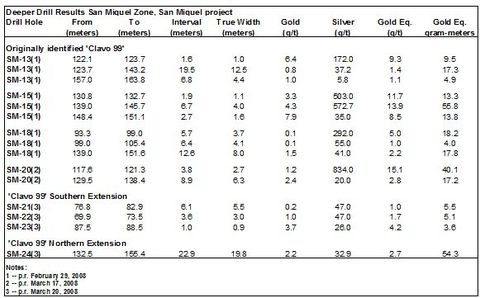 The drill results demonstrate higher grades continuing at depth. Paramount is anticipating assays of drill results for holes SM-34 and SM-35, which may intersect mineralization at a depth of 250 meters, and SM-36 to SM-39 which could extend mineralization to a depth of 300 meters. In addition, the Company plans to complete follow-up drilling to SM-21, SM-22, and SM-23 to improve confidence in the definition of the southern extent of 'Clavo 99.' These results may be important for early confirmation of our investment thesis that the San Miguel Zone demonstrates strong similarity to the nearby Palmarejo deposit.
Paramount has an identified resource of 35.8 million ounce silver equivalent resource. Based on the success of Paramount's exploration program to date, expansive and well positioned land holdings, and recent success at its San Miguel Zone, we believe there is good potential for the Company to achieve their goal of identifying a 1.5 million ounce gold equivalent resource in 2008 and provide additional visibility on its other projects.
Disclosure: An affiliate of the author's employer provides corporate advisory services to PZG