With the soft-drink market flat, beverage behemoth Coca-Cola (NYSE:KO) has responded with alternative beverages, like the mid-calorie soda. The Atlanta-based company has been on an acquisition tear to boost holdings in this segment of the market: in 2008 the company acquired a 40% ownership of Honest Tea, following buyouts of NutriJoy, Fuze, and Glacéau. Two things we're excited about: sell thru data of Vitamin Water looks promising and the weak dollar is helping Coke offset some of the pressure it's seeing in the states; growth coming from the international business is ripping at ~9% and the addition of high-margin non-carbonated soft drinks into Coke's portfolio is reinvigorating growth in the flagging North American market.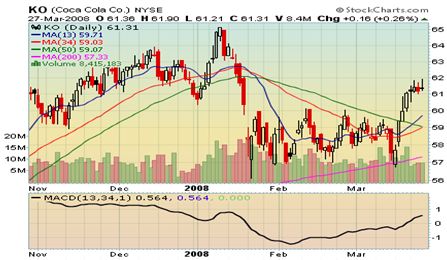 As the chart above reveals, the stock sold off sharply at the beginning of the year after large holder Sun Trust bank was forced to sell Coke holdings in order to pump up its Tier 1 capital ratio; the stock based shortly thereafter for 2 months and recently ramped out and will likely base again in the low 60s: an attractive entry point. 50 billion total servings are consumed everyday worldwide and KO only sells 2% of that (~1.3B beverage servings) -- the Street's already punished Coke for the secular shift away from carbonated drinks and the stock should retest the upper 60s soon, particularly if the markets continue to melt down and the buy side chooses to play defense throughout 2008. Because consolidation among food retailers might further reduce Coke's pricing flexibility, we'd use protective stops and scale them up as Coke runs higher. We're happy sitting tight on a solid franchise and 2% yield – and if Coke grows earnings at ~8%, which is what we're modeling, investors should see a 10% return with limited downside.
Disclosure: Author has no position in the stock, but a member of his extended family does.