Volatility may go up and down, but the iPath Short-Term VIX ETN (NYSEARCA:VXX) mostly goes down. In fact, it set a new closing low of $13.90 the day before Independence Day, closing down 2.2% even though the VIX was off less than 1%.
Today we saw VXX move up a bit to 14.40, up 3.6%, but the VIX was up 5.2%. The moral of the story? VXX is a long-term short that sometimes becomes a short-term buy.
Black Box Warning
In a previous article I wrote on VXX, I suggested that this ETN needs a "black box warning" because contrary to what some believe, this fund does not track the VIX itself, but VIX futures instead. When the volatility market is in contango, as it usually is, a short-term volatility fund like VXX just keeps getting pounded into the dust.
So here's my black box warning: a logarithmic chart showing the history of this fund since it began back in 2009.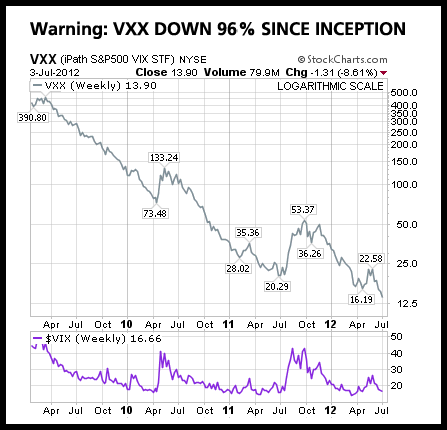 Can VXX Reach $34 Ever Again?
VXX began the year at $33.91. Now it's down about 57% from there. If the VIX were to soar, could this ETN set new yearly highs?
It's doubtful. Although anything is possible and VXX more than doubled last summer when the VIX moved into the 40s, it would take a massive surge in volatility and a significant backwardation in volatility futures to create the conditions for such an extensive move.
Unless such a move happens pretty soon, VXX seems doomed to remain under $30 -- maybe even $25 if we continue to see this type of contango (as of July 3).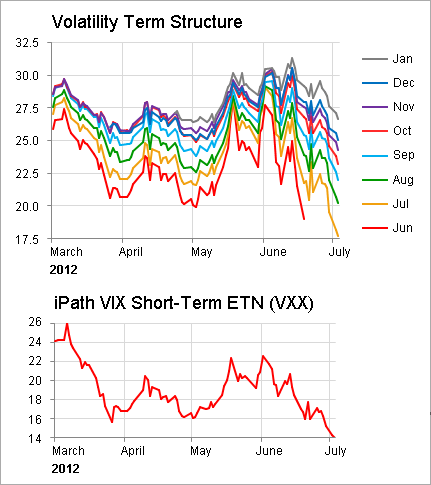 I actually think the contango is a bit too wide right now anyway and that it will narrow -- especially if there's a bad employment number on Friday, or for a host of any other reasons that cause the market to fall apart.
In fact, this chart only goes through Tuesday, July 3. On July 5 the contango did come in a bit. For example, with the spot VIX up about 5.3%, the July VIX contract was up about 5%, but the December VIX contract had moved up only 2.2%.
When this contango narrows, VXX tends to rise. But don't expect miracles.
And don't expect to hold a long-term long position in VXX. If you ever need a reminder on why, just print out the black box warning above and keep it handy.
Disclosure: I have no positions in any stocks mentioned, and no plans to initiate any positions within the next 72 hours.