Following in the footsteps of Monday's weaker than expected ISM Manufacturing report, today's ISM report on the Non-Manufacturing sector (Services) for the month of June was weaker than expected (52.1 vs. 53.0), coming in at the lowest level since January 2010. While the report was weaker than expected, it is still indicative of growth in the Services sector as opposed to the Manufacturing sector, which is showing signs of contraction.
The chart below shows the historical readings for the ISM Services index going back to 1997. Below that we show the combined ISM Manufacturing and Services indices weighted based on each sector's overall share of the US economy. Given the fact that the Services sector is a much larger share of the US economy than Manufacturing, the combined index still remains above 50, but it is still at its lowest level since January 2010.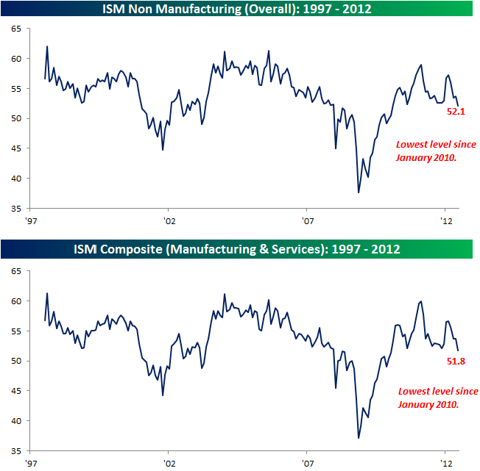 The table and charts below show the historical readings of the ISM Non-Manufacturing index's ten sub-components. In this month's report, the only three sub-indices that increased were Inventory Sentiment, Employment, and Import Orders. Relative to one year ago, however, only Inventory Sentiment and Import Orders showed any improvement. In terms of inflation, the Fed currently has little to worry about on that front as the prices paid component of this month's report came in at 48.9, which is the lowest level since July 2009.