Shengtai Pharmaceutical (OTCPK:SGTI) offers growth of over 40% p.a. (past and future), with a p/e of 4.5, a leading market share of 30%, and an uplisting from the OTCBB to Nasdaq as soon as the stock price stays above $4 for 30 days (paperwork has already been prepared).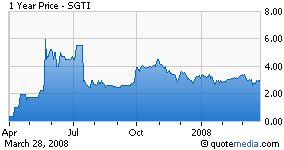 The stock has traded between $2.50 and $6.00 since May 2007, when they came into existence, and is currently near the low despite their rapid growth.
The best time to buy a stock is when the company is doing well, but the stock price is beaten down because of general market fears.
This is the case here, since they are not affected by the crisis in the USA.
In the December 2007 quarter, EPS were $.15, and there is no significant seasonality. EPS should double over the next 2 - 3 years, from the current run rate of $.60.
TEV/EBIT = 4.2 TEV/Sales = .6 ROE = 37% P/B = 1.3
(The above figures use the last quarters results, annualized, and exclude a $15.9 investment in a new factory from TEV, since it is not producing earnings yet.)
Average daily volume is only 21,600 shares, but on May 15, 2008 will be lockup expiration from last year's private placement, which may provide an opportunity to establish larger positions.
They are the largest producer of pharmaceutical grade glucose in China, and are building a new factory to increase their glucose production capacity from currently 80,000 tons/year to 210,000 tons/year, because they have not been able to keep up with demand. They have already invested $22 million (compared to equity of $38 million) as of 2-21-2008. It will be finished by June 2008. They need an additional $6 million for working capital, but at the current share price they prefer using bank loans and current cash flow instead of new equity.
In the last two fiscal years, their sales grew by 44% p.a., and in the first half of this FYE 6/2008 by 93%. Gross margins adjusted for product mix have been stable, as they have been able to raise prices when raw materials prices rose. Corn is their primary raw material, and in China it is against the law to convert it to ethanol.
They export only 10% of their production, because they have been unable to satisfy the domestic demand. Once the new factory is running, they will increase their exports especially to India, Indonesia, and Pakistan.
Pharmaceutical grade glucose has higher barriers to entry than regular glucose because it has to be so pure that it can be used for transfusions and intravenous drips.
Pharmaceutical sales in China are growing at a rate of 16% p.a. due to a rising standard of living and an aging population, and glucose sales at least at the same rate, especially as more large international pharmaceutical companies move their production to China.
Glucose is made from corn starch. As part I of their expansion plan, they increased their corn starch production capacity to 240,000 tons/year as of October 2007. The excess corn starch production has been sold outside.
With the new glucose factory they will increasingly use their corn starch production inhouse. Gross profit margin for corn starch is only 12%, glucose 28%; other, higher value added products 32%. In the last quarter, sales were 40% Glucose, 33.5% Corn starch, 26.5% other. The last category is up sixfold from last year due to new products, and is a major growth driver.
The only red flag is negative working capital of $14.9 million. This is because almost all their loans are bank loans with an initial term of one year. The loans are secured and are usually renewed, and have interest rates below 8%. As of December 31, 2007, the Company had $36.2 million in TOTAL debt (including accounts payable etc), and $38.9 million of shareholders' equity. This is the best ratio in their history (which started in 1999 for the Chinese subsidiary). This is despite the fact that they have invested $22 million in the new factory. They have always had negative working capital. It has never been a problem.
EPS were $.62 in FYE 6/2007 vs. $.42 the prior year. In the Dec. 2007 quarter, they were $.15 as both earnings and shares outstanding doubled.
The company came into existence in their present form only in May 15, 2007, via a reverse merger between a Chinese and U.S. corporation, and is incorporated in Delaware. On that date, they also did a private placement of 8,750,000 shares at $2.00 and 4,375,000 attached five year warrants to purchase the stock at an exercise price of $2.60. They received net proceeds of $15,256,428 from that offering. If they had not done this offering and not built the new factory with the proceeds, EPS would now be running at a $1.20 annual rate, compared to a stock price of $2.66 currently.
The lockup from that offering will expire on May 15, 2008, which is a potential negative, but by that time they will be close to the startup of their new plant.
The CEO has been with the Chinese subsidiary since 1999. Since 2003, sales have increased from $10.5 mill. to the current run rate of almost $100 million p.a. He holds 34% of the shares outstanding (once all warrants are exercised).
The CFO has an MBA and CPA degree from the USA. One director who is also in charge of the auditing commitee was CFO at Fushi Int., and is VP of Redwood Capital.
In the December 2007 quarter they produced 20,010 tons of glucose and similar products (anything other than corn starch I will call "glucose" below) with a selling price of $829 per ton and a gross margin of 29.5% or $244.55 per ton.
They also sold excess corn starch production of 31,667 tons. The selling price was $264 with a gross margin of 12%, or $31.70 per ton.
That means that for each additional ton of corn starch converted into glucose, they make an additional $212.85 gross profit compared to selling the corn starch outside.
Within the next 2 to 3 years, they will turn an additional 130,000 tons into glucose (from 80,000 now to 210,000), which will yield an additional $ 27,670,000 p.a. in gross profit.
Corn starch production can also be increased from 206,708 tons/year to 240,000 tons/year yielding additional gross profit of $1.055,356.
Adding these to the annualized gross profit in the last quarter ($5,868.014 x 4) gives a total gross profit of $52,197,412.
I am assuming their overhead expenses increase in line with their gross profit, which is conservative. That means that net earnings would be 55.72% of that, or $29,087,014.
The income tax rate will increase from the current 12% to 25% in September 2009. That yields fully taxed earnings of $24,790,000 at a 25% tax rate.
Assuming current fully diluted shares of 20,300,000 will increase to 24,000,000, that means EPS of $1.03.
I have assumed a gross margin of 29.5% for the new factory, which is what they achieved in the last quarter in the old factory. They stated that they expect 30% - 40% gross margin in the new factory, due to new machinery and new products in development. At 35%, EPS would be $1.17.
This assumes no inflation. Assuming only 10% inflation over this period, EPS would increase by the same amount, to $1.13 to $1.29. With a 10 P/E, you have a quadruple from here.
I estimate pre-tax return on capital for the new plant at 46% p.a. before inflation, and more if their product prices continue to rise.
How long to get there?
In the February 15 earnings call, they said three years. In the Roth presentation on February 2,1 they said to expect 30,000 to 70,000 tons in the first year (out of 120,000 tons capacity). To that one has to add 10,000 tons increase from the existing factory.
Management is extremely conservative. On February 15, they repeated their previous guidance of $.43 per share for FYE 6/2008, despite the fact that they had already achieved $.28 in the first half. At the Roth presentation on February 21, they upped it to $.54.
I think the same will happen with the new plant, that it will not take 2 to 3 years to achieve full utilization. In any case, if we get from the current run rate of $.60 EPS to $1.13 -1.29 in 2 - 3 years or less, that is strong growth that will sooner or later be recognized with a higher P/E.
The company is not well known yet due to their short history, which provides an opportunity to buy it cheap.
A company in the same business is Corn Products Int. (CPO), which trades at 14 times earnings despite growing at only 10% p.a.
Disclosure: Author has a long position in SGTI.OB